Jason Narducy is an underground-rock lifer. The Evanston, Illinois, native was just a pre-teen when his band Verboten appeared in a Chicago punk-rock documentary called You Weren't There. His band Verbow with cellist Alison Chesley eventually hit the majors, releasing two sadly underappreciated albums of sharply crafted power-pop, 1997's Chronicles and 2000's White Out, before parting ways in 2002. Since then, aside from a harder-edged rock detour in 2004 as Rockets Over Sweden and a 2010 Verbow reunion show, Narducy has also been a member of the touring bands for Bob Mould, Robert Pollard, and Telekinesis.
For Narducy's latest project, he'll be the one with the frontman-caliber backing band. Britt Daniel has been recording with Narducy, the Spoon frontman recently told Exclaim (via Pitchfork). Daniel is on bass and Superchunks/Mountain Goats drummer Jon Wurster, also of The Best Show on WFMU fame, is on drums. Narducy told Consequence of Sound his new solo project will be called Spl:t S:ngle and that he laid down 13 songs with Daniel and Wurster last month. "Three guys, one mic," Wurster tweeted. "Just like how Elvis and Yes recorded."
"It's basically Jason's songs, Jason singing," Daniel told Exclaim. "We're backing him up." A good thing, too, because Daniel would already seem to be busy enough with his new band Divine Fits, who recently played their first gig. Daniel's band with former Wolf Parader Dan Boeckner, drummer Sam Brown of the New Bomb Turks, and keyboardist Alex Fischel will release A Thing Called Divine Fits on August 28 via Merge. And that thing called Divine Fits is, as Boeckner emphasized in our interview with this super non-supergroup, "a real band." As for Daniel's other real band, Spoon, he told Exclaim the group "doesn't have any definite plans right now" but that they plan to reunite after his current project.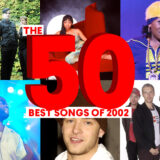 https://youtube.com/watch?v=SqSoHY-Bres%3Ffeature%3Dplayer_detailpage
https://youtube.com/watch?v=1qxsmgH52ek%3Ffeature%3Dplayer_detailpage