From Blondie and Michael Stipe to Dave Grohl and Lady Gaga, to My Morning Jacket and LCD Soundsystem, the Muppets have demonstrated a marvelously cutting-edge taste in music over the years, and now it's apparent that no blog threat from Courtney Love can stop them from keeping up with cool jams. In an interview with the Telegraph, Miss Piggy and Kermit name-dropped some seriously en vogue artists.
"I'd love to work with Skrillex, even though I've never heard his music," Kermit said in response to a question about whether he'd collaborate with an electronic artist like the SPIN cover star. "We don't get electronic music in the swamp. There's something about electricity and water just doesn't mix." (He played it safe on the favorite bands question, citing video "collaborators" OK Go, Weezer and Queen, as well as Green Day and Toad and the Wet Sprocket for "purely amphibian reasons.")
"I love Lana Del Rey," Miss Piggy announced, when asked her favorite pop diva. "And, despite our little run in [at the Country Music awards, Miss Piggy 'stormed the stage' and upstaged her], I love Carrie Underwood, too. Right now, my current fave is, of course, Adele! Beauty, talent, a natural singer — she reminds me of moi!"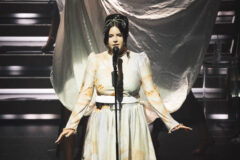 If anyone asks, we'll be over here, waiting for press photos of Kermit's new hairdo and/or the "Piggy-o Games" video remix to surface, because it's only a matter of time now. We hope Jim Henson would be okay with this.