Why the Hell Did We Go to Coachella Weekend Two?
Welcome to the continuing adventures of the amazing HoloPac!
Joe, 23, an intern at Paper magazine, clad in an Odd Future pink donut T-shirt and corresponding GOLF WANG hat, was posted up in the front row of the Gobi Tent at 6:19 p.m., getting a two-hour head start for Frank Ocean. He'd seen the press reports of last week's surprise appearance by OF crew leader Tyler, the Creator, but didn't want to watch the videos for spoilers, "because I really wanted to experience it. [Frank Ocean is] the type of artist who sounds exactly like his records. So I'm pretty sure he's going to give a good performance any day." Despite a no-show from Tyler, everything reported about weekend one remained intact for Joe's show: Fans lining up early, crowds bulging well past the perimeter of the tent, people going absolutely batshit for the "Coachella" line in "Novacane" (Ocean even stopped the song for a good 30 seconds to bask in it). The main difference was that Ocean seemed to have replaced his entire band. After the show, Joe reported, "Someone standing next to me told me it was better than the performance last week."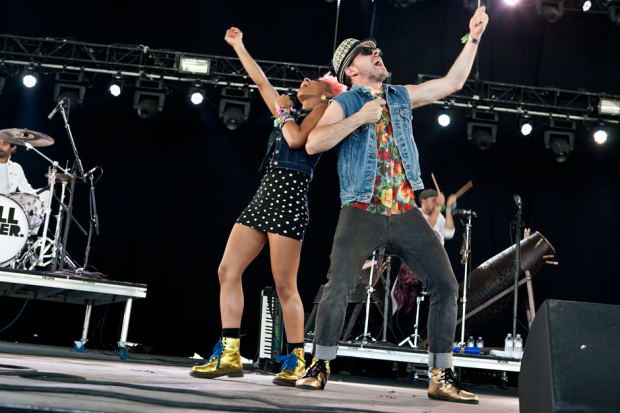 And it's true: Having two performances on consecutive weekends really does affect a band. "The first weekend felt like the first time you have sex, and this weekend feels like the first time you're good at it," said Ricky Reed, party starter for Bay Area electro-crunkgasm Wallpaper, who inaugurated the Mojave stage on Friday. "This is our first major festival appearance. So, obviously, going into it the first time, we were dotting i's and crossing our t's and nervous and over-hydrated. It was raining and I drank like a dozen bottles of water before our set."
"Oh my God, that was our dress rehearsal," said performer Méa about weekend one. Méa is a mohawked, postapocalyptic Los Angeles party monster living somewhere between contemporary clubrattery and '90s industrial, which means her Sahara Tent set involved a lot more live instruments than, say, Datsik, who simply stood behind a giant podium. After viewing iPhone footage of the first weekend, Méa "got all the kinks out" for the second, switching out songs and bringing in a cello player for some unique low-end theories.
But whether familiarity breeds a better show might just depend on a given artist's level of opening-night jitters. Said Reed, "I think we went in with a lot more comfort [on the second weekend]. And with that we were able to bring more exuberance and a lot more F-bombs." Juan Velazquez, guitarist and keyboardist for Abe Vigoda, had the same feeling, but with the opposite effect. "I think we played better the first weekend because I get nervous energy — which is fun."
"I think nervous energy is a good thing because it's a little more dangerous," said Black Lips guitarist Cole Alexander, whose first-weekend tension led to him playing his guitar with his penis. "I don't think about stuff, I just do it, worry about the consequences later."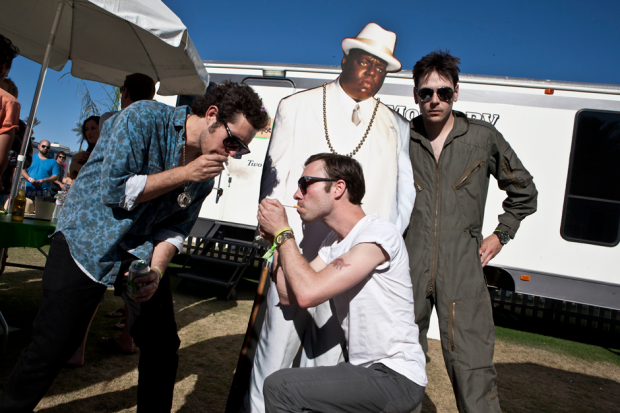 For the second weekend, the Black Lips schemed up more antics. Stuck in L.A. recording a record, they rigged up an "analog hologram" to compete with the now-infamous Tupac illusion unleashed during Dr. Dre and Snoop's set a week ago. In the middle of the Lips' set, a friend paraded out a life-size cut-out of Biggie Smalls, which danced around the stage. "The initial idea was that we were gonna tackle the [Tupac] hologram on stage," said bassist Jared Swilley. "But we're little guys, we'll get our arms broken and we'll go to jail. So we'll do our own."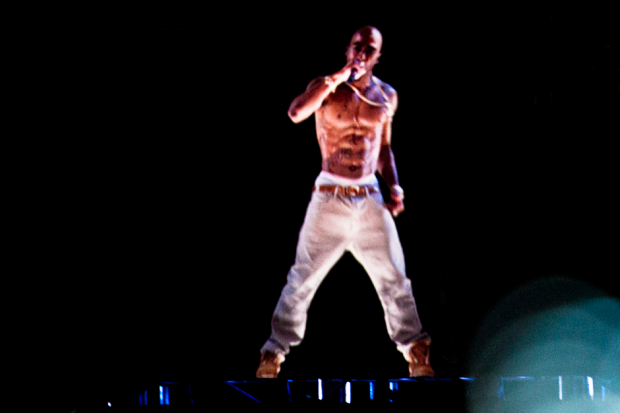 Though he was only out for two songs in Dre and Snoop's weekend one set, hologram Tupac actually seemed like the real headliner of Weekend 2. The HoloPac turned Weekend 1's "I was there" into Weekend 2's "I will be there." Said rapper El-P of Company Flow before the hologram's second command performance. "Yo, man, I'm actually really excited. I don't know what to tell you. It's really hard to have anything negative to say about seeing a Tupac hologram. There's no question that it's surreal and weird…but so is the future."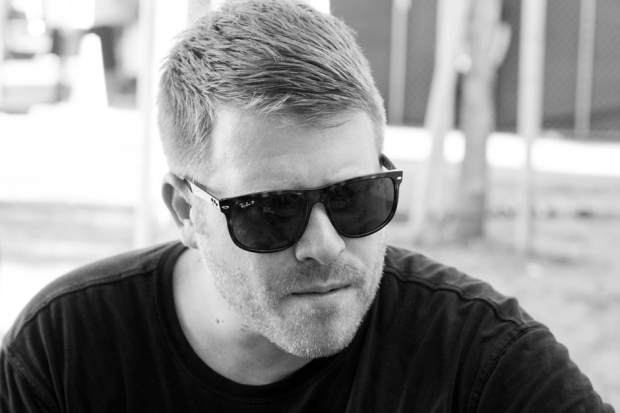 By Sunday, Tupac shirts were almost as prevalent as In Rainbows shirts. One featured "Biggie + Tupac" surrounded by a heart. Another dude just walked around shirtless with THUG LIFE Sharpied on his stomach. On stage, Milo Cordell of the Big Pink wore a Tupac T-shirt that read HAVE YOU SEEN HIM. Teri Gender Bender of Mexican spaz-punx Le Butcherettes interrupted their 1:55 p.m. set for "our special guest of the night…of the day: Tupac hologram!" (It was a chubby dude wearing half of an Elvis mask wiggling around, sadly). Right before Dre and Snoop hit the stage, people around me were chanting, "Tu-Pac! Tu-Pac! Tu-Pac!"
With the return of our 2-D headliner came a very weird combination of plausible backstage gossip, Twitter rumors, lofty expectations, here-we-are-now-entertain-us requests, and simple projecting onto this projection. Everyone hoped that week two could live up to week one:
Méa: "Everybody's seen the Tupac visual, so the word out there is that they're gonna step it up quite a bit."
Ricky Reed: "You would hope those bands with the million-dollar budgets would say: 'Weekend 2 we take it to the next level.'"
Cole Alexander: "Yeah, I wanna see how they're gonna try to top that."
Ultimately, Dr. Dre and Snoop performed their sets pretty much exactly how they did the first time around, with Broadway reliability and Vegas budget. (The big difference, obviously, was most people ended up watching HoloPac's return through a sea of camera phones). And, that was plenty. Despite the Twitter oversharing, the YouTube peer-pressure anxiety, the dull pride of "I was there" syndrome, the unreliability of hot-and-cold-running bands, when you get right down to it, all people want is a show.
Not ten minutes after committing MPC murder on the Mojave stage, burgeoning production star AraabMuzik and his crew piled into a van and circled around the perimeter of the festival to see the Weeknd for the second time…just like they did last week. AraabMuzik planned to see Dre and Snoop again, too. "It's like watching a good movie twice," he said. "Because it was so good the first time."