Recently, Entertainment Weekly reported that a biopic about the final, troubled years of the Wu-Tang Clan's Ol' Dirty Bastard was in the works. The big news was that Michael Kenneth Williams, best known as Omar from The Wire, would play ODB. The Wire and Wu-Tang, two things that every rap nerd loves, right? But strangely, this movie is titled Dirty White Boy, and it focuses on the relationship between ODB and Jarred Weisfeld, who was ODB's manager until the rapper's death in 2004.
From the title on down, this is not so much the story of a legendary, eccentric rapper, but the tale of a guy who tried to stage-manage the last years of that legendary rapper's career. This isn't surprising given the manager's spotlight-stealing reputation, but it feels a little bit like The Help, in which the story of a troubled African American is filtered through his white benefactors. We all know this story ends with ODB dead, so there's no heartwarming ending here, but it still feels like a questionable construct for the film and an absolutely terrible way to pay tribute to ODB's music. Or maybe the heartwarming ending is that Weisfeld and others finally have the chance to seriously cake off the rapper's legacy?
The screenplay for Dirty White Boy was written by Brent Hoff, who used to work for VH1 and knew both Weisfeld and ODB. Most articles about the movie refer to Hoff as a former VH1 employee and editor of the McSweeney's video magazine Wholphin, but according to this profile in Filmmaker Magazine from July of last year, he once pitched Freebird, "a reality show that follows sprung celebrity convicts on their first days out of prison." The show never happened, but Weisfeld's partnership with ODB began as talks about a post-jail reality show. Weisfeld and ODB's mother, Cherry Jones, are involved in the project, and according to that 2011 Filmmaker article, sold their "life rights" to the film.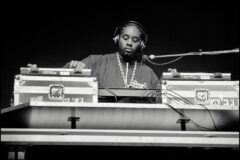 So, the people who orchestrated ODB's icky comeback are now making a movie about their involvement in that icky comeback. Weisfeld's relationship with ODB has always been suspect. While EW says that "the novice manager engineered an unlikely comeback — only to have it cut short by the star's fatal drug overdose in 2004," many others see an exploitative relationship between an opportunistic insider — Weisfeld's father, Marty, founded MUDD jeans — and a desperate, unstable, just-out-of-jail recovering crack addict.
Weisfeld's business relationship with ODB began before he actually met the rapper. The story goes that he pitched a show about ODB getting out of jail to VH1 and then, you know, actually had to meet the rapper to make it happen. According to this 2009 article in Heeb magazine, when ODB wouldn't respond to Weisfeld's requests, Weisfeld reached out to ODB's mother, and the duo made their way to Clinton Correctional Facility. A friendship or a partnership or something was struck, and ODB agreed to do the reality show, and Weisfeld became his manager. What followed was a depressing VH1 special called VH1 Inside/Out: Ol' Dirty Bastard on Parole, a fruitless signing to Roc-A-Fella, and a series of convoluted performances at events like the Gathering of the Juggalos that turned the rapper into a spectacle.
Here is how writer Jaime Lowe describes ODB's 2003 CMJ performance in a 2005 Village Voice article, "Digging in the Dirt": "He took the stage looking like he was fresh from a coma, tears trailing down his cheeks. ODB didn't even seem to notice he was crying." Lowe is also the author of the 2008 book Digging for Dirt: The Life and Death of ODB, which I consulted for some of the information in this post. In 2009, Weisfeld threatened to sue Lowe and Digging for Dirt's publisher, Macmillan, for libel. If you would like Weisfeld's opinion on all of this, you can check out the Heeb article, as well as this exchange between Weisfeld and writer Zach Baron over at The Village Voice.
When I think of the rapper's final years, I think of a surprisingly good, though still sad-to-watch performance by an on-point, yet timid and lost ODB on the DVD, The Wu-Tang Clan: Disciples of the 36 Chambers, and a telling exchange I witnessed at Wu-Tang's Meadowlands show the night before ODB died. The evening was structured with each member doing a brief solo set, and then coming together in the final hour to knock out all the Wu-Tang hits. The anticipation for an appearance by ODB was palpable. It didn't happen, of course, and toward the end of the show, Method Man, always a straight shooter, acknowledged his absence. U-God interrupted, and angrily mumbled something about kicking ODB's ass for not showing up. Method Man quickly took control again and said that if any of us saw the MC, to "tell Dirty we love him."
ODB died the next day. His death, from an overdose, on a Saturday afternoon in the RZA's recording studio, two days before his 36th birthday, did not cut short a comeback; it ended a life. I hope Dirty White Boy remembers to address the latter rather than the former, but I don't have much faith that it will.