"We're all passengers here," 54-year-old actor-filmmaker Gary Oldman said Friday night, preparing to direct Jack White as part of American Express' Unstaged series at New York City's Webster Hall. Oldman, handpicked for the job by the former White Stripes frontman (and fellow eccentric) himself, was seated in a production trailer just outside the theater, facing a pulsating tableau of 13 live camera feeds from inside, each set to broadcast White's every set-list-less whim to millions at 9 p.m. sharp. Though the stage design that evening would not abandon the carefully calibrated, newly adopted powder-blue palette White's employed for the handful of live performances behind his just-released solo debut, Blunderbuss, Oldman hoped to add "classic" visual touches of his own by invoking sequences from Martin Scorcese's The Last Waltz and early '60s footage of Jimi Hendrix. No sweeping, jib-assisted, American Idol-like shots ("I can't stand that") or counter-dollied panoramas (he'd have only one handheld-carrying cameraman running the length of the stage's lip), but a combined visual language that "tips its hat" to the past. Sound familiar? "You can't reinvent the wheel," Oldman explained."It's a rock show."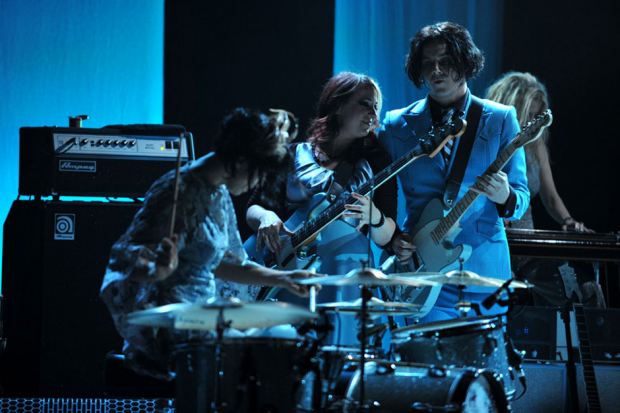 And so it was. As the room filled up with lifers on the floor and various strains of celebrity glitterati up top in the VIP balcony (Jude Law! The Strokes' Nick Valensi! Jim Carrey! Jim Carrey's daughter!), garage-goth trio the Black Belles sped through a suitably crunchy set of perfunctory, no-nonsense, wham-bam ruckus, huddled together in fishnets and heels amidst the sheet-covered morass of headlining gear that awaited. As they finished, Jack's army of suit-and-fedora-clad roadies cleaned up for showtime, uncovering a gleaming, spare-but-symmetrical, all-vintage setup that looked to be cribbed straight from a mid-'60s television studio. As has been publicized since their joint debut on SNL and at SXSW earlier this year, White is currently touring with alternating, gender-specific bands: the all-female Peacocks and the all-male Los Buzzardos, two more expressions/manipulations of the boy-girl dichotomy that's become one of White's defining obsessions since go. And though Oldman claimed his collaborator would be choosing his backing band every morning over breakfast, both were on hand at Webster Hall, their very different additions to the mix separated by a brief intermission.
As the feed went live, White wasted no time lunging into an ice-cold rendition of the White Stripes' "Dead Leaves and the Dirty Ground," his former wife and bandmate's absence felt almost immediately. This evening would mark the first time most had seen White perform these songs without Meg at his side, and to hear them buttressed by a pair of more technically gifted drummers was to experience them in a much different, far less visceral way. Whether it was barefooted Peacocks drummer Carla Azar (also of Autolux) or Los Buzzardos' bruiser Daru Jones, the minimal yet primal rattle that galvanized much of his band's early work (and certainly Meg's drumming) was gone. In its stead was a host of fuller, richer, session band revisions that made use of strings, pedal steel, mandolin and organ. And while those embellishments were particularly effective for those Blunderbuss highlights penned with them in mind, (the irascible "Freedom at 21" and "Trash Tongue Talker" in particular), the buzz of a White Stripes song on this night would rely on White's still herculean guitar work: No matter how hard any of those new drummers might hit, he looked very much alone in his ongoing fight with his instrument.
In fact, much of the evening's odd electricity came courtesy of the room. In the time that's passed since the White Stripes' dissolution, White has emerged as perhaps the world's brightest rock star, a personality whose mania and magnetism invites loads of psychoanalysis. And though his rapport with his new bandmates felt forced by comparison, he did send a shout-out to someone in the crowd that somehow resonated: Jay-Z, who snuck into the VIP area in a "Billionaire" hoodie before eventually settling down in the sound booth for the show's second half. After a brief intermission (during which we were assured by a young lady hoisting a placard around the stage that while Elvis had left the building, Jack had not), White peppered the Dead Weather's "I Cut Like Buffalo" (a song whose ornery beat is ripe for freestyling) with snippets of Frank Ocean's introductory salvo from Watch the Throne's "No Church in the Wild."
And as far as a barometer for a moment's heft, Jay's reactions proved exceedingly accurate: howling during the crispy opening chords of "Sixteen Saltines," staring blankly during the "Hotel Yorba" hoedown, and opting to break the "No Video, No Photo" rule to capture some images with his iPhone during the throb of "Seven Nation Army," an anthem whose words he knew just as well as the people down below, the very same who for just under four minutes, turned the room into a rippling, chanting swatch of soccer stadium. At that moment, we were all passengers.
https://youtube.com/watch?v=frfFjLP8yQI%3Ffeature%3Dplayer_embedded
https://youtube.com/watch?v=FSYo7blfPZ8%3Ffeature%3Dplayer_embedded
https://youtube.com/watch?v=NioGBvWkXqA%3Ffeature%3Dplayer_embedded
https://youtube.com/watch?v=OpWu2hOA2dE%3Ffeature%3Dplayer_embedded