Girls
If their 2009 debut, Album, tagged San Francisco's Girls as a lo-fi but uncommonly intense band, then the duo's late Friday afternoon Coachella performance confirmed the polished classic rock direction of 2011's Father, Son, Holy Ghost. It's hard to imagine an indie-rocker more disarmingly sincere than Girls leader Christopher Owens. Although his soft and tender vocal delivery was often upstaged by his expanded band's expansive arrangements, a trio of veteran background singers who both visually and vocally evoked the Pointer Sisters gave his sweet and indirectly spiritual songs a much-needed shot of vocal heft. "Vomit" climaxed with pure gospel joy as one background singer stepped center stage to wail her lungs out and then plant a big kiss on Owens' pale but smiling cheek. B.W.
The Rapture
Considering the unstoppable march of the four-four pulse these days, the Rapture couldn't have chosen a better time to stage a comeback coup, even if they're doing it with traditional instruments instead of laptops, light shows and MIDI modulators. Though "Out of the Races and Onto the Tracks" is over a decade old, and "House of Jealous Lovers" is a hair shy of that milestone, their throbbing, punked-up grooves were marching orders to a crowd that was desperately in need of some serious heat. As the wind whipped between their tent (the Mojave) and the DJ-powered dance mecca next door (the Sahara), rogue groups of get-down circles spilling from either side mixed and mingled under the open air, nearly filling the gap between the Brooklyn band and whoever was punching buttons over there. Chalk it up to the sweat pouring off all of those furiously working bodies onstage, and the power of the cowbell — still potent even in the presence of that most modern of clarion call, the bass drop. C.M.
Neon Indian
The running if perhaps unintended joke during Neon Indian's Friday afternoon Coachella was that any time its frontman and primary musician Alan Palomo spoke between songs, the sound coming from his mike would be clean and thoroughly comprehensible. Yet as soon as he started singing, his voice would then be treated with so much echo and effects that he seemed immersed under several leagues of ocean. Although he was joined by a traditional drummer, bassist, and guitarist, Palomo ejected huge globs of synthesized goo that washed over every instrument and indeed his own voice, rendering the results thoroughly psychedelicized if often interchangeable. The poppiest and most dance-inducing cut, "Polish Girl," drew the biggest response; it was the least adulterated tribute to his obvious influences, OMD and New Order. B.W.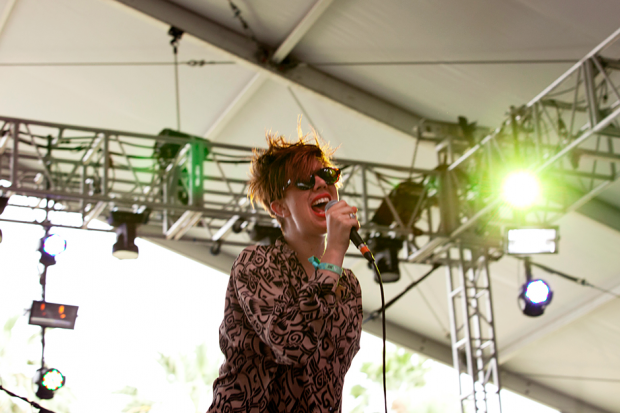 EMA
On record, Erika M. Anderson a.k.a. EMA is a ghostly and pained presence. Performing Friday just before the sun prematurely hid behind rainclouds, the harrowing honesty of Anderson's lyrics and hushed delivery was undercut by the far more bucolic sight of palm trees swaying gently behind her. Joined by two guys on electric violin and drums and two gals on electric and bass guitar, Anderson played tense post-punk as if it were confessional folk, and vice-versa. B.W.
M83
That M83 main brain Athony Gonzales ended his band's set on his knees bowing repeatedly to the crowd shouldn't have come as a surprise to any who were in attendance — it seemed like the entire festival was there to hear the guys (and girl) responsible for one of 2011's greatest songs, "Midnight City." And though the response was rapturous, M83 earned every ounce of that roaring applause. Their performance played like some sort of exercise in quantum mechanics. Each song would start small, with a synth texture or sequencer loop, and then expand in exponential steps with bursting bass and guitar — doors opening infinitely to bigger and bigger doors — until the entire thing would crest in a galactic gasp often courtesy of Morgan Kibby's soaring vocals. An arena would be too small for this band's sound, but if M83 keep pushing on, they may wind up conjuring up their own universe. (And sax may be the catalyst.) C.M.
You're a third of the way through our rundown of the first weekend's 30 best sets! Read on about Saturday's top shows here!