Didn't make it to Coachella but want to know what you missed? Heading to Coachella's first-ever second weekend and need to know who to catch? In addition to our list of 30 must-see acts at this year's fest, SPIN has compiled a rundown of each day's 10 best sets. Read up on Friday's top shows and Sunday's greatest performances. Or you can just click through to the next day's report at the end of each story.
See SPIN's amazing Coachella 2012 live photos here!
Radiohead
Radiohead have so effectively distanced themselves from bands that struggle to follow them that they're now utterly — and often, quite blissfully — lost in space. During their two-hour Saturday night headlining Coachella set, the band put miles between it and even its own past, relegating most material older than In Rainbows to two encores; an act of generosity rare for a festival where most bands leave the stage once and that's that. Debuting new material that ventures even further than The King of Limbs in the downplaying of conventional guitar and drum sounds, Saturday's set played with the conventions of music festival comfort food: There was none. Sporting a dubious ponytail, Thom Yorke was nevertheless in fine voice, speaking most significantly to the crowd to complain about people who talk to you only because they want something from you, people who force you to take a cold shower just to cleanse yourself from their behavioral toxic waste. This of course set up "Karma Police," one of the set's few camera-phones-aloft moments. Even the visuals messed with expectations: Instead of one screen that focused on the singer or soloists, there were 12 that moved above the musicians, and another six high above the stage, all of them offering fragmented close-ups of sticks on skins and fingers on keys or frets, often overlaid in hallucinatory montages. For the first of several encore songs, Yorke deftly overlaid several lines from Neil Young's "After the Gold Rush" over the familiar intro to "Lucky." If anyone is fit to fly Mother Nature's silver seed for a new life in the sun, it's him. BARRY WALTERS
Jeff Mangum
There was so much riding on this. Too much, almost: Jeff Mangum, once dubbed the J.D. Salinger of indie rock, giving his first West Coast performance in over a decade, set to play — everyone hoped — the songs of his beloved band Neutral Milk Hotel. Specifically, it was songs from 1998's In the Aeroplane Over the Sea we were after, an album that to no small contingent is regarded as among the best ever made, though so few had ever heard its architect play it in person. Mangum has broken his hiatus with a series of well-reviewed theater shows, but this was a festival in the desert. Would he be weird? Would he be kind? He'd requested no photography or video and had the venue repeat the directive twice. Not a good sign. He came out with a tiny wave and made a beeline for the chair at center stage, accompanied only by a rack of guitars. And then … he opened his mouth and for the next 50 minutes, we were his. His voice was superb, unmatched, both sour and sweet, a symphony of struck sheet metal, bagpipes, Kurt Cobain, and a small tin horn resonating from a single throat. It buzzed and it climbed, threaded itself through our heads and curlicued in and out of his acoustic strumming. He opened with "Two Headed Boy Pt. 2" and "Holland, 1945," dipped into On Avery Island's "Gardenhead/Leave Me Alone" and an alternate version of "Song Against Sex." He returned to Aeroplane, its titular song accompanied by a pair of flanelled fellas with horns; "The King of Carrot Flowers" parts one, two and three; "Oh Comely" in all of its searing, long-playing glory; and "Ghost," as haunted and beautiful as it ever was. And as it turned out, he was friendly. He grinned when the audience counted him off for "Holland." He demanded that the stagehands turn up the lights. ("I like to see the people I'm playing for.") He called us his friends. And before closing with a dirging full-band version of "Two Headed Boy," he egged us on: "I want you guys to fucking sing, okay?" Those that could — who weren't dumbstruck or stammering with tears streaming down their faces — raised their voices for one of the strangest, most beautiful sing-alongs there ever was. And just like that, he was gone again.CHRIS MARTINS
Azealia Banks
Though she kept her set short and sweet, 20-year-old Harlem rapper Azealia Banks had an enormous debut. Long before she took the stage, the audience poured into the smaller of the three tents until it was spilling out into the open air. In tribute to her raunchy rave-up "212," young women painted each other's arms and chests with the C-word (though Miss Banks spells it with a "k"), while others milled nervously. With just a couple of runaway Internet hits on her hands and not a single U.S. show under her belt, would Azealia, who comes across as a more worldly, sharp-witted Foxy Brown, be able to deliver? Yes. With a shock of pink and purple hair, she pranced to the edge of the stage and tore into her Diplo-produced single "Fuck Up the Fun." She'd brought a DJ and a pair of dancers with her, but otherwise kept it clean (in terms of execution, at least), mostly eschewing vocal tracks to fast-rap over clanging syncopations or boast on top of minimal sub-bass rumble. She also threw in a pair of surprises: her own brief interpolation of Amy Winehouse's version of the Zutons' "Valerie" and an appropriately aggro cover of Prodigy's "Firestarter" tacked to the end of "212" — each was pitch-perfect, and it took us a good while to realize she'd wrapped a whole 20 minutes early. C.W.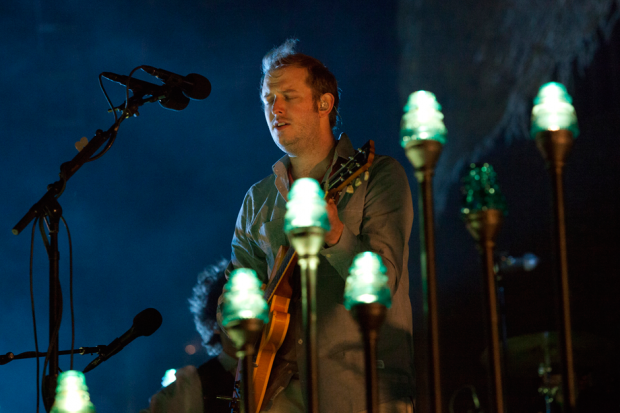 Bon Iver
One of the many good things about Justin Vernon and his Bon Iver bandmates is that they're absolutely fearless when it comes to pursuing a musical beauty so pure it's barely of this earth. That's a pursuit so absolute it can also go terribly wrong: The right position out on that limb can be utterly spiritual; a false move and you're Sting. Vernon and his eight fellow travelers floated Saturday night at Coachella between utter nirvana and places precariously close to AOR. Song after song built to cascading crescendos, some with power-ballad drum fills, most with orchestral arrangement tricks cribbed from Sigur Rós but with avant-jazz horn riffs where Icelandic strings would ordinarily reside. Freshly clean shaven and singing on an elaborate state lit by antique glass insulators, Vernon crooned with enviable earnestness. Occasionally hitting his lower speaking register but mostly soaring on his eerie falsetto, he wailed as if already eager to escape his folk-soul cage. B.W.
Black Lips
"Welcome to the Black Lips lunch hour," sneered Atlanta flower punk Ian Saint Pé. "Next week we'll have sandwiches for y'all." First things first: it's never too early in the day with these happily hazardous garage-pop goons. Secondly, in lieu of a buffet, they wound up offering the 2 p.m. crowd plenty, even if the main course was a lot to, ahem, chew on. It seemed so tame at first. After a particularly roughed-up version of "Family Tree," guitarist Cole Alexander hocked a loogie skyward and subsequently caught it 'tween his teeth — not appetizing at all. Then, came the ripping call and response of "Not a Problem," where Saint Pé chugged half a beer and tossed the remainder into the audience, instructing, "Y'all share that now" — genuinely refreshing for those who did. Shortly thereafter, the two staged their patent in-song make-out session — no surprise. But during closer "Bad Kids," which serves as the quartet's unofficial theme song, Alexander dropped trou and executed a searing solo with, well, let's just call it the band's fifth member. So, guys, about those sandwiches … C.M.