Didn't make it to Coachella but want to know what you missed? Heading to Coachella's first-ever second weekend and need to know who to catch? In addition to our list of 30 must-see acts at this year's fest, SPIN has compiled a rundown of each day's 10 best sets. Start your journey here and then read up on Saturday's top shows and Sunday's greatest performances. Or you can just click through to the next day's report at the end of each story.
See SPIN's amazing Coachella 2012 live photos here!
The Black Keys
Maybe it's just the permanently startled expression on guitarist Dan Auerbach's deep-set eyes, or drummer Patrick Carney's underdog vibe, or just the fact that they had to follow an extraordinarily charismatic and heavily anticipated set by England's reunited Pulp, but the Black Keys gave off a discreetly shell-shocked vibe during their headlining set on Coachella's main stage Friday night. Playing both as a two-piece and a four-piece with supplemental keyboards and bass, the Black Keys didn't shirk from the stardom that El Camino has brought them, but neither did they morph into something they're not. Auerbach and Carney remain unassuming but elemental rock'n'rollers, their thorough command of classic soul-rock riffs offset by their completely ordinary demeanor. While their surrounding video screens attested to their new arena-rock status with kinetic flash, Auerbach and Carney rarely deviated from their bare-bones indie boogie. The loosest, most offhand performance was on their latest hit: "Lonely Boy" was tossed off, almost as if they're already a little ashamed of its utterly justified popularity. Conversely, El Camino's sole ballad, "Little Black Submarines," gave the band and the tightly packed crowd alike some much-needed breathing room, even if the duo seemed too tense to fully enjoy it. BARRY WALTERS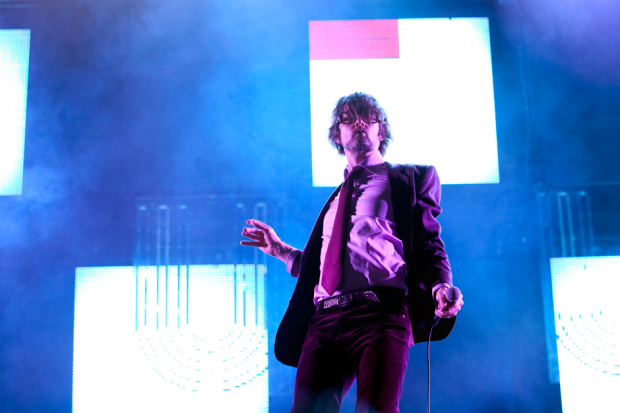 Pulp
Even in their Britpop heyday, Pulp never played to American audiences even a quarter of the size that turned out for their Friday night Coachella mainstage performance. But leader Jarvis Cocker and his reunited band have played plenty of similar European festivals, and their mastery of large-scale aesthetics turned their set into one that few if any 2012 Coachella acts are likely to beat. For decades Cocker has held himself like a quintessential British rock star while slyly deconstructing much of its mannerisms. But advancing years have put even more distance between the superstar he projects and the bespectacled and bearded middle-aged guy he now is. He's like a tenured English professor who somehow willed himself into becoming Mick Jagger without changing his wardrobe. The seven-piece band played its U.K. hits with a firm grasp on the operatic drama of quotidian existence. Every song had a wit-packed set-up: Even the band's entrance was preceded by a scrolling electronic ticker above the stage telling the crowd to scream real loud and similar clichéd commands. And practically every cut from the set opener "Do You Remember the First Time?" to the closing "Common People" would've been the climactic number in lesser bands' performances. An bittersweet ode to England's late-'80s/early '90s rave explosion and the sense of melancholy unreality it gave to its aftermath, "Sorted for E's & Wizz" was made even more poignant by lasers cutting green galaxies of stars out of smoke clouds pumped right above the audience. Who else but Pulp could make lasers poignant? B.W.
Frank Ocean
At least 30 minutes before Odd Future's preternaturally gifted soul man/songwriter graced the stage, the tent was already bulging with kids craning to catch a peak of Frank Ocean. In one corner, a clique of girls held up a Sharpie-scrawled sign: "Impregnate me!" A few yards to their left, a guy who looked like he'd come from a Mastodon show started up a chant — "Frank-ie! Frank-ie!" — and before long, everyone was begging for something, anything from Los Angeles' rising star. But no one expected and precious few probably recognized a cover of Bob Dylan's "Long Time Gone." Standing on a massive Persian rug and wearing custom welding masks that made them look like robotic pandas, a full band backed the man as he sang about falling in love with a young maid. Opening with a 50-year-old folk song — it's exactly the kind of potentially uncool decision that makes Frank so great, unaffected by the fickle tide of trends even if the treachery of technical difficulties would rattle his set slightly. The notorious perfectionist took a couple of stops along the way, to get his monitors fixed or sing a cappella when the problem couldn't be righted, but with original songs as instantly timeless as "Swim Good" and "Thinking About You," no one seemed to mind. "I love you, Frank!" they'd yell at every break, and when he got to the line in "Novacane" about Coachella, the screams were deafening. CHRIS MARTINS
Refused
If it took Refused a few songs to find their rhythm, the hardcore Swedish legends should be forgiven — they hadn't played more than two shows together since 1998, the very same year that their game-changing musical manifesto The Shape of Punk to Come was released. Those wildly inventive songs — impossible whirlwinds of hard bop, electronic beats, violent shred and anarchic attitude — have been in incubation since, while an ever-growing pool of fans clamored for the band to put aside their differences. It seemed like the message had finally gotten through. "People are often skeptical of reunions," said singer/screamer Dennis Lyxzén, "and no one was more skeptical than the guys up here. But the fact that this many people want to see us play… well, it'd be arrogant of us not to." Though the once prickly frontman was humble with his banter, he was a titan within the songs, tossing the mike stand into the frosty, rain-streaked air, and dancing across the stage like some sort of sadistic counterpoint to the intense circle pit that'd formed below. "Liberation Frequency" and "Refused are Fucking Dead" sounded as fresh as the day they were born, while older fair like "Rather Be Dead" and "Coup D'état" were just nasty — unforgivingly thick and primal slabs of punk that seemed to rattle the scaffolding. "New Noise" was nothing short of a revelation. Toward the end, Lyxzén paused to catch his breath, then seemed suddenly conscious of the veritable army his long-lost band had raised. "This is a real humbling experience for a bunch of Swedish guys whose last show in America was 14 years ago in a basement in Harrisonburg, Virginia for 40 fucking people." And for the crowd too, who didn't once forget that they were in the presence of greatness. C.M.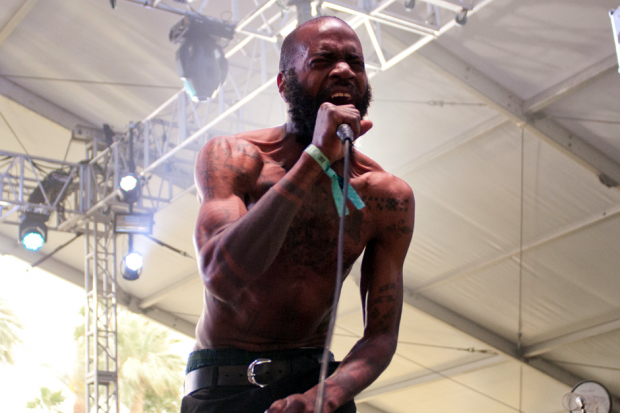 Death Grips
Death Grips' set exploded with a wall of drumming and digital skronk. MC Ride stalked the stage with the neurotic, directionless pace of a caged lion, lean and covered in tattoos — just ink, muscle and beard. As the crowd hollered and convulsed, the sound took shape: a boom-bap beat trapped inside a tin pot with a packet of Chinese firecrackers. After the brutal opener, the Sacramento trio (Ride, plus skins wizard Zach Hill and noisenik Flatlander) launched in to "Guillotine," which was one of the three words anyone in the audience actually knew (the others being "it" and "goes") but that stopped no one from participating. As an MC, Ride is a master of inflicting mealy mouthed terror, each syllable an instrument of blunt force trauma, hurling at us like a hundred ball-peen hammers. You can't make out the exact shape of many of the words, but it doesn't matter — they hit all the same. As Death Grips leapt into "Lord of the Game," the pit became a blender of skinny, pale pin-wheeling blades whose fisted arc kicked up to top speed anytime a wub-tastic bass drop fell into their midst. As a trio of inflatable raft-sized pills surfed over our heads, the recently Epic-signed band couldn't help but sound like that old Run DMC meets Aerosmith collab, but cranked on incredibly foul PCP. It was crude. It was violent. And it felt incredible. C.M.