Best Coast have finally started talking about their much-anticipated, Jon Brion-produced sophomore album. It's called The Only Place, it's slated to drop May 15 (via Mexican Summer), and it's still repping hard for California via its cover art. Brion's glossy production style — not to mention recording sessions at Capitol Records Studio B — have likely ironed out a bit of the duo's well-known fuzz, and Cosentino says the album is about her, finally (finally) "trying really hard to grow up."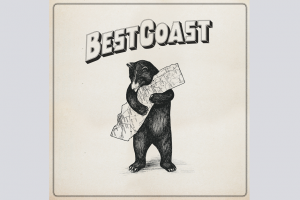 And what's a lo-fi album without a billion tour dates to go with it? The band has also mapped out a two-and-a-half-month post-SXSW trek across the U.S. and U.K. to support the record. JEFF the Brotherhood will join them in May and June, while Nashville's equally gritty garage punks Those Darlins will pick up the second leg in July.
Last week Cosentino tweet-announced that her new clothing line, inspired by the bag of thrift-store clothes she drags around on tour, will arrive in Urban Outfitters this May. (Brion, too, has a busy year ahead of him, not only with The Only Place but also, if we're finally lucky, the release of long-time collaborator and OG problem girl Fiona Apple's new record.)
If you can't catch Best Coast on tour, at least try to check out their set at SPIN's Austin throwdown on Friday, March 16, at Stubb's.
The Only Place Track List:
1. "The Only Place"
2. "Why I Cry"
3. "Last Year"
4. "My Life"
5. "No One Like You"
6. "How They Want Me To Be"
7. "Better Girl"
8. "Do You Love Me Like You Used To"
9. "Dreaming My Life Away"
10. "Let's Go Home"
11. "Up All Night"
Best Coast SXSW Appearances
3/15 – Parking Lot at 9th and Trinity, Google Music SXSW Showcase 1:50 p.m.
3/15 – Urban Outfitters Back Lot, Performances 6 p.m.
3/16 – Stubb's @ SPIN SXSW Showcase, 4 p.m.
3/17 – The Hype Hotel @ Hype Machine SXSW Showcase, 11 p.m.
Best Coast U.S. Tour, Leg 1 (with JEFF the Brotherhood)
5/18 – Los Angeles, CA @ Wiltern
5/19 – Oakland, CA @ Fox
5/21 – Portland, Or @ Aladdin
5/22 – Seattle, WA @ Neptune
5/23 – Vancouver, BC @ Commodore
5/25 – Aspen, CO @ Belly Up
5/26 – Boulder, CO @ Fox Theater
5/27 – Lawrence, KS @ Granada
5/29 – Omaha, NE @ Slowdown
5/30 – St. Louis, MO @ Firebird
6/01 – Dallas, TX @ Granada Theater
6/02 – Houston, TX @ Free Press Fest
6/03 – Austin, TX @ Chaos in Tejas
Best Coast U.K. Tour
6/16 – Glasgow @ Garage
6/17 – Manchester @ HMV Ritz
6/18 – Birmingham @ Academy
6/20 – London @ SBE
6/21 – Brighton @ Coalition
6/22 – Isle of Wight Festival
Best Coast U.S. Tour Leg 2, supported by Those Darlins
6/24 – Atlantic City @ Metallica's Orion Festival
7/09 – Orlando, FL @ The Social
7/10 – Miami, FL @ Grand Central
7/12 – Atlanta, GA @ Variety
7/13 – Chapel Hill, NC @ Cat's Cradle
7/14 – Washington, DC @ 9:30 Club
7/16 – Philadelphia, PA @ Union Transfer
7/17 – New York, NY @ Terminal 5
7/18 – Boston, MA @ Royale
7/20 – Montreal, QC @ Le National
7/21 – Toronto, ON @ Pheonix
7/23 – Columbus, OH @ Newport Theater
7/24 – Cleveland, OH @ Beachland Ballroom
7/25 – Madison, WI @ Majestic
7/27 Chicago, IL @ Vic