When the excitement over Detox started up again last year, Dr. Dre even teased his next, next album — an instrumental project called The Planets, with songs inspired by the "personalities of each planet." We're still waiting for Detox, so the chances of ever hearing Dre go all Gustav Holst are slim, but a nutty, no-rapping release about space actually sounds more interesting than a decade-in-the-making sequel to The Chronic 2001. Plus, there's plenty of enthusiasm for boundary-pushing instrumental hip-hop right now.
The subgenre quietly and creatively returned this year, and last month saw the arrival of two game-changing releases: Electronic Dream by Dipset producer Araabmuzik; and Rainforest from Lil B beatmaker Clams Casino. Making a similar instrumental move could be a savvy career shift for Dre — someone who once had his finger on the pulse of burgeoning trends, yet now seems to be chasing them.
But that's not going to happen. "Detox coming soon!" will remain the mantra. For AraabMuzik and Clams Casino, though, who've come up in the digital era where free downloads and iTunes albums reign, a production credit (let alone cash) for their work is hard to come by. Stepping out of the box and doing their own mini-versions of The Planets is almost a necessity. Instrumental albums are the culmination of a rising profile and a reasonable answer to the increased artistic excitement generated by their experimental beats.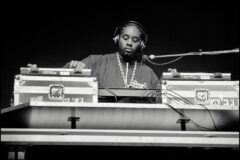 After spending the past three years lacing pretty much every Dipset-related album and mixtape with his treble-filled screechers, AraabMuzik put out How To Be An MC: Instrumental Kings 5 last spring. It gathered 30 of his most notable beats, now unadorned by Cam'ron and crew's smart-dumb rapping, and highlighted his distinctive style — an electronic attack of aggressive drums, out-there samples, and sci-fi synths. Without all that rapping, AraabMuzik sounds like the missing link in dubstep's aggressive, rave-ready evolution. He's also begun recreating his brooding beats live, revealing a virtuoso-like handling of his sampler.
This spring, Clams Casino dropped the perfunctorily titled Instrumental Mixtape, introducing himselfto those not already indoctrinated by the syrupy psychedelia of his work for Lil B. A beat by Clams features a thick coat of digital distortion, vocals slowed down to sound like they're dripping out of your speakers, and massively loud drums that often build up…then drop with all the canny melodrama of Explosions In The Sky. With the release of Instrumental Mixtape, his approach to composition, which barely even scans as "hip-hop," wasquickly embraced as the next big thing in smeary electronic music.
After the success of these free download beat tapes, AraabMuzik and Clams Casino took advantage of their buzz and developed proper albums. On Electronic Dream, AraabMuzik mostly abandons his futuristic street banger style. Instead, he takes on Jersey Shore house music and trance and chops them up into damaged dance tunes. He rearranges the elements to delay those club hits' cheap thrills, restarting them at the moment when they should explode, and teasing the build-ups for much longer, so that the listener's never quite comfortable. It's a strange decision, but it works. "Lift Off" is a battle between AraabMuzik'soppressive production tics and vibrant raging synths. "Underground Stream" samples a track of the same name by DJ Nosferatu and steals all the coolest elements from that gabber track, while also reconfiguring it into something fit for a horror film. You cannot dance to this stuff.
And then there's Rainforest, which is, well, a concept album (or, technically, concept EP). All the songs have nature-related titles ("Natural," "Treetop," "Gorilla") and the cover, a photo of a jungle with what appears to be blood staining the water, is a perfect image analogue of his music: Serene and calming, but with a tinge of menace not far off. Though it isn't a total change in direction, like Electronic Dream, Clams certainly wanders even further away from making music that most MCs could even think about rapping over. "Treetop" has a gorgeous synthesizer line and drums that just say "fuck it" to a conventional hip-hop rhythm. "Drowning" is based around a strangled vocal that never quite reveals itself, continually buried by smeary noise. It's genuinely upsetting to hear.
Though these ambitious releases transcend the worker-bee expectations of a rap producer in the Internet era, they are also part of an instrumental hip-hop tradition that's existed for almost two decades. Clams' music is, in some ways, an insular update on the cinematic, trip-hop grooves of DJ Shadow's seminal 1996 album Endtroducing…... AraabMuzik's fast-and-loose abuse of his sample sources on Electronic Dream recalls J. Dilla's confidently lackadaisical 2006 album Donuts, the first truly innovative instrumental hip-hop statement since Endtroducing…... And like DJ Shadow, a visionary manipulator of other peoples' music, and Dilla, a figure more comparable to music-genius eccentrics like Arthur Russell or Van Dyke Parks than, say, DJ Premier, AraabMuzik and Clams' work has piqued the interest of just as many listeners outside the world of hip-hop.
The Los Angeles DJ/production duo Nguzunguzu, who helped put together M.I.A.'s Vicki Leekxmixtape, recently kicked off a mix forXLR8R with AraabMuzik's "Free Spirit." AraabMuzik is continuing with his MPC performances, which have little to do with hip-hop in the same way that, say, a performance by an experimental guitar virtuoso may not have much to do with rock music. I've seen the guy whip an audience into a frenzy just by chopping up Waka Flocka Flame's "Hard In Da Paint" into something even more evil. This year, he was even invited to the Electric Daisy Carnival in Las Vegas — the type of festival usually occupied by the very dance-music artists sampled on Electronic Dream's tracks.
Clams Casino is getting play on SiriusXM's Chill, a station that, according to programmer Julia Cunningham, plays "24 hours of ambient, electronica, and down-tempo remixes." A hip-hop-loving friend introduced Cunningham to Clams' tracks, and since the station is free of terrestrial radio bias or vetting, she quickly put his eerie instrumentals into rotation. "I had the same reaction to [Clams' work] that I did when I heard Burial or Washed Out for the first time" Cunningham explained via e-mail, "[Clams] is doing something different." Last week, electronic-music legend Brian Eno praised Clams on the BBC show Radcliffe and Maconie (the show has since been taken down unfortunately). Eno played Clams' instrumental for Deezy Dolla's "Dem Wan," calling it "funny and witty."
AraabMuzik and Clams are perhaps the most leftfield instrumental hip-hop producers right now (at least among those with any notoriety), but it has been a fruitful year for the subgenre overall. Even hip-hop traditionalists are stretching out. Beginning in the fall of 2009 and into summer of last year, Washington, D.C. soul-beat afficionado Oddisee released a series of seasonally themed EPs (a modest version of The Planets) that jump from typical boom-bap to rickety electronica to wide-eyed world music. This year, he packaged the EPs together as Odd Seasons. Veteran J. Rocc put out Some Cold Rock Stuf this year, which indulges in sample stacking and '90s-style turntablist wizardry, but is also tinged with the energy of house music; impressively, it avoids showing off while sustaining a somber, exploratory mood.
And just this week, DJ Burn One, the Atlanta producer (G-Side, Starlito, Rittz) and mixtape host (Gucci Mane, Yelawolf) gave away The Ashtray, an instrumental rap album based around his smart, almost Aphex Twin-like drum programming, which also incorporates a live band, including lots and lots of stormy, emotive guitar work. The track "And Then There Was…The Green Machine" is perhaps the key to unpacking The Ashtray. The title is, like a lot of the album, a stoner in-joke and the song ends with a sample from Funkadelic guitarist Eddie Hazel's cover of "California Dreamin'." Weed and Eddie Hazel. That's pretty much the formula for The Ashtray.
The Ashtray, though, isn't a weedhead's lark; it's an artful merger of the "country rap tunes" style endemic to the South in the '90s and the classic hard funk that guys like Pimp C and Organized Noize looked to for inspiration. While you're listening, what comes to mind isn't hip-hop, but Booker T. & the M.G.'s, or Rolling Stones side project Jamming With Edward, or Frank Zappa's "Peaches En Regalia," or Funkadelic at their most blunted.
And though Burn One's excursions aren't quite as insane as AraabMuzik's satanic trance foam party or Clams Casino being two synth moans shy of Enigma's "Sadeness," it's still pretty crazy to think that an album like The Ashtray even exists, and it's but one more example of instrumental hip-hop's vitality in 2011.