Finally, after more than a decade at work, Dr. Dre has promised that his new album Detox will drop in 2010. What took him so long? Well, the rapper-producer has been splitting his time on another project: an instrumental hip-hop album … based on the solar system. Gangster.
In an interview with Vibe, the multi-platinum hip-hop artist said that he has been working on the album — tentatively titled The Planets — for "about two years now." He added that the tracks are inspired by the "personalities of each planet," and are his "interpretation of what each planet sounds like." The album will have to be released in "surround sound for Saturn to work." Wow. Wow.
It's a little… new age-y for the gangsta rap pioneer, right? Right. He thinks so, too. "I don't even know if I should be saying this, but fuck it," he said.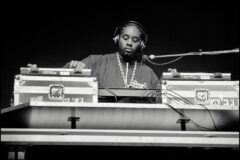 In the interview, Dre also dished on Detox. "I thought it would take at worst case a couple of years," he said (production work, including Eminem's recent No. 1 album Recovery, and "signing talent" distracted him). He's also a little peeved about the leak of"Under Pressure," his unfinished collabo with Jay-Z. "I wouldn't be as mad at a leak if the song was done … the most painful part about it is that I'm passionate about what I do, so people should hear it in the right form."
Dre appears to have learned his lesson, though: "We're in a new age, and that's a sign: Wake up, motherfucker. You have to be more careful with your shit. I know what's up now."
No, seriously, he does. Look up: planets!