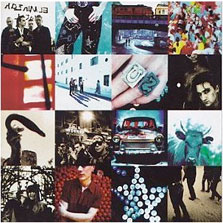 1
U2
Achtung Baby
With the middling reaction to last year's better-than-you'll-admit
No Line on the Horizon
, U2's chest-heaving big-box spectacle seems to be fatiguing more of pop's body politic than it's inspiring. Weirdly, this was exactly the case more than 20 years ago. After the critical and commercial sweep of
Joshua Tree
, the Irish conglomerate followed its bombastic muse with the ponderous 1988 docu-fiasco
Rattle and Hum
, which featured a Bono mot that would haunt many of us for years to come: "Okay, Edge, play the blues!" Flailing and directionless, the band retreated and reconsidered whether it was time to fold up their flag for good.
Instead, three years later they emerged with the album — Achtung Baby, cheekily titled as a nod to German reunification — that would energize their career and genetically engineer rock music into the hybridized mutant we know today. Initially recorded at Hansa Studios, a former SS ballroom near the reopened Berlin Wall (and later completed back home in Dublin), Achtung was an effort, stoked primarily by Bono and the Edge, to "deconstruct" the band and rewire it with jolts of beat-generated clutter and collage, nicked from industrial music, hip-hop, dance remixes, and the Madchester scene. That method almost collapsed the band — bassist Adam Clayton and drummer Larry Mullen Jr., as well as coproducer Daniel Lanois, were left bewildered and cranky.
But the frisson found expression in U2's most immediately dynamic music since 1982's War, and its most emotionally frank songs to date, capturing that particular early-'90s rub of boundless possibility and worn-down despair. Bono's lyrical flights had a battered grit, like a defrocked cleric stirred to regain his flock without the usual trick bag of bullshit. "One" became an indelible anthem because it admitted "we're not the same" but urged that we've gotta "carry each other" nonetheless. The squalling swagger of "The Fly" resonated due to the rock star at its center confessing he's a liar and a thief. And for "Mysterious Ways," the Edge somehow concocted a jubilantly snarling riff that transformed Bono's gospel come-on so it didn't feel gross the morning after.
Unlike Radiohead with OK Computer and Kid A, U2 took their post-industrial, trad-rock disillusionment not as a symbol of overall cultural malaise, but as a challenge to buck up and transcend. Their confessions of frailty and blindness amid murky atmospherics (no doubt egged on by coproducer Brian Eno) had an air of cleansing rather than whining. That the album trails off introspectively is brave in its own quiet way.
Though they continued to bumble through periods of bloat and self-delusion and irrelevance, U2 became the emblematic band of the alternative-rock era with Achtung Baby. Struggling to simultaneously embrace and blow up the world, they were never more inspirational. — Charles Aaron
SPIN Archive on Google
What Makes U2 Run?
Excerpt from the SPIN April 2009 Issue:
"The essence of the album was very spontaneous," says guitarist the Edge. "You don't want it to sound all fussed-with to the point where it's impressive but ultimately doesn't stand the test of time." Read More
Getting Personal with the World's Biggest Band
Excerpt from the SPIN December 2004 Issue:
"I think we weave God, sex, and politics together in a way that's very unusual in white music," explains Bono. "And I'm not saying this is a reason that someone should like our music, or that it proves we're great… I hope that doesn't sound arrogant." Read More
Band of the Year
Excerpt from the SPIN January 2002 Issue:
"We were very conscious of wanting to be on the radio. We wanted to compete with what was going on around us, with the boy bands and with the Christinas and all that," says drummer Larry Mullen. "There's no point being in the ghetto. Unless we're making music that's vital and that people can hear, we're wasting our time." Read More
Defusing Their Own Myth
Excerpt from the SPIN March 1997 Issue:
"The most interesting stuff comes from people doing things they shouldn't really be doing, acting outside of the boundaries of convention," says the Edge. "I'm not in the least bit apologetic if people think we're pretentious." Read More
U2 on Tour
Excerpt from the SPIN July 1992 Issue:
"Someone tells me that Bono's arm is killing him as a result of being pulled on all the time by overeager audience members. The price (sigh) of fame." Read More
Defusing Their Own Myth
Excerpt from the SPIN January 1989 Issue:
"Everything I say becomes some sort of statement, something of vast importance," says Bono. "I could go on stage, unzip my pants, and hang my dick out and people would think it was some statement about something." Read More