Jon Stewart. Queen Latifah. Nobody for seven years. … LL Cool J? Sounds about right. The rapper-actor born James Todd Smith will host the 54th Annual Grammy Awards, marking the first time the show has had an official host since hip-hop's Living Single leading lady did the honors in 2005.
Don't call it a comeback, though — LL really has been here for years. In fact, the 44-year-old Queens MC has hosted the Grammy nominations concert every year since it started in 2008. He was the first presenter at last year's awards ceremony, introducing an Aretha Franklin tribute medley sung by Jennifer Hudson, Christina Aguilera, Martina McBride, Florence + the Machine's Florence Welch, and Yolanda Adams. "I'm thrilled to be part of Music's Biggest Night," the Mama Said Knock You Out and Radio rapper said in a statement.
LL's approach — memorably described in "muscular loverman" in our review of 2006's Todd Smith — may not change, but times clearly do. In 1989, he joined Will Smith and Salt-N-Pepa in a Grammy boycott protesting the then-new rap award's exclusion from the televised ceremonies. LL's longtime rival Kool Moe D was more than happy to attend, though DJ Jazzy Jeff & the Fresh Prince ultimately won the award, for "Parents Just Don't Understand."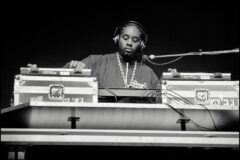 The host announcement follows a week after the Grammys started to unveil an eclectic batch of performers for the February 12 event. Foo Fighters, Nicki Minaj, and Taylor Swift will be among the nominated artists taking the stage, joined by Kelly Clarkson, Bruno Mars, and Jason Aldean. Speculation has swirled about a potential appearance by Adele, who has been confirmed to sing at the Brit Awards later in February, but there's no official word on that front just yet. Also noticeably absent from the bill are nominees Lady Gaga, Kanye West, and Bon Iver, the last of whom will perform this weekend on Saturday Night Live.
Still need Grammy guidance? Read "Everything You Need to Know About the 54th Grammy Awards Nominations."
https://youtube.com/watch?v=HUpsc7_W6iI%3Fversion%3D3