Everyone has something to say about the year's most divisive new artist. But separating myth from fact means untangling a knot that also happens to encapsulate the weird state of pop stardom in 2012. Plus: Read SPIN's review of Born to Die.
I. The Origin Story: A Star Is Born/Made
The myth, as it is presently understood: Lana Del Rey is an extended vanity project bankrolled by her dad's money and honed, over the years, by a series of lawyers and managers who have shaped her image and plotted her career path. She is merely a canvas of a girl, and a willing one at that. Bloggers and journalists take pains to note that her real name is Lizzy Grant, that Lana Del Rey is "fake," as are her lips. ("Lizzy Grant" sounds like a Disney tween star; it's easy to see why she changed it. Certainly no one was this incensed to discover that "Lady Gaga" is not printed on a certain singer's birth certificate.)
What we do know to be true: Lizzy Grant is indeed now Lana Del Rey. She is 25 and grew up in Lake Placid, in upstate New York. "I lived in a small town," she told MTV, "and I just thought it was gonna be a long life." She spent her time as a teen wandering in the woods and writing, feeling like a secret weirdo and having her first real connection to music through Biggie's "Juicy." Back then, she says she was something akin to trouble, and got shipped off to Kent, a private prep school in Connecticut. Her autobiography of that era can be heard on the track "This Is What Makes Us Girls."
At 18, she moved to New York to attend Fordham University, where she studied metaphysics, looking for proof of God, and began writing songs. She stopped drinking and got sober. She played shows, performing versions of songs that now make up Born to Die. Just before her senior year, she found a deal with the label 5 Points, after coming to its attention through a songwriting competition. The label gave her an advance, which she used to move into a trailer park in New Jersey shortly after graduating from Fordham. She was 20 years old.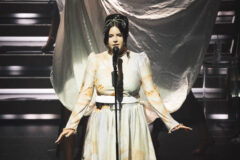 David Nichtern, who runs 5 Points, solicited producer David Kahne (who has worked with everyone from Paul McCartney to Sublime to Tony Bennett to Regina Spektor); he agreed to produce the Lizzy Grant record. "It was a bit of a coup because he is a big-name producer, and we are a tiny record label," says Nichtern. In the studio, Kahne saw a singer who was motivated and self-directed, always looking for ways to move her work forward. "What she is doing goes against the grain of chart pop, which is about getting to the club on Friday night," says Kahne. "The country is fraying at the edges; she wanted to look at that edge, at destruction and loss, and talk about it." According to Kahne, Del Rey was "solitary" and often spent her nights riding the subway out to Coney Island, exploring.
The songs from these sessions were split into two releases, the Kill Kill EP and the debut album. According to Nichtern, after the release of the EP, the singer said she wanted to change the name she recorded under. "First it was 'Del R-A-Y,' and then she settled on 'R-E-Y.' This story that it was anyone but her making the decision is complete fiction," says Nichtern. "If she is 'made up' — well, she is the one who made herself up. She has very strong ideas about what she does. The idea someone could manage her into a particular shape — it's impossible."
She has many different qualities that women in our culture aren't allowed to be, all at once, so people are trying to find the inauthentic one. —Tavi Gevinson
Shortly before the full-length was to be released, Nichtern says Del Rey decided she was unhappy and wanted to add tracks and make other changes. "It became difficult to go forward," he explains. Del Rey decided to shelve the record, and 5 Points obliged, striking a deal for her to buy back her masters. Nichtern is adamant that the deal's dissolution was all aboveboard and there were never any hard feelings. "She is a great artist," he says, "a real artist. I have always thought so and still do."
"It was very unusual," says Interscope executive VP of A&R Larry Jackson of his first serious meeting with Lana Del Rey. "We sat for an hour and talked, without her playing any of her music. Just conversation, honing in on the philosophy of what she was doing, what she saw for herself — I was captured. It was a totally unorthodox meeting, and I thought, 'I've got to do this.' When asked if anyone else was involved, if there is someone orchestrating Lana from behind the curtain, Jackson is emphatic. "The only Svengali in this thing is Lana."
"I've never understood this controversy about whether she is real or fake," says rapper-producer Princess Superstar. "All artists have a persona." A year prior to the Interscope deal, the two women spent a few months honing Del Rey's songs, with the rapper serving as mentor. "She's not put together by some company. These are her songs, her melodies, her singing — she's always had this '60s aesthetic. Look at Katy Perry and Beyoncé, and you see that they have a team."
Interscope don Jimmy Iovine gave Jackson his blessing to sign Del Rey on the basis of seeing an unfinished version of "Video Games" on YouTube. Del Rey signed a worldwide joint deal with Interscope and Polydor in March 2011, making her, officially, a major-label recording artist a full six months before Pitchfork was pondering whether the former choirgirl was real or a perfectly pitched plasticine creation.