II. The Look: Baddest of the Good Girls
A pretty singer with a cool coo is one thing, but Lana Del Rey fascinates because there is a tension to her persona. She's the good girl who wants it all — the boy, his heart, and nothing short of pop stardom, even if that ambition ends up making you look pretty ugly. In short, Lana Del Rey is Amy Winehouse, with the safety on. While Winehouse was unrepentantly bad, Del Rey plays both sides — she's a bad girl who knows better, a good girl who feels hemmed in by her role. Her anthemic ballads are about self-control (or lack of it) and being hopelessly dedicated to bird-dogging dudes ("You're no good for me / But, baby, I want you / I want you" goes Del Rey's "Diet Mountain Dew"). "Video Games" could be a case study from He's Just Not That Into You. The Lana of "Blue Jeans" and "Video Games" is charmed by the darkness, thrilled by the prospect of losing herself in this bad boy and his needs. The Lana of these songs is alive in that vicarious freedom — evidence that there's still some teenage-crazy ride-or-die bitch lingering around her Chantilly edges. "I've had to pray a lot because I've been in trouble a lot," she told GQ late last year.
"I remember that she had really specific feelings about what she wanted to portray about girls," recalls Kahne. "We were talking about Marilyn and Natalie Wood, these iconic actresses of the '50s, and she said, 'They were good girls.' She liked that image."
"In her, I do see the struggle between the good girl and the bad girl," says Larry Jackson. That duality was part of what made him want to sign her. After a dinner meeting in Los Angeles last spring, he saw her kick a cab that cut her off as she was walking away. "She cursed out the cab. I saw her do it, but she didn't see me. She was very New York in her reaction. It was irreverent and funny. She epitomizes the loose-cannon star."
https://youtube.com/watch?v=eZI5iaCyL6E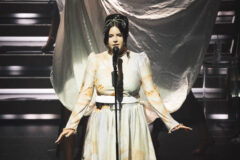 In a YouTube video from 2008, back when she was still firmly in Lizzy Grant mode, Del Rey gives a writer from Index magazine a tour of her New Jersey trailer park. Gracious and proud, she smiles easily. It's a year after Winehouse's "Rehab" hit ubiquity, and Del Rey is done up in a Jersey approximation of the singer: She's wearing a silk bomber, her white blonde flip teased to a bouffant puff and tied with a bandana do-rag, batting long fake lashes. She looks miscast, like a too-young housewife — a child bride trying to look grown. Her baby face and coquettish giggle give her away. The sound on the video is awful and the questions tepid, but Del Rey answers the two most important ones clearly and directly to the camera: This is where she wrote her record; and she moved to Jersey for the state's surplus of metal boys. There is no mistaking what matters to her.
"She has many different qualities that women in our culture aren't allowed to be, all at once, so people are trying to find the inauthentic one," says Tavi Gevinson, the teenage style kingpin behind Rookiemag.com. "She's girly, but not infantilizing. I relate to her aesthetic the way I think other girls relate to Taylor Swift lyrics — her femininity isn't too sexy or too pure, and that's something I can get behind."
How Del Rey defines herself in the classic-pop cosmos has changed as her music and image have evolved over the past year: "Gangsta Nancy Sinatra" gave way to a more petulant prospect of "Lolita lost in the hood." More recently, she catchphrased Born to Die as "Bruce Springsteen in Miami," perhaps transposing Darkness on the Edge of Town's blue-collar struggle from a Jersey grind to a kind of decrepit languor, an infinite nighttime lit by neon instead of streetlights. While Born to Die features familiar Springsteen tropes — no-future kids tangling in sin and redemption — Del Rey's songs are more like answer-back dispatches direct from "Candy's Room," where the door's slammed shut and the stereo's up. She's telling the missing side of the story, revealing a new, true character living behind that scrim of male desire: the good girl who wants it just as much as he does.