"When we play, the challenge is there: Can we throw down? Can we return the favor? Because so many bands have blown our minds over the years, can we return that favor to people out there? That's still something that feels very straight up to me." — Ian MacKaye, in the 1997 Fugazi documentary Instrument
In September 1987, Fugazi were a new band comprising Ian MacKaye, co-founder of Dischord Records and hardcore punk icon on vocals and guitar, drummer Brendan Canty, a well-respectedD.C.-scene regular who hadn't done much touring, and bassist Joe Lally, who had previously been a roadie. They were quickly joined by singer, then singer-guitarist Guy Piccotto, Canty's bandmate in Rites of Spring, One Last Wish, and Happy Go Licky and a dazzlingly charismatic figure in his own right.
In November 2002, they played their final show, as an indefinite hiatus followed. In between, they made two EPs, two seven-inches, and seven albums, became one of the best, if not the, best live rock bands of their era, embodying the DIY ideal as punk broke in every possible way. They made slavish fans out of everyone from R.E.M. and the Red Hot Chili Peppers to Pearl Jam and Sleater-Kinney and thousands of smaller bands whose names you might never know.
They made these fans, they got that good, that deft, that fluid, by touring constantly. They toured for weeks on end for years on end, booking all of these shows themselves. According to Dischord, over the course of 15 years and one month, they played about 1,000 shows — that averages out to about 83 shows a year, usually in four-to-eight-week chunks, fall and spring tours with local gigs in between. They recorded about 800 of them.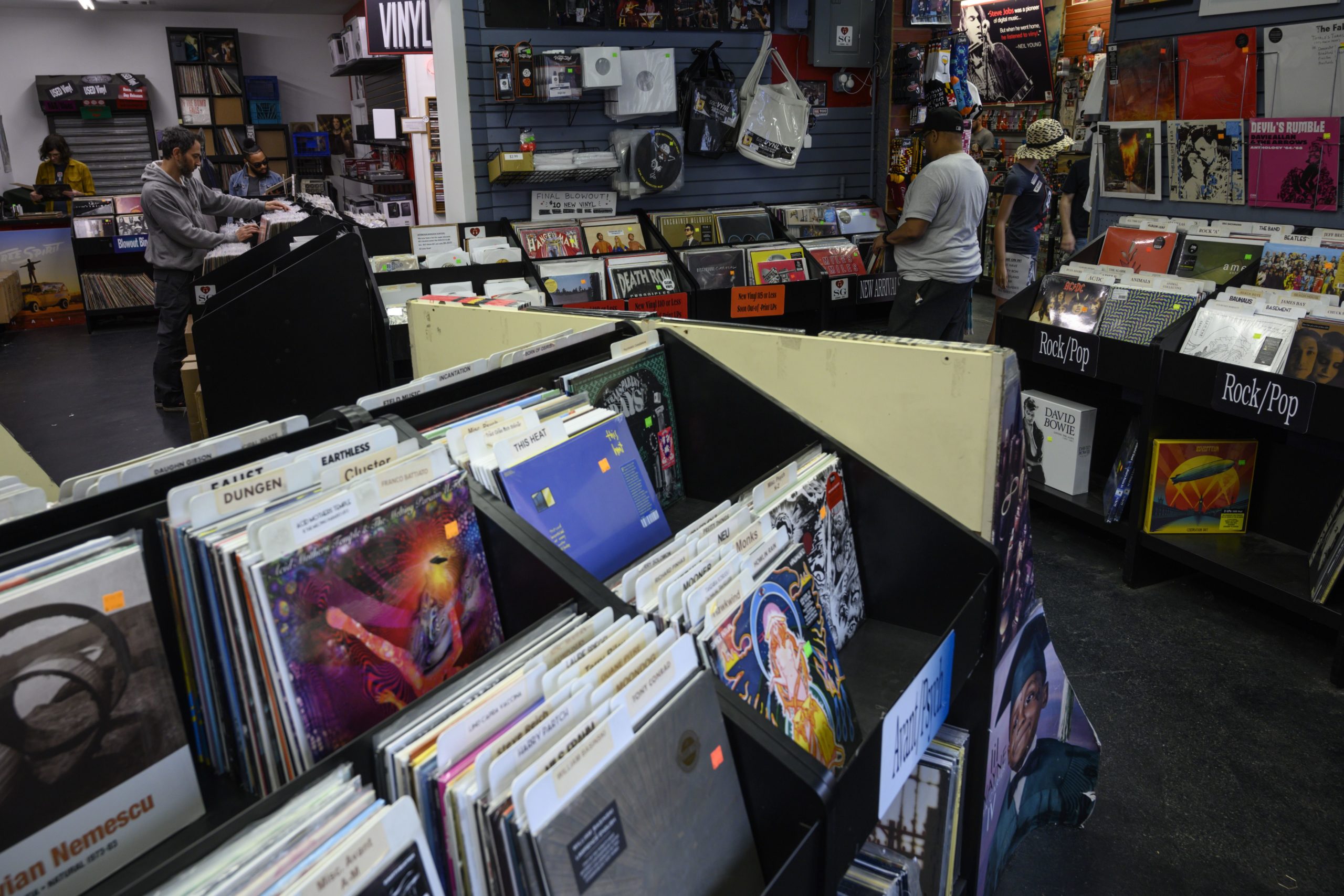 On December 1, Dischord launched the Fugazi Live Series, which will eventually feature all of those; 130 are up now, 30 previously available as a CD series, including their first and their last and gigs. Each costs five bucks, the same price as the actual tickets to the shows. Suddenly, fans can dive and swim in these shows like Scrooge McDuck in his money vault.
The archive isn't just a bunch of MP3s, though, it's a living, evolving document of an entire subculture, encouraging contributions and remembrances from photographers and fans who attended the shows. Being a DIY lifer means being organized and observant, and MacKaye was a rigorous note-taker. The vast majority of gigs listed include venue capacity and opening bands.
First gig? Three hundred at the Wilson Center with the locally established Marginal Man, Ignition (Ian's brother Alec MacKaye's band), and Fire Party (which featured Amy Pickering, who often sang female POV lyrics on "Suggestion" when they were in town). Last? London's Forum with Buff Medways, no note of attendance, though its capacity at the time was about 2,100.
In between, they played in front of 50 (third-ever show, at Cat's Cradle in Chapel Hill) and 5,000 (30th anniversary of the March on Washington on the D.C. Mall). The largest indoor crowds they would play to were about 3,500 people (Congress Theater in Chicago, where I recall they nearly got their lunch eaten by the Ex.)
To be in the rooms or fields documented here was to feel like taking on the world was not only possible, but a duty one could enthusiastically embrace.
A history of 1990s American punk can be found here, before and after Nirvana. In the late '80s and early 90s, they were playing with punk and hardcore bands (Operation Ivy and Verbal Assault in Rhode Island; Beatnigs, Yeastie Girlz, Crimpshrine in Berekely) and the second wave of post-hardcore bands (Former Big Boy Tim Kerr's funk outfit Bad Mutha Goose in Texas, Jackonuts in Athens, Georgia, Thatcher on Acid and Chumbawumba in Leeds, England.)
By the mid-'90s, they were playing to about a thousand people a night, sometimes a little less, sometimes twice as many. A 1993 gig at the Utah State Fairpark Coliseum with Rocket From the Crypt and Clawhammer drew 2,000. Crowd surfing, known to everyone thanks to MTV, became the rule rather than the exception.
In the late '90s, as alt rock disintegrated and hardcore became a cult music rather than stepping-stone, they went out with late '90s indie acts such as Blonde Redhead and played one-offs with bands they inspired (90 Day Men, Promise Ring). Crowds that were once antagonistic were, ten or so years later, adoring. Kids were standing rather than slamming.
And it's not just that Fugazi toured all the time: They headlined all the time. No opening for a major label band in a shed over the summer, no heading out with a bigger indie act, no festivals with Hole and Pavement.
They sold out or nearly sold out entire tours as headliners to the biggest rooms they felt comfortable playing, 83 or so shows a year, for 15 solid years, for between $5 and $7 a head. (By the way: they also did this without using set lists or playing covers.) I can't think of another band that has accomplished anything quite like that.Keep reading for SPIN's guide to 13 essential shows >>
They played two kinds of shows, the kind where everyone was leaping in unison and the kind full of stops and starts, where the kids yell at the band and the band tries to refocus the energy in the room. Fugazi were deeply into the idea that the show is made as much by the crowd as by the band (which sounds axiomatic but look around at just how few people are really paying attention the next time you're at a gig at a bar). It may have sounded like grousing to male elbow-throwers, but a calmer room made a space for women that might not have been there otherwise.
They felt responsible for the room and for the safety therein, they were tired of boys running into each other hand and girls holding coats, so they slowed the beat down and cracked on violent kids with humor so bone-dry it got lost in the rooms' sweaty walls. In early shows, MacKaye is chatty, as the band is often playing in front of local friends. Out of town, he's almost explaining the music in spots. By the mid-'90s, they are as professional as they were gonna get, efficient and jammy both, versioning old songs night to night and working out new one, turning hits like "Waiting Room" into smart bombs, turning set-closers into lava.
When all the pistons are firing on these shows, there's a group mind here like few others. It's the interactions of the hard bop band taking a swing at Krautrock. There are no solos, but there is movement-as-a-unit that keeps the riffs and ditches the song in favor of the workout and the interplay between MacKaye's meat-and-potatoes SG roar and Picciotto's higher-range Rickenbacker spark. Canty doesn't as much play the beat as point in the direction that the music should go. Lally holds it down, stone faced, almost unmoving in the tradition of Bill Wyman and John Entwistle.
There are definite go-to moves: By the mid-'90s, you can hear crowds roar when Guy takes off his guitar in mid-set, which means a set of early songs like "Waiting Room" and "Give Me the Cure" on which he sang and danced but did not play, the dancer embodying the crowd's energy at its most ductile.
Like any band reading a crowd, certain songs indicate certain moods. When they open with instrumentals such as "Joe #1" or "Brendan #1," it's a positive sign the vibe is good. Sharper songs — "Birthday Pony," "Break," "Do You Like Me?" feel more confrontational.
When the vibe is good, certain songs feel like they could go anywhere. "Shut the Door," a deeply compassionate look at the final throes of heroin addiction, breaks down before the last chorus for long minutes at a time, the two guitars alternating between lunge and creep. "Reprovisional" and "Promises" turn into in-the-red noise fests worthy of the most expansive Sonic Youth gig (except you can dance to Fugazi).
And then there is "Glueman," the traditional tour closer (or set closer for an exceptional evening). That ovoid riff, Ian facing his Marshall stack, then Guy's scream: "AYYYYYYYE!!!! / SPENT IT ALL!!! / on the bag / on the drag." It's about (inspired by?) a man they saw sniffing glue from a bag, but when it's being played, it's about everything all at once. It's is their "Black to Comm," their "Sister Ray," their "Bad" (U2, not MJ), their "Killer Parties" and "Blue Line Swinger." It's about the moment it is being played, it's about the crowd and the band. It's a tornado with Guy at the center, hurling himself around stage, upside down, shaking, a total release: "You are my everyone, you are my anyone / You are my anytime, you are my every time / everywhere / anywhere."
For fans, it's everything they want from the act of rock music. It's why we kept coming back. You can't see it, literally see it, on these live sets. But the roar comes impressively close.
A nostalgia trip? Not as much as you'd think, if only because nobody is making rock that sounds like this anymore. Indie rock is Fleet Foxes folk and chillwave and music for working at a computer. Metal doesn't have this bounce. Hearing the righteous scream of "Repeater," the furious sloganeering of "Facet Squared," the slink of "No Surprise" is my idea of dad rock.
No, what one becomes most nostalgic for is the activist confidence here, the endless benefits for the Washington Free Clinic or the Jessup Prison Inmate Programs or the Community for Creative Non-Violence.
Who is this fearless now? Who isn't self-conscious enough to yell "Yeah? BULLSHIT" at political ugliness not once in a while, but all the time while rocking this hard? Download one of these shows and you want to grab your friends and occupy everywhere, anywhere, anytime, every time. It's startling to me how much of that power remains in these recordings, but I have no earthly idea what the effect would be on someone who never saw them live. I'm pulling for inspiring.13 essential Fugazi shows on page 3! >>
13 Shows
About 800 shows are planned for the Fugazi Live Series and approximately 130 are available right now. Here are a bakers' dozen shows, most excellent, one less so but historic, all perfect entry points into their impossibly long career.
1. September 3, 1987 (Wilson Center, Washington, D.C.)
Their first show, and one of the very few they ever played in a supporting role. They are a trio, they sound a little tentative and pleasingly mortal — there are at least two genuinely bad songs on here ("Turn Off Your Guns," "In Defense of Humans") that were soon dropped.
Highlights: a chatty, first-ever performance of "Waiting Room," the forgotten anthem "The Word."
2. October 6, 1988 (9:30 Club, Washington, D.C.)
Return of the kings. After an early tour, a triumphant gig on home turf.
Highlights: Ian vs. crowd: "No violence, no thuggery, no boyhood bullshit….was it a girl? OK, I'm sorry, no girlhood bullshit either," pointing out the Greek chorus in "Suggestion," Picciotto introducing the AIDS anthem "Give Me the Cure" with "Every lover is a scientist."
3. November 16, 1989 (Exeter, England)
Dicey sound here and there, but a great example of the band in an oddly transitional year, established as punk-scene stunners but not quite indie noise-jam icons.
Highlights: an early English performance of "Shut the Door."
4. March 14, 1990 (40 Watt, Athens, Georgia)
Yammering crowd over an expansive set. No word if R.E.M. were in the house, but it's entirely possible.
Highlights: Guy ascribing the genesis of "Two Beats Off" to reading "The Postman Always Rings Twice."
5. March 6, 1992 (St. Stephen's Church, Washington, D.C.)
It may seem like blatant homerism to have so many D.C. shows in here, but they were usually in front of friend and benefits for local organizations. They were also a chance to work out new material or new arrangements.
Highlights: Embryonic versions of "Facet Squared," "Cassavetes" and "Rend It," explosive set closer "Reprovisional."
6. June 28, 1992(Tempodrome, Berlin, Germany)
In Europe, post-Nirvana, punk is dead, punk is everywhere.
Highlights: "Rend It," the Bomb Squad-ish "Repeater," "Glueman."
7. April 4, 1993 (Trax, Charlottesville, Virginia)
The first out of town show for their extraordinary (and extraordinarily well-documented) Spring '93 run. Almost any of these shows is good to great.
Highlights: A "Promises" worthy of Sonic Youth, the "Give Me the Cure"/ "Song #1″/ "Margin Walker" / "Waiting Room" arc is as immediate, in the pocket and juiced up as any band alive, then or now.
8. August 7, 1993 (Sylvan Theater, Washington, D.C.)
A massive free show, in front of 5,000, celebrating the 30th anniversary of MLK's March on Washington.
Highlights: "Promises," set closer "Glueman," in pure rock frenzy, a clearly possessed Picciotto shouts out all four of D.C.'s quadrants, equal parts hilarious and dramatic.
9. August 9, 1993 (Fort Reno, Washington, D.C.)
The legendary "ice-cream-eating motherfucker" show.
Highlights: the opener, an instrumental version of "By You," an awesome Lollapalooza diss introducing "Give Me the Cure," and the aforementioned "ice cream" moment, one of the funniest instances of crowd control ever recorded.
10. October 9, 1995 (Expo Gardens, Peoria, Illinois)
A top-flight example of the band dealing with a few bad apples ruining the show, which is stopped over and over because of fighting the band refuses to soundtrack. Eventually the combatants are humanely humiliated.
Highlights: any of the breaks, especially when Ian's patience runs thin.
11. September 3, 1997 (Wilson Center, Washington, D.C.)
Tenth anniversary show, largely unannounced and under attended, in the same spot where they played their first. Sadly incomplete (no "Glueman" finale — a shame, that) but heavy nonetheless.
Highlights: a haunting "Shut the Door," dedicated to Ian's brother Alec MacKaye who was in the crowd, and a muscular "Suggestions," with lead vocals by Amy Pickering.
12. March 8, 1999 (The Palace, Los Angeles, California)
Attention audiophiles: A good show, but perhaps the best recorded and mixed of the thus far available series.
Highlights: "Furniture," an early song newly worked back into the set, "Waiting Room," "Floating Boy."
13. November 4, 2002 (Forum, London)
The last show before hiatus. They claim not to have known it was such, but, in keeping with the end of tour, they sound a little exhausted in spots.
Highlights: "Glueman," appropriately the last song the band has played. Like the man said, "I spent it… all."