Aerospace hub Huntsville, Alabama, used to be about seeing stars. Thanks to G-Side and the rest of a tight-knot rap community, it's now about making them.
More From SPIN's December 2011 Issue:
• Live from the New Underground: SPIN Celebrates Hip-Hop's DIY Moment
• Odd Future: The New Underground's Loud Family Goes on the Road
• An Insanely Obsessive Infographic Tries (in Vain) to Diagram the Hip-Hop Galaxy
"There it is," says ST, easing his beige Chrysler Concorde onto I-565 in Huntsville, Alabama. "The motherfuckin' rocket."
Just off the highway, a 363-foot-tall white Saturn V points toward the heavens, a beacon for visitors to the U.S. Space and Rocket Center. The Saturn V, manufactured here in the 1960s, powered all six NASA missions to the moon and still holds a storied place in the city's imagination.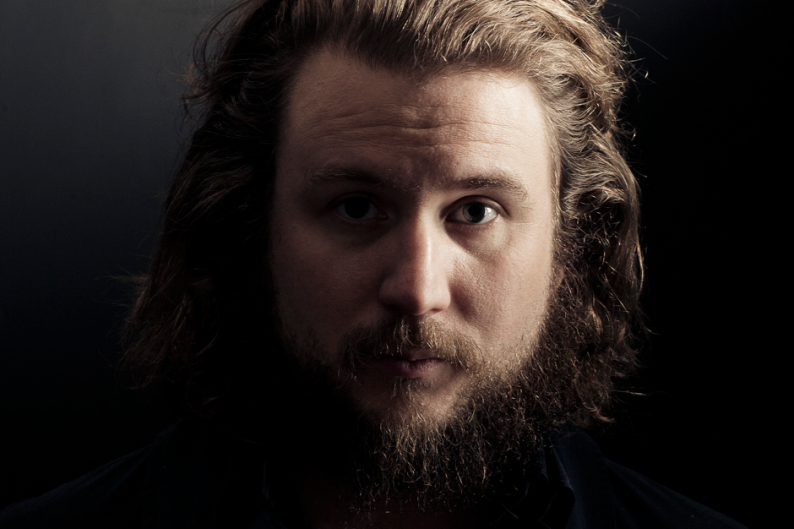 "We ride past the rocket to test records out," says ST, who is one-half of the Huntsville rap duo G-Side. "That's what the city made its money off of."
In 1940, Huntsville, Alabama, was a town of 13,000, but when World War II ended, the city became home to the military's missile development program, and later NASA's Marshall Space Flight Center. "Rocket City," as it came to be known, is one of the nation's foremost technology hubs: Today, 180,000 people live here, sprawled across 200 square miles in north Alabama. The city's wide streets are lined with the sorts of strip malls, chain restaurants, and car dealerships that have erased the charms of small-town life everywhere, so it's easy to get caught up in the symbolic import of the Saturn V. The cover for G-Side's 2008 album, Starshipz and Rocketz, lays it out: The rocket rises toward the stars while two young black kids point to it, as if to say, We're following that motherfucker out of here. Across four albums, this has been the underlying theme not only for G-Side, but for the whole shockingly vibrant rap scene that has grown up here in the last decade.
Along with the G-Side duo of ST 2 Lettaz and Yung Clova, whose fifth album, Island, is out in November on the Huntsville-based Slow Motion Soundz, there is a gaggle of talented rappers who either call Huntsville home or did until recently, including the PRGz, Jackie Chain, Kristmas, Bentley, S.L.A.S.H., 6 Tre G, the Cole Boyz, and Zilla. Two veteran local producers, CP and Mali Boi, collectively known as the Block Beattaz, have provided music and guidance for these artists and have groomed a second generation of Huntsville producers that includes P.T., Bossman, R Dot, DJ Cunta, and Cees.
Most striking is not the quantity of music coming from Huntsville, but the quality. The Block Beattaz routinely match delicate, surprising samples (Enya, indie rockers Beach House, and Tame Impala) with airy electronics and trunk-rattling beats, creating a sonic tapestry that, at its best, adds emotional depth to rappers' verses — whether it's Jackie Chain's unrepentant hedonism, Kristmas' playful working-man laments, or the Cole Boyz's militant spirituality. This is less club music than riding music — a reflection of the city's enduring automobile obsession. And it's thoughtful riding music; Huntsville rappers often make staring into the cosmos feel pretty hardcore. As ST puts it on the haunting, poignant "Y U Mad," "The stars look so bright / When you come from a city with no lights."
Kristmas (Photo: Matt McGinley)
And Huntsville's rap scene is a genuine scene: The main players work, party, compete, argue, and learn together. Their successes, by mainstream standards, have been modest so far — critical acclaim, brief major-label flings, fleeting appearances on MTV and BET. But that's only fueled their underdog ethos. What they've built they've built themselves, by combining old-fashioned street hustle with considerable Internet savvy.
"In a city like this, all you get is small wins," says Codie G., G-Side's manager, Slow Motion Soundz's GM, and Huntsville's most indefatigable promoter. "If I see somebody here get some success, I feel like that's my success. All the things we're doing now are just seeds. We keep watering them and they grow."
Stephen "ST 2 Lettaz" Harris is not ballin'. He tells me this a few minutes after he clears papers and clothes off his passenger seat so I can climb in. It's a warm, gray afternoon in September and we're heading to Athens, a town 20 minutes west of Huntsville. ST met his partner, David "Yung Clova" Williams, in Athens when they weren't yet teenagers, and Clova still lives there.
The car is a shambles. The stereo is busted and the door locks grind loudly when used. ST cracks a window and fires up a blunt. The 26-year-old is wearing a black T-shirt, gray camouflage pants, and black Air Jordans. As a rapper, his charismatic swagger suggests a hint of wounded menace, but in person he's garrulous and easygoing.
"I'm trying to stop smoking so much weed," he says, exhaling out the window. "It's expensive."
G-Side has been a longtime favorite of influential rap bloggers, and their last album, The One…Cohesive, is one of the most exciting and heralded rap albums of the year. They've toured Norway three times (more on this later) and played this past summer's Pitchfork Festival. But money is still tight.
Clova, 27, has a barbershop where he cuts hair full time. ST ran a gas station and sold drugs until about a year and a half ago, when he started making low-budget videos for local rappers. He's since quit that to concentrate on music, but now with G-Side on a two-month hiatus from touring so they can finish Island, he's been surviving on the kindness of friends and relatives. He lives in a small house in Huntsville with his older brother and a friend.
"We try to live at the lowest possible level so I can not work, stay in the damn studio, and ultimately get us somewhere else," he says.
We pull into the driveway of Clova's tidy brick house and park amid multiple cars in various states of repair. Clova is built like a bulldog, short and compact with a gentle manner of speaking that recalls a less effeminate-sounding Mike Tyson. He's wearing a purple T-shirt, white jeans, and a large white cross around his neck. He shows me his basement studio; this is where he records when he's too exhausted from cutting hair all day to drive to the Block Beattaz's studio in Huntsville.
Later, we all ride around Athens. Near the town square, Clova points at two water fountains on the side of the old-fashioned ice cream shop. "They still have one of them water fountains they made black folks go to," he says.
As we ride toward the town's center, I ask Clova about his nickname.
"My mama was raped by my father," he says. "She was on the abortion bed and my grandma begged her not to do it. That's how I got here. So I knew I had a purpose. It seems like I would've been dead or locked up, but I'm still pushin'. So I call myself Clova 'cause I feel kind of lucky."READ MORE ON PAGE 2 >>
Many stories of ST's and Clova's early years resemble their rhymes: doses of desperation, inspiration, violence, and heartbreak, delivered with a matter-of-fact thud. ST never knew his father and grew up shuttling between Athens and Huntsville with his mother and brother. We ride down a bumpy road past some tiny, ramshackle wooden houses — most look uninhabited or at least uninhabitable — and come upon an empty, weed-strewn lot.
"My granddaddy's house was here," ST says, slowing the car. This was as close as ST had to a permanent address growing up. "My granddad was a raging alcoholic. You wouldn't want to give him a hug because he'd have gotten so drunk and pissed on himself. We had no bathroom. We didn't even have a fucking stove, we had a hot plate. You boiled water, threw it in a big-ass washtub, and everybody in the house would take a bath."
The state eventually placed him in foster care. After four years, he was reunited with his mother when he was 14.
Bentley (Photo: Matt McGinley)
"The next year she died," he says. "Thyroid cancer. I came home one night, went in, gave her a kiss. The next morning, I go in there, she's not waking up." ST moved in with relatives and finished high school in Texas. He returned to Huntsville in 2004, ostensibly for college, but more to reunite with Clova and kick-start his nascent rap career.
"I sent CP my demo and he broke it down, song by song, what I did right and wrong," he says. "He said, 'If you come to Huntsville, we can work together.' I came and was like, 'It's a package deal. I come with Clova.'?"
Local rappers had been banging around Huntsville since the '80s, and a few, like Rawlow B, Tam Tam, Mellow Drama, Po Boi, and Atteze, scored some regional success in the '90s. But around the time ST returned to town, the city's rap scene started to make real noise. The year before, a hypnotic, synth-slathered ode to car culture called "Lacs & Prices," credited to Slow Motion Soundz and featuring an about-to-pop T.I., had become an underground Southern hit, eventually getting played on BET.
At the time, Slow Motion Soundz was a catchall designation for the artists working with the Block Beattaz and was largely indistinguishable from an entity called Paper Route Records. In 2004, the crew dropped a well-received mixtape called Slow Motion Soundz/Paper Route Records Presents Hood Headlinaz, which stands as a template for what was to come. Although the proceedings were centered on some of the rappers who'd become the Paper Route Gangstaz, or PRGz (Mata, Jhi-Ali, Gunt, Dawgy Baggz), the album featured verses from more than 20 artists, including G-Side, Jackie Chain, 6 Tre G, and P.T. Tracks like "Gangsta" and the Art of Noise–sampling "Naturalz" shuck off the colder, harsher sound of earlier releases, and introduce the mix of spacey soundscapes, laid-back beats, and sing-songy hooks that would come to define the Block Beattaz's aesthetic.
Huntsville is not as unlikely a locale for this creative renaissance as it may seem. Several area schools, including University of Alabama-Huntsville and the historically black college Alabama A&M, bring a steady stream of newcomers into town. Some, like Mata, Kristmas, and S.L.A.S.H., have become integral parts of the rap community. Others have become fans, taking the music back to their hometowns. Similarly, Redstone Arsenal, a military base, also brings outsiders to town and sends locals all over the world, including Codie, who did an eight-year Army stint that took him to Iraq and Korea.
https://www.youtube.com/embed/_a84r6be3p0
Tastemakers have been kept at bay by the city's geographic isolation — it's three and a half hours from both Atlanta and Memphis, two hours from Nashville, and not really "on the way" to anywhere (until the I-565 spur was built in the '90s, there wasn't even an interstate running through it). Rappers didn't tour here, producers and DJs didn't stop by, and label executives likely couldn't find it on a map. So instead of being shaped by outside influences, both musical and financial, the scene and the sound had time to incubate. A sustainable local economy developed. Studio time was cheap and beats were routinely sold for less than $50 a pop. Lots of people built their own studios. Even now, a low cost of living encourages more rappers to try their luck. What's more, Huntsville's high-tech sector has kept it relatively sheltered from the financial doldrums that have plagued the rest of the country. This year, Moody's ranked it the top city in the country for employment growth.
"The fact you can get beats so cheap and everybody's got a studio definitely influences people," says Jackie Chain, who bought the beat for his huge underground hit, "Rollin'," for $50. "You can live off $700 a month in Huntsville. One studio in Huntsville is a bootleg house. You go there, chill out at the bar, and record. Everybody's doing it."
The view of Huntsville as a backwater town far from rap's traditional meccas was long considered a drawback, but as Dawgy Baggz of the PRGz points out, now it's an asset. "Nobody knew about Compton before N.W.A," he says. "New York's story has been told before. Everybody knows Atlanta's story. But nobody's heard our story."
The Internet has been crucial in spreading the gospel and the music. "We've had a website since '99," says Codie. In the mid-2000s, he spent countless hours in online rap forums, operating under multiple user names, posting music and stirring up arguments to promote Huntsville. In 2006, a label called Screw-U-Records, which had a distribution deal with Universal, made a bid to sign just about the entire SMS/Paper Route family. A meeting was arranged but didn't go well.READ MORE ON PAGE 3 >>
"We saw the contract," ST says. "It was the worst deal. They owned you." The meeting devolved into arguments among the SMS/Paper Route camp and the Screw-U exec. "CP" — a hulking but normally soft-spoken former college running back — "told him, 'You're trying to fuck me and these artists. You're lucky I don't beat the shit out of you right now.' Then he was like, 'Anybody that's with me, let's get up and go right now.'?"
At that moment, what had been a tight-knit community showed its first significant crack. Some members of the future PRGz stayed in the room and reportedly signed the deal. G-Side, Codie, and the Block Beattaz walked. "There was a lot of tension for a while, but now it's cool," says ST.
The PRGz migrated to Atlanta. The Screw-U deal bottomed out, but in 2008, they connected with Diplo and released a mixtape, Fear and Loathing in HuntsVegas, which brought a whole new level of interest. A series of impressive singles, including the Diplo-produced "Stop-N-Go," "Keyshia Cole," a head-nodding weed anthem, and "Anutha Night," which sampled a power ballad from the Adult Swim show Squidbillies, hinted at a mainstream breakthrough that never quite materialized.
The group eventually returned to Huntsville but never fully to the SMS fold. When I meet with them at a local wing joint, they play me some energetic, soulful, hook-heavy tracks from their in-the-works album, Pistols in Paradise. The production is being split between Diplo and the California-based duo S.O.V. Although the PRGz have occasionally worked with the Block Beattaz since the Screw-U split, there seems to be a calculated effort to put some distance between themselves and their former producers.
Jackie Chain (left) and S.L.A.S.H. (Photo: Matt McGinley)
"It's not taking anything away from Block Beattaz, but we got to do what's best for us," says Mata. "It was time to expand our horizon."
The PRGz haven't been the only ones stretching their wings. In 2007, Jackie Chain moved to Atlanta and a year later signed a deal with Universal Motown. After corporate downsizing early this year, he was shuffled to Universal Republic. More than three years after signing, his debut album has no release date. Both his and the PRGz's experience have challenged the long-held local assumption that the best way for a rapper to "get on" is to get out of Huntsville.
But for whatever frustrations Jackie and the PRGz have felt, their label deals have given them a measure of economic freedom that eludes G-Side. Over the last three years, the duo poured nearly every dollar they made back into the group. As ST explains, "If a blogger or a magazine wrote about us, we'd fly out to where they were, meet them, play a show, and network."
This strategy fostered a passionate online following and led to their multiple trips to Norway. The Oslo-based Marius "DJ Giraffo" Emanuelsen had discovered Huntsville rap in an Internet forum around 2006. His proselytizing built G-Side a Scandinavian fan base. Eventually, a concert promoter told him that if he got a petition signed by 50 people promising to pay for tickets to their show, he'd bring them to Norway.
"It took less than a week," Giraffo says. In April 2010, G-Side played two packed shows in Oslo and Bergen. "G-Side are very reminiscent of what R.E.M. were doing in the '80s, reinventing themselves with every album."
"We didn't know where Norway was," says ST. "But they knew all the words to two kids from Alabama's shit."
In recent years, G-Side have had nibbles from bigger labels, and while they're not philosophically opposed to working with a major, they're against getting worked by one. "We just won't take bullshit deals," says ST. "They're trying to give us $30,000. Clova made more at the barbershop. I can make more than that selling dope.
"They'll say, 'We can get you a song with Rick Ross!'" ST continues. "I don't give a fuck! I've done well without Rick Ross! We built our cult following. Cut us a real check and let us do what we've been doing. Just give us a bigger audience to do it to."
The Block Beattaz's 5,500-square-foot Speed of Sound studio complex, located in a massive office park, is equal parts workplace, clubhouse, and crash pad. On a Tuesday evening, a crowd that includes ST, Bentley, S.L.A.S.H., and P.T. has gathered in Studio B, drinking beers, smoking weed, and shooting the shit. Clova sits slumped in an office chair, wearing headphones, reciting lyrics off his phone quietly to himself. Next to him, CP is parked in front of the mixing board, staring intently at a computer screen, bobbing his head to hushed, trancey beats. Every once in a while he taps a few notes on the small synthesizer next to him. I ask what he's working on.
"Something for their record," he says, motioning toward Clova. "Trying to do some dubstep. Trying to make it funky."
A few minutes later Clova takes off his headphones. "I'm ready," he tells CP.
CP shuts off his dubstep experiment and opens an ethereal-sounding track with a spare, go-go-style beat and a faintly howling electric guitar. Clova steps into the booth and unleashes a playfully raspy verse about hanging out in London and France, two places G-Side have never been, but this is more goal-setting than shit-talking. When Clova bragged about "a show in Norway" on 2009's "So Gone," G-Side had never been there either. A few months later, there they were.
ST says he wants Island to be more of a rap album than The One…Cohesive — more aggressive, fewer features — though most of the new songs he plays for me feel dark, airy, and jazzy.
"This might be the last album," says Clova. "Either this album is gonna make us or it ain't. Struggling, trying to pay your rent — it gets old."
Nearly everyone I spoke with in Huntsville talked about the rocket — that Saturn V which looms over I-565 — as an inspiration, a reminder of the worlds beyond the one in which they're mired. But ST has another interpretation.
"That rocket, you don't know that it takes you anywhere," he says. "It's been there since we were little." Huntsville may be a boomtown, and the rap scene may be jumping, but sometimes it still feels like a dead end, like the area's relative economic good fortune has just widened the divide between the upwardly mobile tech class and the hood rats. On those days, that rocket is a cruel symbol of all those dreams that can be seen and imagined but never touched. Maybe ST and Clova will realize theirs. Maybe the PRGz will too. Maybe CP and Mali already have. But let's face it, many won't.
"For the most part, people here are trapped," says ST. "They're just like that rocket. That bitch don't move."
The fall of the major-label system has cleared the path for a decentralization of rap's power structure. That's great for hip-hop fans, but if G-Side's precarious perch is anything to go by, the digital grassroots better get cracking. There ain't much use being the future of rap if you can't survive the present.
As Codie told me one night in a dim, noisy bar, "You've got dope-ass music out here, not just in Huntsville, but all over the world. These pockets of hip-hop are dependent on what money they can make to keep their music flowing." The spotlight is on Huntsville at the moment, but at the end of the day, he says, "we're just another pocket of hip-hop looking for our dream."
BUY THIS ISSUE
Read the entire December 2011 issue of SPIN, available now for iPad.