We love Tennessee's garage rockin' bad girls (and boy) Those Darlins for their blend of attitude and nostalgic sound, showcased on their solid 2011 sophomore album Screws Get Loose. After stripping off their clothes for the video of previous tune "Be Your Bro," the pretty Darlins offer a glamour-shot-filled clip for the title track — watch it here.
The song's a bit forlorn, with Jessi Darlin singing about coping with an unraveling life. "It's about spreading yourself thin, going out on a limb, feeling the need for independence but being uncomfortable being alone," Jessi tells SPIN. "It's about not knowing if you're crazy or if the world's just crazy."
The band performs in a dark, cabaret-like setting, and despite the questioning lyrics, Jessi looks fierce and fabulous, strutting in gold sequins and dangling from a ceiling harness in bloomers and fishnets, as do her bandmates, who are captured via a series of gorgeous close-ups while performing the unapologetic, jangly rock cut.
Those Darlins recently hit the road for a fall tour, playing gigs with Drive-By Truckers, Peelander-Z, the Beets, and Young Buffalo. Check out their full schedule via Facebook.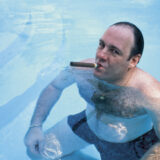 Those Darlins, "Screws Get Loose"