Folks who may have fallen asleep last night while watching Late Night With Jimmy Fallon were undoubtedly jarred into consciousness by a powerful dose of metal when Anthrax hit the NBC late-night show, in support of the thrash-metal icons' new album, Worship Music, which arrives September 13 via Megaforce. Check out their performances below (via Blabbermouth).
On the air, Anthrax tore into "The Devil You Know," from the upcoming LP, the band's first studio release in eight years. With crunching start-stop riffs, pummeling drums, and mosh-worthy instrumental interludes, the song did indeed sound a bit like the devil Anthrax fans have worshipped for, oh, a couple of decades now. A slight touch of maturity in the voice of singer Joey Belladonna, who rejoins Anthrax for his first full-length since 1990, does undercut the aggression somewhat. (When the censors bleep his rage-filled lyrics, though, you won't notice.)
Anthrax also played "Caught in a Mosh," from 1987 breakthrough Among the Living, a performance that appeared as an online-exclusive on the show's website. The band members are grinning broadly as the song starts; it's a speed-crazed blast, and that's what Anthrax appear to be having, too.
Anthrax were in New York ahead of their Big 4 show with Metallica, Slayer, and Megadeth, which will turn Yankee Stadium into a house of metal on September 14. "It's nervous excitement, like when you're a kid and it's a week away from Christmas and you can't sleep," Anthrax's Scott Ian told SPIN ahead of the first Big 4 show this spring in Indio, CA; read our review of the 50,000-strong event. According to Blabbermouth, Anthrax will also play at New York's Best Buy Theater on September 12, calling themselves Satan's Lounge Band.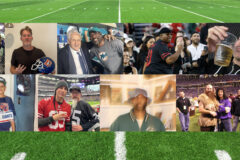 WATCH: Anthrax: "The Devil You Know"

WATCH: Anthrax: "Caught in a Mosh"