Couldn't make it to this year's Sundance Film Festival? Worry not: A teaser for one of the best short films that premiered there, the Beastie Boys' Fight For Your Right Revisited, just dropped online, and Will Ferrell, Jack Black, Seth Rogen, Danny McBride, John C. Reilly, and Elijah Wood play the Boys and battle in "super fresh old school throw down dance contest from the future!," as Ferrell puts it.
The 30-minute film, which doubles as a music video for the Boys' new Hot Sauce Committee Part Two (out May 3) track "Make Some Noise," is a spin-off of the Boys' original "Fight For Your Right" video from 1987 and is based on the tagline, "After the boys leave the party…" In the trailer the all-star cast play two different versions of the Boys, young and old, with Wood and Ferrell playing Ad-Rock, McBride and Reilly as MCA, and Rogen and Black as Mike D.
So what, exactly, happens "After the boys leave the party…"? Well, they bust moves on the streets of their native New York, break a few windows, brawl in a restaurant, and throw beer at a businessman. Method acting at its finest! Susan Sarandon, Stanley Tucci, Ted Danson, and Will Arnett also appear in the clip, directed by Adam Yauch, aka MCA.
No word yet on the release date for Fight For Your Right Revisited, but a Los Angeles screening is set for April 29. The film also features cameos from Orlando Bloom, Kirsten Dunst, David Cross, Amy Poehler, Jason Schwartzman, Adam Scott, Rainn Wilson, Steve Buscemi, Chloö Sevigny, Alicia Silverstone, Martin Starr, Rashida Jones, and R.E.M.'s Mike Mills.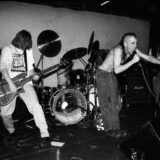 WATCH: Fight For Your Right Revisited Trailer
https://www.youtube.com/embed/rBa5qp9sUOY