Last month, Wayne Coyne revealed his band's over-the-top plans to release new Flaming Lips music on a USB drive that would be housed in an edible gummy skull. He's pulled it off.
The Lips frontman dropped by the Oklahoma City, OK, record store Guest Room yesterday to sell a few "copies" of the item (they went for $150 a piece), and now the music contained therein has hit the web. Check out streams of two of the tracks titled "Drug Chart" and "In Our Bodies, In Our Heads" here (via Consequence of Sound).
These two new Lips songs are as unconventional as their method of release. "Drug Chart" is five minutes of drugged-out, Pink Floyd-style drone, with sharp blasts of synths and Coyne, who sounds like he huffed on tanks of helium, singing unintelligible lyrics. "In Our Bodies, In Our Heads" is even cooler: four minutes of weirded-out jazz-funk fusion that recall Miles Davis circa Bitches Brew.
Looks like more weird releases are on their way, too. The blog Psych Explorations of the Future Heart points out that Coyne is crafting a gummy bear fetus (!) as one of the vehicles for releasing new Lips music.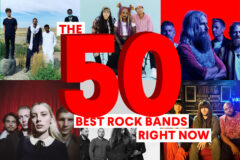 UPDATE: Coyne just tweeted that he'll be selling more gummy skulls tonight at 7 P.M. at Waterloo Records in Austin, TX!
LISTEN: Flaming Lips, "Drug Chart"
https://www.youtube.com/embed/rA1AYIHiGk8?fs=1
LISTEN: Flaming Lips, "In Our Bodies, In Our Heads"
https://www.youtube.com/embed/XJDTKOmJdVI?fs=1