SPIN recently took its Liner Notes series – which pairs musicians and authors together in live performances – to Los Angeles, where Scottish rockers Biffy Clyro joined experimental fiction author Mark Z. Danielewski for a night of reading and song. Check out video of the show here.
Read SPIN's full recap of the event.
Biffy Clyro's 2009 album, Only Revolutions, took its name from Danielewski's 2006 novel of the same name, and the band, particularly frontman Simon Neil, became pals with the author in recent years, a relationship that led to the Liner Notes performance.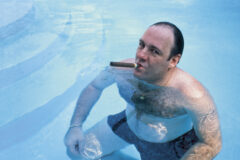 Check out video of Biffy Clyro performing stripped down versions of Only Revolutions cuts "The Captain" and "God & Satan," plus a reading from the novel where Danielewski recited the words of Hailey, the book's female protagonist, and Neil took on the part of the male character, Sam.
Plus, watch a montage of footage shot at Homeboy Industries, an amazing Los Angeles non-profit that provides counseling, education,and job placement help for at-risk community members looking for a fresh start, and was the beneficiary of proceeds from the event.
Danielewski and Liner Notes curator Emily Zemler taught a creative writing class at Homeboy's headquarters, then witnessed an ex-gang member getting his tattoos removed for free, one of the organization's hallmark functions.