Earlier this year, Flaming Lips' frontman Wayne Coyne told SPIN that he was teaming up with Neon Indian's Alan Palomo and longtime producer Dave Fridmann for a couple of collaborative tunes. "That shit should be ready to go pretty quickly," Coyne promised. No kidding: four tracks, which are pressed on a reportedly sold-out limited-edition 12-inch single, have already leaked online. True to form, they've got some crazy titles: "Is David Bowie Dying?," "Alan's Theremin," "You Don't Respond," and "Do You Want New Wave or Do You Want the Truth Part 2."
On "Is David Bowie Dying?," Coyne and Co. deliver a wild, six-and-a-half-minute psychedelic odyssey that sounds like something Brian Eno could cook up if he recorded withUmmagumma–era Pink Floyd. There's all sorts of sonic weirdness to dig into: slicing shards of guitars, digital static, pitter-pattering beats, 8-bit bleeps, zonked-out vocal aaaaahs, and more.
The other three tracks — pieced together in one stream below — are even stranger, from the ambient drone of "Alan's Theremin" to the ear-drum-bursting static assault of "New Wave." Would Bowie approve? Definitely.
LISTEN: Flaming Lips & Neon Indian, "Is David Bowie Dying?"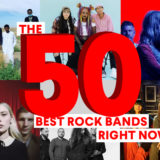 https://www.youtube.com/embed/R2mhqo2ZRIk
LISTEN: Flaming Lips & Neon Indian, "Alan's Theremin," "You Don't Respond," and "Do You Want New Wave or Do You Want the Truth Part 2"
https://www.youtube.com/embed/yjn3rXuzyA4