Even the cutest of indie rock couples have a dark side.
That's the relationship news from Los Angeles lovebirds Jenny Lewis and Johnathan Rice, aka Jenny and Johnny, in their music video for "Big Wave," a pop jam from their 2010 debut I'm Having Fun Now. Watch below, exclusively on SPIN.
In the video — directed by renowned photographer Autumn de Wilde — the couple are up to all sorts of adorableness: they slow dance, cuddle, blow each other kisses, and tour their hometown in their vintage station wagon.
But then Lewis' dark lyrics come to life. Blood drips down a woman's back, and an evil serpent makes a few cameos. It only gets worse from there….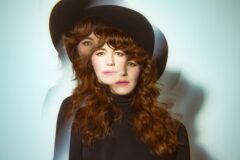 Meanwhile, J&J are currently on tour in Australia, but have a few U.S. dates scheduled for April, including Coachella. Check 'em out below.
WATCH: Jenny and Johnny, "Big Wave"

4/11, Santa Barbara, CA (Soho)
4/13, Pomona, CA (The Fox Theater) *
4/14, Las Vegas, NV (The Chandelier in The Cosmopolitan)
4/16, Indio, CA (Coachella)
* Opening for Bright Eyes