While Lady Gaga is expressing her love for Madonna with "Born This Way," Gossip singer-gone-solo Beth Ditto pays apparent tribute to Madge with the music video for "I Wrote the Book" (watch below), the first single from her eponymous solo EP (available online March 8).
Shot at London's swank Grosvenor House by director Price James (Hercules and the Love Affair, Peaches), the black and white clip finds Ditto primping, being smothered by three male model types in various stages of undress, and dancing to the bubbly atmospherics and bangin' club beats courtesy of her collaborators from Simian Mobile Disco. It takes visual cues from Madonna's "Vogue" and "Justify My Love" clips, and it works.
"I know every trick in the book / Lying… Crying… Heartbreak / I wrote the book," Ditto sings in a deep, lusty croon.
Watch the video below, then bust a move in the comment section.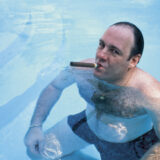 WATCH: Beth Ditto, "I Wrote the Book"