Pavement returned to TV for their first late-night performance in over a decade on Monday night, stopping by The Colbert Report, where they played indie classic "Gold Soundz" and frontman Stephen Malkmus sat down for a hilariously awkward interview. Watch both below!
The quintet are promoting their greatest hits collection, Quarantine the Past: The Best of Pavement (out now), the name of which is lifted from a "Gold Soundz" lyric. After their charmingly loose performance, Colbert grilled Malkmus about the album and his lyrics and inspirations.
A sample of the ridiculousness:
Colbert: "Twenty-three number one smash hits. How many of these went to number one?"
Malkmus: "Uh… not many." (Real answer: none)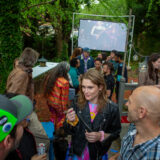 and…
Colbert: "You're back playing huge venues 11 years after first breaking up. Would you suggest that as a path to success?"
Malkmus: "Sure. But it's hard to plan for that."
and…
Colbert: "Do you have a musical hero? Somebody that if they didn't exist, you wouldn't be rocking?"
Malkmus: [Shrugs] "Reagan?"
Tonight, Pavement kicks off a run of four sold-out concerts in New York City's Central Park. After their Big Apple gigs, the band will hit Maryland's Virgin Mobile FreeFest on Saturday, then close out their lengthy reunion tour with an appearance at Matador Records' 21st birthday party in Las Vegas on October 1.
Watch Pavement's performance of "Gold Soundz" and Malkmus' interview below, then sound off in the comment section.
Pavement, "Gold Soundz"

Stephen Malkmus interview: