Alice in Chains have been trudging along just fine without founding frontman Layne Staley. Since releasing their comeback album Black Gives Way to Blue with new singer William DuVall, the reformed hard rockers have headlined their own U.S. tour, collaborated with Project Runway's Amanda Fields and hit the road with Mastodon and Deftones.
Now they've just released a nightmarish new video for the album's fourth single, "Lesson Learned." Check it out below.
The clip looks like it's straight out of one of those Saw movies: A man, bound by his wrists, gets dragged around and tortured in a dimly lit industrial warehouse. But it's not a total bummer: Mid-way through, a scantily clad woman with mud all over her face comes to the rescue and inexplicably engages in a hot make-out session!
For more Alice in Chains, check out SPIN's interview with guitarist Jerry Cantrell here.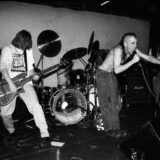 WATCH: Alice in Chains, "Lesson Learned"