A full Radiohead concert video, shot and edited by fans at a 2009 gig in Prague, is now available for free download — with the blessing of Thom Yorke and his bandmates. Find out how to get it below.
At the British rockers' August 2009 show at the Czech capital's Výstavišt? Holešovice concert hall, about 50 fans with Flip video cameras positioned themselves throughout the crowd, filming the entire gig. Four different editors collected the footage and produced a finished concert film, which they posted on a website and on YouTube.
While Radiohead haven't publicly discussed the project, other than linking to the project's homepage from radiohead.com, they did provide the filmmakers with mastered soundboard audio from the show — a de facto/pretty damn cool endorsement.
There are links to download the finished film here, in a multitude of formats.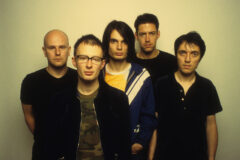 Check out clips of "Nice Dream" and "15 Step" below, and tell us what you think in the comments section.
WATCH: Radiohead, "15 Step (Live in Praha)"
https://www.youtube.com/embed/BWVqeH0Dja4?fs=1
WATCH: Radiohead, "Nice Dream (Live in Praha)"
https://www.youtube.com/embed/lbyXRLBe2jg?fs=1