On their sophomore full-length, Sleep Forever (out Sept. 14), San Diego punk duo (and ex-SPIN Breaking Out act) Crocodiles have expanded the noisy, guitar-and-drum-machines sound of their debut with a full band, and production by Simian Mobile Disco's James Ford. Watch the video for the album's hot title track below!
Behind swirling splashes of color and grainy, melting film effects, Crocodiles show off their prowess as a five-piece, partying all night long in a clip co-directed by frontman Brandon Welchez, guitarist Charles Rowell, and Christin Turner, who also directed all three videos from the band's first album, Summer of Hate.
Sounds like the editing process was a bit of an all-nighter, too.
"We don't really remember much of what happened the night we edited it," Welchez tells us via email. "We left the computer program open throughout the day and people came and went as they pleased. Some were so wasted they had to be escorted out. We finished around 5 A.M. and there were too many people there to count. The video reflects the party a lot, and the kind of uneasiness that was felt while working on the video. I remember distinctly that a raccoon had came in through the back door around 2 A.M. No one noticed."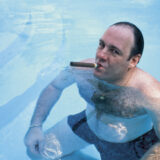 Tell us what you think of the "Sleep Forever" video in the comments section. Right-click here to download the MP3 via Fat Possum Records.
Watch: Crocodiles, "Sleep Forever"