Massive Attack sync their melancholy trip-hop to a dreamlike dance between a freckled little girl in an orange jacket and a gang of ghosts in their just-released video for "Psyche," off their SPIN-approved album Heligoland. Check it out below (via Pitchfork)!
In the clip, a redheaded tween lip-syncs the song while being stalked by ghosts (floating bed sheets with cutout eye-holes) as she wanders through a barren cityscape, passing by flickering lights, painted murals, and through an empty subway tunnel — but watch all the way through to see the story's spooky surprise ending.
The girl's lip-syncing reminded us of Massive Attack's 1998 clip for "Teardrop," in which the track's lead vocals (sung on the album by the Cocteau Twins' Elizabeth Fraser) were mouthed by a CGI fetus, floating in the womb. Twelve years later, in "Psyche," is that baby all grown up, this time channeling the vocals of Martina Topley-Bird? Maybe so!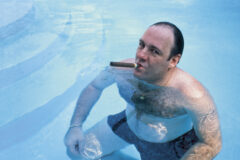 Massive Attack are finishing up a North American tour before a string of European dates. Check out SPIN's review of the band's recent set at NYC's Terminal 5, and browse their complete itinerary here.