Tuesday night's Massive Attack show in New York City verged on sensory overload. The air was hazy and thick with incense, and the stage was aglow with blue lights; chimes tinkled throughout the cavernous venue, Terminal 5, and an enormous LED screen flashed assorted facts and quotes behind the band and their impressive array of drum sets, synths and keyboards: Cubic meters of water used per person in Canada, "The Truth About Elvis"…. on and on.
This live spectacle of lights and sounds is nothing new for the Bristol, England, band, who were kicking off their first U.S. tour in four years in support of their first album in seven years, Heligoland.
The duo, Robert Del Naja (a.k.a. 3D) and Grantley Marshall (Daddy G), played a two-hour set that relied heavily on the new album — whose musical contributors include Blur's Damon Albarn, Mazzy Star's Hope Sandoval, and TV on the Radio's Tunde Adebimpe (none of whom played with the band last night) — and on their 1998 classic, Mezzanine.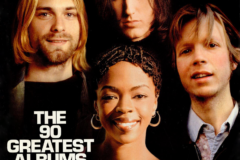 Longtime collaborators Martina Topley-Bird and Horace Andy were on hand to help, however.
Andy, graceful in dreadlocks and a black blazer, sang "Girl I Love You," a gorgeously spooky, reggae-tinged track from Heligoland, soaked with synth reverb. As he danced, the screen behind him ticked off the cost of war in Iraq, mounting higher until the numbers crowded the screen, as the song crescendoed, then faded out.
Later, Topley-Bird, in a skin-tight sequin dress, lent her sultry vocals to a jazzy interpretation of "Teardrop," from Mezzanine, which was originally sung by Cocteau Twin Elizabeth Fraser. The band played music-box-sounding synths and deep bass lines, and isolated Topley-Bird's voice. The effect was subdued but lovely.
In the early '90s, critics began to hail Massive Attack as the pioneers of a new genre called trip-hop, a categorization the band has never been quick to identify with. As they played an updated version of "Angel," from Mezzanine, it was a reminder of the original ingenuity of trip-hop and its oddly harmonious amalgam of sounds and influences: reggae, hip-hop, electronica.
The crowd instantly recognized it, and people danced, played air guitar, and sang along as if trip-hop were still the genre of the moment, because, for at least one night in New York City, it was.