Thom Yorke's supergroup — which features the Red Hot Chili Peppers bassist Flea and longtime Radiohead producer Nigel Godrich — will hit the road the road for a handful of U.S. dates leading up to their Coachella appearance on April 18. See below for dates.
The five-city tour will include the band's first shows since debuting at a secret show in L.A. last fall. "We had too much fun to just leave it there," Yorke mused on Radiohead's website.
The quintet, which recently adopted the name Atoms for Peace, also includes Mauro Refosco (Forro in the Dark) and drummer Joey Waronker (Beck, Smashing Pumpkins, R.E.M.). At their October gig in L.A., the setlist drew heavily from Yorke's 2006 solo album, The Eraser.
Atoms for Peace will be supported by Flying Lotus at all eight pre-Coachella gigs, and ticket information is available here. Tour dates are as follows: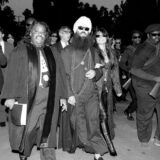 4/5-6, New York, NY (Roseland Ballroom)
4/8, Boston, MA (Citi Wang Theatre)
4/10-11, Chicago, IL (Aragon Ballrom)
4/14-15, Oakland, CA (Fox Theatre)
4/17, Santa Barbara, CA (Santa Barbara Bowl)
4/18, Indio, CA (Coachella)
As for Yorke's other band, Radiohead took a break from recording their new album to perform at a Haiti benefit show in Los Angeles last month.