"This has been a very interesting way to break up recording," said Thom Yorke to the audience at Los Angeles' Henry Fonda Theater on Sunday night. The admission came near the end of Radiohead's impromptu show to raise money for victims of the Haiti earthquake.
Throughout the set, Yorke was upbeat – jaunty, even – sporting a western shirt with the collar unbuttoned and sleeves rolled up, a smattering of surfer's scruff along his jaw line.
The singer's look matched the mood of the night. In a venue with one-tenth the capacity the band typically plays, Radiohead's performance felt exceptionally warm. Over a genial two hours, 24 songs were covered, six albums spanned and a new song debuted, with a solo piano version of "Everything In Its Right Place" and a brutally rocking rendition of "The Bends" among the countless highlights.
All this despite the gig's being the hottest ticket in town, and also the most expensive. The A-list included everyone from Justin Timberlake and Jessica Biel to oddball comedian Aziz Ansari. Tickets were auctioned off with all proceeds going to Oxfam America, bringing in a total of – as Yorke announced with an astonished, "Fuck me!" – $572,754.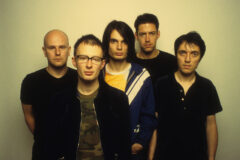 Of course, if there's a band that can fill an order that tall, it's Radiohead. Yorke and Jonny Greenwood opened the set with an acoustic take on "Faust Arp," with the song's closing line – "You got melted into butter" – seeming to describe the state of the crowd in the face of Yorke's mighty wail. If that didn't do it, then the huge chords of "Fake Plastic Trees" and jittery groove of "Weird Fishes/Arpeggi" surely did.
At one point, Yorke gave the audience a chance to determine the fate of the night: "Just" or "Airbag"? Perhaps spurred on by the evening's gorgeously baroque reinventions of "Karma Police" and "Lucky," the people spoke in favor of the latter. OK Computer's gauzy melancholy sounded divine echoing around the Fonda's rafters. But then, so did Kid A's glitchy abstractions and In Rainbows' seductive soundscapes.
In addition to the news that a new album is in the works, the second encore brought a new song – the fan-dubbed "Lotus Flower." Though the track appeared in Yorke's one-off October set at the tiny Echoplex club with his "Eraser band" (member Flea was also in attendence on Sunday), Yorke here played it sans accompaniment, picking out a spare arrangement on electric guitar and singing in falsetto.
Radiohead closed by returning to The Bends for "Street Spirit (Fade Out)," which after the nearly orchestral skronk of "Paranoid Android," felt like a needed comedown. Thoughts of the Haitian disaster aside, there wasn't a whole lot of gravity in the house – just an ebullience that made the floorboards seem miles beneath the whole production.
WATCH: Radiohead, "Lotus Flower"
https://www.youtube.com/embed/5gHC9mmqYMM
Setlist:
"Faust Arp"
"Fake Plastic Trees"
"Weird Fishes/Arpeggi"
"The National Anthem"
"Nude"
"Karma Police"
"Kid A"
"Morning Bell"
"How To Disappear Completely"
"A Wolf at the Door"
"The Bends"
"Reckoner'
"Lucky"
"Body Snatchers"
"Dollars & Cents"
"Airbag"
"Exit Music (For a Film)"
"Everything In Its Right Place"
"You & Whose Army?"
"Pyramid Song"
"All I Need"
"Lotus Flower"
"Paranoid Android"
"Street Spirit (Fade Out)"