It's only been two years since the White Stripes pulled out of their proposed arena tour for Icky Thump, but that seems like forever in Jack White Time-he's released two albums and toured with two different bands since.
Fortunately for all, then, that the impending DVD release of Under Great Northern Lights, the documentary chronicling Jack and Meg's quirky 2007 tour and companion 10th anniversary show Under Nova Scotian Lights, serves as a reminder of how all this got started. In fact, a new clip from the latter features a particularly vicious romp through "Let's Shake Hands," the duo's debut single, originally released in March 1998.
The best part of the clip isn't just seeing Meg – it wasn't long after this tour that her anxiety issues derailed further White Stripes plans, and she hasn't been in the public eye much since – it's seeing her technique, up close and personal. She plays the snare-and-cymbal beat with one hand, casually steadying herself on her stool (labeled: Meg) with the other. Somewhere, Keith Moon approves.
The gargantuan box set featuring both movies, plus 16-track live album, plus book of photographs is due March 16.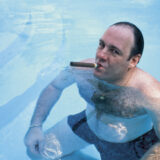 WATCH:The White Stripes, "Let's Shake Hands"