We've come to know Mark Hoppus as many things: a bassist and songwriter for Blink-182 and +44; a sought-after studio producer for bands like Motion City Soundtrack; and a bit of a social networking mastermind, with his 1.5 millionTwitter followers and avid blog readers.
But over the past two months, we've seen Hoppus wearing another hat: music critic. In his hit weekly SPIN.com column, Hopp on Pop, he's been profiling his favorite new bands — and they're a diverse lot, from hipster ingénues to hard-rocking noise punks to dancefloor divas.
This week, Mark compiled a list of his favorite albums of 2009. Check out the eight bands below, watch some cool videos, and tell Hopp what you think in the comments section below!
To check out SPIN's array of year-end lists, click here!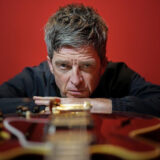 SILVERSUN PICKUPS Swoon
MARK SAYS: "The album of the year. There's a reason that after a being formed a few years ago and releasing a two full-length albums and EP, they finally got nominated for that Best New Artist Grammy."
MORE: SPIN'S ALBUM REVIEW >>
DIRTY PROJECTORS Bitte Orca
MARK SAYS: "Way-out art music that embraces the space and blows your mind."
MORE: SPIN'S 40 BEST ALBUMS OF 2009 >>
FUN. Aim and Ignite
MARK SAYS: "Rock, pop, vaudeville, Broadway, big band, and classical music thrown together in bite-sized tracks of goodness."
MORE: FUN. IN HOPP ON POP >>
KID CUDI Man on the Moon
MARK SAYS:"It was a tall order for this album to live up to the hype, and this record delivers.Dig the collabs with Ratatat."
MORE: KID CUDI IN SPIN >>
MATT & KIM Grand
MARK SAYS:"Drums and keyboards. Two band members. Recorded in apartments. Good times."
MORE: MATT & KIM IN HOPP ON POP >>
METRIC Fantasies
MARK SAYS:"One of my most favoritest bands of all time. I love Emily Haines' voice. And on this album she poses the ultimate question of our times: 'Who would you rather be: The Beatles or the Rolling Stones?'"
MORE: WATCH METRIC UNPLUGGED >>
PHOENIX Wolfgang Amadeus Phoenix
MARK SAYS:"Amazing, catchy, melodic songs from a Parisian band. For some reason, they make me want to buy a Cadillac."
MORE: WATCH PHOENIX UNPLUGGED >>
TEGAN AND SARA Sainthood
MARK SAYS:"Need I say more? The answer is no."