With World Painted Blood, Slayer's new album out Nov. 3, the Huntington Park, CA, quartet tried out some new tricks — including writing a song from the perspective of a woman for the first time ever!
During the band's co-headlining Metal Mayhem tour this summer with Marilyn Manson, the boys took a breather to discuss the inspiration, recording process, and uncharacteristic viewpoint of the cut "Beauty Through Order." Watch the SPIN.com exclusive video below.
"It's about the first known female serial killer," bassist Tom Araya says of the tune. Adds guitarist Jeff Hanneman: "I've been meaning to write a song about that for a long time. I couldn't figure out the angle, I was thinking, 'How does a woman write? I can't write like a woman I'm a guy!' Then I just figured, 'Well, she's evil; she has lots of power and killed people.' So I just started writing and the lyrics and they came out."
Slayer recorded World Painted Blood's 11 tracks earlier this year in Los Angeles with producers Greg Fidelman (Metallica, Slipknot) and Rick Rubin. The band will launch a tour of Canada and Europe in November; U.S. dates are expected.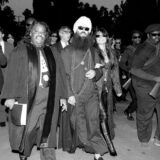 Watch: