SPIN's Liner Notes event, held last week in NYC, found San Francisco-based prog rock quartet Dredg joining their literary muse — famed author Salman Rushdie (Shame, The Satanic Verses) — onstage for a unique evening of music and literature. And now, an audience beyond the 300 folks who packed into Manhattan's Housing Works' Bookstore Café can enjoy the performance via the videos below.
The event, which raised over $5,000 for NYC-based AIDS charity Housing Works and was produced by freelance writer Emily Zemler, featured Rushdie sharing his essay "Imagine There's No Heaven" — written for the world's newly born 6 billionth inhabitant — with the crowd. Towards the end of the reading, Dredg — whose latest record, The Pariah, The Parrot, The Delusion, was inspired by that essay — added musical accompaniment.
Dredg then played a short set culled almost entirely from their new LP, save for "The Ornament," a b-side which the band performed for the first time live.
Watch video of Rushdie's reading and songs from Dredg's powerful performance here. And, as a special treat, Dredg is offering MP3s of three live cuts from their set as free downloads!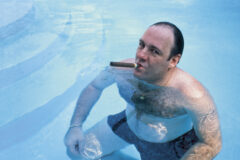 DOWNLOAD:
Dredg, "The Pariah"
Dredg, "Lightswitch"
Dredg, "Information"
WATCH: Liner Notes featuring Dredg and Salman Rushdie
Video by Eric Nowels & Matt Kiser