Hometown hero Joe Pug brought something different to SPIN'sbackstage bar this past August at Chicago's Lollapalooza festival: a spot-oncover of Tom Waits' 1973 classic "Ol' 55." Watch video of the performancebelow.
Pug condenses the four-minute oldie to half its length, but none of theemotional feeling is lost as he transforms the piano-led original intoan acoustic guitar ballad, wringing his heart as he sings each syllableabout a vintage Cadillac.
Pug also performed a track of his own, "Nobody's Man," which you canwatch here.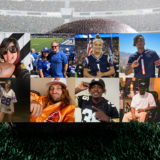 Check out other great acoustic performances from Lolla, like Carney covering Queen, Amazing Baby playing the dBs, and thenewno2 reinterpreting Thom Yorke.