A week after Eminem dropped his celeb-bashing comeback single and video "We Made You," the Detroit rapper has been announced as a performer at the MTV Movie Awards.
SNL star Andy Samberg will host the show [via MTV.com].
The performance will be Em's first on MTV since his 2006 appearance on TRL.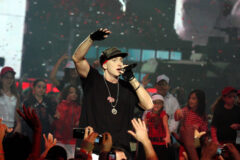 Additional performers are due to be announced in the coming weeks. (Last year Coldplay and the Pussycat Dolls were the musical guests.) The show will air live from the Gibson Amphitheatre in Universal City, CA, on Sunday, May 31, at 9 P.M. EST.
Eminem's perfromance follows the May 19 release of his new album Relapse.