What a wake-up call for a Monday morning! Bloc Party just released the video for DJ Armand Van Helden's throbbing remix of "Signs," off the forthcoming Intimacy Remixed (out in May), which features new versions of all 13 tracks from 2008's Intimacy.
The clip is completely gripping, and takes viewers back to the late-'90s heyday of outlandish dance music videos.
In the video, humans appear with all sorts of mechanical bits replacing body parts, from disco ball heads to audio jack faces to television dial eyes.
Most shockingly, about 1:30 in, the camera slowly approaches a woman seated with her legs crossed, much like Sharon Stone's much-ballyhooed scene in 1992's Basic Instinct. But when this woman uncrosses her legs, something entirely unexpected is going on, you know, down there.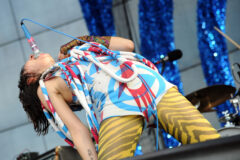 Check out the clip below — it ranks up there with dance music's best videos, like Aphex Twin's "Come to Daddy."
Bloc Party is in the midst of a North American tour — click here for dates.
WATCH: Bloc Party, "Signs (Armand Van Helden Remix)"
https://www.youtube.com/embed/cEesu6Ztrxw
Tracklisting for Intimacy Remixed
1 Ares – Villains remix
2 Mercury – Herve Is In Disarray remix
3 Halo – We Have Band Dub
4 Biko – Mogwai remix
5 Trojan Horse – John B remix
6 Signs – Armand Van Helden remix
7 One Month Off – Filthy Dukes remix
8 Zephyrus – Phase One remix
9 Talons – Phones RIP remix
10 Better Than Heaven – No Age remix
11 Ion Square – Banjo or Freakout remix
12 Letter To My Son – Gold Panda remix
13 Your Visits are Getting Shorter – Double D Remix
More on SPIN.com:
>> Review: Bloc Party, 'Intimacy'
>> The Second Coming: Bloc Party
>> Round Two: Bloc Party vs. Oasis