Oh actors. Is there anything those marvels of the human species can't do? Recently Daniel Craig, Ryan Gosling, and Zac Ephron revealed their musical interests. We recap their crossover skills:
Daniel Craig: As James Bond, there really is nothing he can't do. And now you can add trumping Oasis' Gallagher brothers with his musical proficiency to the list. In response to Noel Gallagher's recent comment that he "wouldn't be averse" to making a film about Oasis and casting actor Daniel Craig as himself, the Bond actor cheekily said: "I can play the guitar better than Noel can so I don't know how that is really going to work." ?[via Gigwise.com]. With a dis like that it seems he's already preparing for the role!
Ryan Gosling: The Half Nelson actor has been quietly getting his goth-meets-gospel-rock on in L.A. band Dead Man's Bones. Their MySpace pagefeatures one track, "In the Room Where You Sleep," a solitary SXSW date,and the promise of an "album soon." Great! But let's hope he doesn'tditch the silver screen for good, like another guy we know!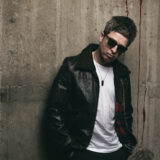 Zac Efron: In your face everyone who thought he could only do musical stuff of the high school variety! The teen idol proves he has musical satire chops in a brand new viral video set to air on an upcoming episode of animated show Robot Chicken (part of Cartoon Network's Adult Swim lineup) as a dirty-talking take on Billy Joel — Billy Joel: Piano God, to be specific. Watch the hilarious video here.
Soulja Boy Tell'em: In the anything-they-can-do-we-can-do-better category: Rapper Soulja Boy Tell'em has launched his own TV series, Soulja Boy Tell'em: The Animated Series. Savvy entertainer that he is, Soulja Boy has enlisted the help of a vet: The Fresh Prince of Bel-Air's Alfonso Ribeiro (better known as Carlton Banks), who plays the role of an uptight school principal [via MTV.com].