What is the Brighton Port Authority? It's the brainchild of Norman Cook (aka Fatboy Slim) and studio whiz Simon Thornton, who recruited musicians like David Byrne, Iggy Pop, and would-be future British Prime Minister Dizzee Rascal to contribute vocals to a diverse collection of big-beat-tinged tracks set for a February 3 release.
But if you buy into the BPA's press mythology — which is a lot more fun — the project is culled from a series of lost studio tapes recorded by a group then-known as the Brighton Phonographic Association, whose sessions ran from the early '70s through the mid-'90s.Of course, if that were, you know, true, then contributors like Emmy the Great, Jamie T, and Dizzee himself would have barely been out of grade school when their tracks were recorded. Additional talents appearing on the BPA's album, I Think We're Gonna Need a Bigger Boat, include Martha Wainwright, Jack Penate, Lateef, and Ashley Beedle.
The group digitally released their first track in July, "Toe Jam," which features David Byrne and Dizzee Rascal — watch the video below. And scroll down a bit further to watch the BPA's cheeky documentary-style introduction.
The BPA, "Toe Jam" (feat. Dizzee Rascal and David Byrne)
https://www.youtube.com/embed/bWAl31G-f1E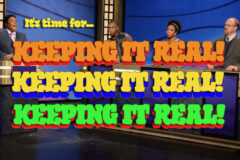 The BPA, "The Tapes Have Been Found"
https://www.youtube.com/embed/-f3iP7pVpj4