As evident in the lyrics from "Friends Like These," the year Mobius Band's Noam Schatz (keyboard), Peter Sax (vocals/guitar), and Ben Sterling (drums/vocals) spent tinkering with archaic Casios, perfecting their signature analog-electro sound (no laptops here!) for sophomore LP Heaven, left them wondering who their real friends were. And what better way to rediscover lost pals than with a party?
Directed by Labour (Wyeth Hansen and Ryan Dunn) in a beautiful loft, the video features the band setting up a mixture of chintzy decorations (disco ball, par-TAY-time banners) and fancy catered fare (caviar and champagne) in anticipation for a good time. And of course the space is large enough to fit not only the band and their instruments, but also 20 or 30 guests who knock on the door in time with the tune's pulsing synth and gentle high hat taps. Though the evening begins with parlor-tricks, the dance floor fills up just as the chorus kicks in: "I don't need no / Friends like these, no." Perhaps sensing they aren't wanted, the guests walk out on a killer slide show leaving the trio back where they started. They don't need those guys anyway; Mobius Band are BFF. Heaven is available now via Misra. ADELE BALDERSTON
Now Watch This: Mobius Band – "Friends Like These"
https://www.youtube.com/embed/VrXpQ4cBWGk
On the Web:
Mobius Band at MySpace
mobiusband.com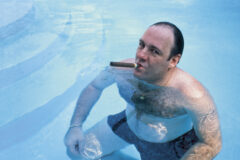 Talk: Do you wish you were 'friends' with Mobius Band?