Around 8:30 A.M. on Saturday (June 9), we all stumbled down the stairs from our hotel room and into the van. Bryce was drumming on the steering wheel and singing wildly as he drove, the rest of us holding on tight to consciousness. We pulled into the backstage parking lot at Shoreline Amphitheater, the first band to arrive as usual. Bryce disappears for a second and returns with passes and meal tickets for each of us.
Still in sort of a daze, but feeling the nervous excitement building up a little, I walked beyond the two tall stages facing the parking lot. Long Budweiser banners hung in front of their speakers, and loaders, techs, and stage managers were all ambling around amongst them, preparing for bands to load in.
I walked across the concrete lot that stretches from the stages to the main theater, watching vendors setting up concession carts. I saw my first concert there when I was 12-years-old, and somehow I think I may have decided then that this is what I would be doing a decade later. Down the stairs behind the main amphitheater stage, I found the festival catering, filled up a cup of coffee and as the world around me came to life, I wandered back to our van and help load in.
Being in our hometown, lots of old acquaintances soon began to show up. The Matches, our old friends from Oakland, pulled their van up a couple spaces from ours, and Audrye Sessions, who headlined a stage for local bands but are destined for something much bigger in the near future, rolled in with hugs for us all. Eventually the whole parking lot was filled with buses and vans towing trailers, and I began to recognize people from their press shots, or made educated guesses based on clothing and entourage as to what band they were in.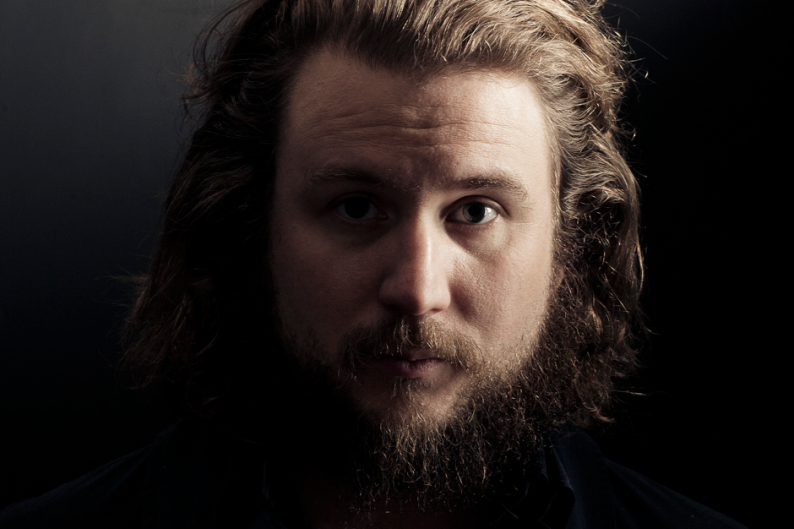 We got ready on an adjacent stage while CSS was finishing their set around 1 P.M. I looked out across the expanse of people, many familiar faces pressed up against the barricades, yelling my name as I walk out to plug in cables and tune my guitar. We've played our fair share of festival shows, but this was by far the biggest crowd. Strangely enough, I wasn't very nervous once I was up there. The intimacy of a club show is generally what shakes me up. There is the constant magnetism of eyes scrutinizing you and you can clearly make out any folded arms or rolling eyes or conversations louder than your most delicate moments. The sound at a decent club is generally pretty clear, and you know when your performance is lacking. The thousands there before us caused me to sing so hard that my sides hurt, tearing up my throat, which was still raw from the show the evening before, but I was not intimidated. In fact, it was almost comfortable, and I couldn't help but have fun. There was too much love, too many people singing along to be self-conscious.
After our set, I turned my cell phone back on to receive text after text from friends trying to get into the show or attempting to find me. Instead of replying, I snacked on the backstage rider and waited to do a signing.
One of my favorite elements of these sorts of shows is the golf carts that take artists from one area of the venue to another. We were picked up at the stage and zoomed past other bands, past lines of people still waiting to enter the front gate, craning their necks at us as we went by, arriving at finally at a table covered with sharpies that we could easily have walked to through the crowd. We sat down facing a line of people, a stack of posters with our album artwork in front of us. I scrawled my name and smiled, gracious that people were this excited about us around these parts.
After signing and eating lunch backstage, I was free to watch the rest of the show. I visited some friends playing the local band stage, got a drink with our day-to-day manager, and wandered back over to where we played.
Silversun Pickups were just beginning their set. The festival was full of bands just breaking through into mainstream awareness, many of whom we've had some sort of history with from back when we were all struggling little bands. Though, if only one of them is to become an important and permanent band for this time and place, I'm rooting for Silversun Pickups. The crowd had more than tripled since we played and they put on a great show. The side of the stage was crowded with industry and other notable bands, and the sea of people erupted for "Lazy Eye," which Live 105 has had in rotation for months now.
Speaking with their singer, Brian Aubert, later in the day, I was reminded of how friendly and humble this band was when we had last shared a stage with them a year or so ago. Seems like they've worked hard for a long time and appear not to have developed an ounce of ego with their new success.
Later on, standing on the edge of the main amphitheatre stage, watching Queens of the Stone Age, Interpol, Bloc Party and Social Distortion performing for 20,000 people rising before them, I once again had that feeling of distance from the people before me. I feel like it must be impossible to actually communicate with such an audience. Instead, you must just play at them, for the cameras projecting on screens hundreds of feet above you on the grass covered with blankets and beer and all those people who paid to see you play. Such a spectacle dwarfs our experience but I guess it's relative to the angle, in which you view it. From beneath the shadows of the spotlight on the side of the stage, that day may have just seemed like a step along the way, but sitting here in the doorway of our trailer outside an art space in Phoenix, listening to fans gossiping as a local band prepares to take the stage before us, it seems monstrous. It's always good to know how much love there is back home.
— Dave