With its thumping soul music, eager salespeople, and flashing lights meant to simulate a dance party, the DJ and electronic music section of the Guitar Center in Merrillville, Indiana, is not exactly a quiet oasis. Still, Jerrilynn Patton, the 30-year-old composer and producer who performs as Jlin, somewhat reluctantly considers the place a haven away from home. On a recent sunny afternoon, she drove about 20 minutes to Guitar Center from Gary, the struggling former industrial hub where she was raised and still lives with her parents. As she strolled inside, two teenaged guitarists were plugged into display amplifiers, playing the kind of clumsy blues-rock solos that provide the unofficial soundtrack to every big-box music store in America.
"There's our superstar!" longtime Guitar Center employee Daryl King howled at Patton. "You know I follow you. I saw your Native Instruments video." Several weeks before, the Berlin-based manufacturer of software synthesizers had published a short documentary about Jlin's music. Dark Energy, her 2015 debut album, built a world of magnificent rhythmic intricacy from a foundation of Chicago-style footwork, making her a rising star in the world of experimental dance music. "I've been workin'," she answered. "I went to Berlin to do that. We shot it, and next thing I know they're like, 'Here it is!'"
With her Old Navy sweatshirt, cargo shorts, Timberlands, and dreadlocks halfway hidden under a black bandana, Patton wasn't easily recognizable as an internationally acclaimed musician. She likes to joke that because she's a black woman with a rugged, no-nonsense style of dress, strangers usually assume she raps or makes hip-hop beats when they learn her profession. Then, after they hear her tracks, they ask her if she went to Juilliard.
In the late 2000s and early 2010s, when Patton was a college student and then a worker in steel mills in Gary and nearby East Chicago, she began crafting footwork tracks in her spare time, using pirated audio software. A few years and countless tracks later, the UK music magazine The Wire named Dark Energy the best release of 2015, and brands like Rick Owens, Chanel, and Adidas Originals used her music in fashion shows. Patton quit her job at the mill after Dark Energy became a surprise hit, but she didn't leave her hometown. Now, she spends her days working in the home studio she's set up in her childhood bedroom, prepping for the release of her second album Black Origami, hanging out with her parents and friends, and occasionally dropping in on an inauspicious early mentor.
"I used to come here with the silliest questions in the world, because I didn't know anything," she said at Guitar Center. "I would ask him a kazillion questions. Everybody would direct me to him, because they knew I talked to him all the time. They'd be like 'Ask Daryl, ask Daryl.' That's how we got to know each other over the years. If I need something, he's always been the person to help me out."
"It has to be about four years," King added. "To see the progression is amazing. I hear her stuff and I'm like, 'Wow, that's my client!' Her music now sounds so seasoned."
At a time when many leading underground club music producers are focused on wringing alien timbres and amorphous textures from their software and synthesizers, Patton remains preoccupied with wild and unpredictable rhythm, creating undulating sheets of sound from samples that are generally easy to recognize as musical instruments and human voices. This determination to plumb the horizontal possibilities of dance music places her in the lineage of her footwork forebears, and also harkens back to 1990s artists like Aphex Twin and Venetian Snares, who turned drum machines into instruments of buzzing ferocity. (Pitchfork recently declared Dark Energy one of the greatest-ever examples of IDM, a genre that plenty of listeners left for dead at least a decade before the album's release.) Mike Paradinas, the British musician whose record label Planet Mu helped fuel the original IDM boom, signed Jlin for Dark Energy, and the label will also release Black Origami. Her music differs from traditional footwork due to the amount of "filigree" and sonic detail it employs, Pardinas explained.
At times, Black Origami sounds like it's all filigree, with trilling snares and hand percussion that spiral out from an unseen center and fill every available space with sound. The ceaseless beating drums are invigorating, but they can also be exhausting. If your ear isn't working hard to keep up, it's easy to fall behind the music about halfway through the album, and without close attention, all those impeccable details begin to blur into cacophony. When Planet Mu sent the album off to be mastered, the label asked the engineer to temper its sonic aggression. It's no wonder Patton feels at home amid the overwhelming noise of Guitar Center.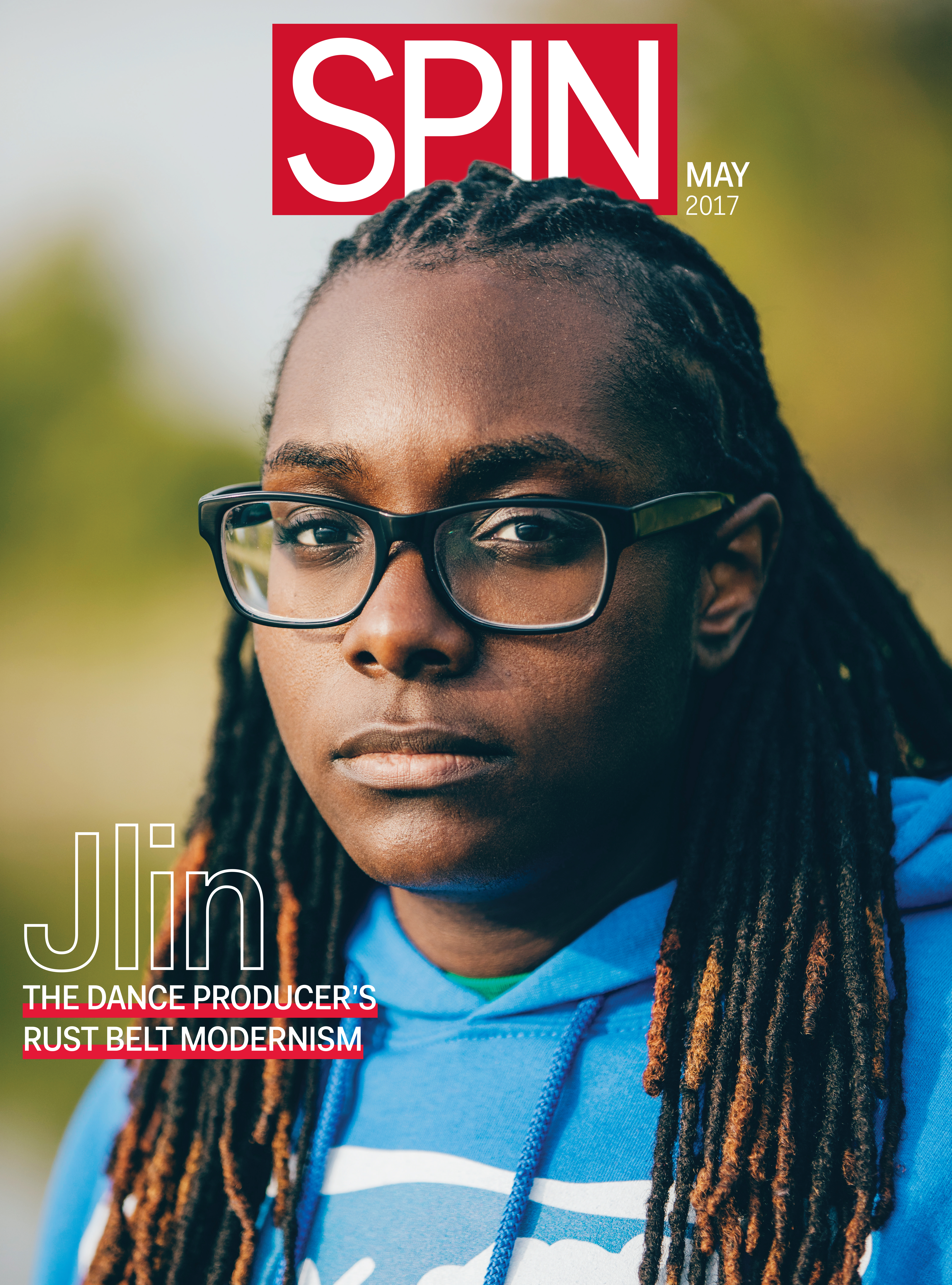 We visited the store while visiting a number of spots in and around Gary that are meaningful to Patton. She is solitary and private, sometimes intensely so, and was reluctant to allow a journalist into her studio and family home. We passed shotgun shacks and bright stucco shopping plazas, a pristine Russian Orthodox cemetery and a roadside store whose marquee declares: "ALL THE COOL KIDS SHOP HERE."
"I wish I knew more music stores around here," Patton said while driving through a crowded Gary suburb. "They used to have another one called Rubino's, but Guitar Center has always been the best one. I would rather go to a place where I know they have something, versus 'Oh, let me try this place, they might have it.' This mall area, with a lot of shopping, is kind of why a lot of the small businesses in Gary closed, obviously. Because people were coming out this way instead."
She'd expressed a similar sentiment as we sat outside of a Panera Bread in nearby Highland, looking at a Whole Foods across the street. "Growing up, I knew what was going on in Gary—a lot of buildings and small businesses closing up—but not really realizing exactly what was going on," she said. "Especially out here, they were building this area up heavily, as you can see. Any time a Walmart comes into town, that's kind of it. I hate to see it. Any big company that comes in and puts the smaller one out of business. I wish that wasn't the case, but that's the way it goes, you know?"
***
Gary is a company town, and business has been bad for a long time. U.S. Steel founded the city in 1906, building a long thoroughfare called Broadway that runs from the outskirts of Gary on one side to the steel mill at the heart of downtown on the other. 178,320 people lived in Gary at its population peak in 1960, a diverse mix of working-class white and black Americans, as well as immigrants from Latin America and all over Europe. Many of them worked at the mill. Today, the population has dwindled to less than 80,000 residents, 80 percent of whom are black. Thanks mostly to increased automation, the region's steel workforce has shrunk to about a fifth of its former size. This year, the Gary Redevelopment Commission announced a tourism initiative that reads like dark satire: guided tours of the cavernous abandoned buildings downtown, for gawking urban explorers who want to see firsthand the slow death of a city.
The vast majority of storefronts on Broadway are shuttered, and they bear decaying, hand-lettered signs that mark them as relics of Gary's golden age: Michael's Norman Furniture, Coronet, Esquire Men's Store, California Wigs. The main branch of the public library, a block away on 5th Avenue, closed in 2012. The Northwest Indiana Post-Tribune fled its Gary headquarters in 2009, leaving behind a few telltale shattered windows on an otherwise intact office building. (Formerly the Gary Tribune, the paper escaped the dilapidated name of the city decades before it actually skipped town.) "We used to be the murder capital of the U.S., but there is hardly anybody left to kill," a resident recently told a Guardian reporter. "We used to be the drug capital of the U.S., but for that you need money, and there aren't jobs or things to steal here."
Donald Trump pitched his presidency largely on promises to solve the problems of places like Gary: an industry in decline, a high murder rate, large numbers of people who don't have access to jobs. But Gary isn't Trump country. In an overwhelmingly red state, its home county went for Clinton by a sizable majority in the last presidential election. The city has a particular bitterness for the president over his spotty history as a casino owner there in the mid '90s. (Read more on that here.) And as a majority black city with close ties to nearby Chicago, Gary has long been a Democratic stronghold.
"I think it's half and half," Patton said of what support for Trump there is in Gary and other areas like it--that is, one half people who believe, perhaps misguidedly, in his promises to bring back American jobs; one half who simply respond to his appeals to fear and hatred. "Some people will choose racism over their common sense. Even if it hurts them, it doesn't matter, because they can't see past the racism."
Patton grew up west of Broadway, in one of the remaining enclaves of thriving households that are scattered throughout Gary. Her family's small, single-story home is painted red, white, and blue, and it sits on a leafy, suburban-feeling street lined with similar houses, many of their lawns carrying signs identifying the owners as proud union workers. Patton estimates that at least a quarter of the people living on her street work in the mills. Other yard signs read "Pence must go," in protest of the former Indiana governor who is now vice president.
Patton's parents met while both worked at a Nabisco factory in Chicago. She recalls waking up as early as 4:30 a.m. to be dropped off at daycare before school when they went to work. A math wiz and debate team competitor at Calumet High School before graduating in 2005, she attributes her stable childhood in part to the fact that her parents had employment outside Gary. "I kind of got bullied," she said. "I guess because I had structure in my household. Probably moreso because I had both parents in my house. Indirectly--that person probably not even realizing that's why they were doing it."
After high school, Patton enrolled in Purdue University's Northwest Indiana campus as a math major. She thrived as a student until she found footwork. "I was going to class, and then I stopped going to class," she said. "I was still coming in at six in the morning and doing the math work, but then the rest of the classes that were not math related--that's when I was sitting in these cubicles in the library with my headphones on, doing music."
[featuredStoryItemBlock tile_id="239785" title="Jlin's Expanding Universe of Collaborators And Friends" index="" image_id="239787"]
[featuredStoryItemBlock tile_id="239788" title="Donald Trump's Shady Casino History in Gary, Indiana" index="" image_id="239792"]
[featuredStoryItemBlock tile_id="239781" title="Hear Jlin's Fiery and Bombastic "Challenge (To Be Continued)"" index="" image_id="239784"]
Footwork had emerged in Chicago as a distinct musical genre at some point in the previous decade. In the '90s, there was juke, a brash and frenetic take on the house music that made the city into a capital of the global dancefloor. At parties and roller rinks soundtracked by juke and house DJs, young, mostly black Chicagoans on the city's South and West Sides developed the demanding, sometimes competitive style of dancing that gives footwork its name. Footworkers began asking DJs and producers for even faster, more rhythmically complicated tracks to accompany their battles and dizzying routines, and soon, thanks to pioneers like RP Boo, DJ Clent, and the late DJ Rashad (many of them former dancers themselves), the sound of footwork music began to solidify: bassy and polyrhythmic, at a blistering 160 beats per minute, full of chatty samples from rap and pop music and television, with syncopation so extreme that the tracks often sound like they're designed specifically to trip up would-be dancers. For an amateur, dancing to footwork feels like running a relay race after spinning around a baseball bat a few dozen times, but footworkers thrive on the genre's disorienting loops, turning their legs into blurs of small interconnected gestures while their upper bodies float above like feathers on a breeze.
Like just about everyone outside of Chicago, Patton encountered footwork chiefly via the internet. She scoured Myspace for new tracks and YouTube for battle videos. Though Gary sits just 30 miles from Chicago, she never attended a battle. Instead, she absorbed footwork's traditions from afar, teaching herself the basics of production through online tutorials. Eventually, she became associated with a Chicago footwork crew called Bosses of the Circle and befriended RP Boo and DJ Rashad on Myspace. "It was a select few people that were very good at footwork tracks at the time, such as myself and DJ Rashad," RP Boo told me. "And we loved other people's music, but we hadn't heard a style or production that made us say, 'Wow, this is something different.' Jlin stood out."
After hearing Patton's early music, including a track based on a sample of the Mary Jane Girls' "All Night Long," RP Boo advised her to break from Bosses of the Circle and work on her own. "That track showed me that once she was able to create from within herself, really tap into that energy, her music would change," he said. "I knew that it was not going to be stuck in footwork, it would progress. When me and Rashad saw her, we couldn't help but embrace her and push her. It wasn't about footwork, it was about her being a producer."
Richard D. James, the legendary UK producer also known as Aphex Twin, has also taken an interest in Jlin. He became her most high-profile champion when he dropped several of her tracks into his first U.S. DJ set in nearly a decade last December, and though she wasn't fully aware of his venerable reputation at the time, the pair have since struck up a transatlantic correspondence. "He's really into her stuff, so I'd been sending him stuff from the new album," said Paradinas, a longtime friend and collaborator of Aphex Twin. "He's been talking with her as well, asking her how she makes her music." (James, who is notoriously secretive, could not be reached for this story.) "He asked me not to play her any of his music, in case it influenced her, because he didn't want to influence her," Paradinas continued with a chuckle. "Kind of arrogant, isn't it? 'My stuff is going to change everything she does.'"
Patton herself was diplomatic about the remark. "Richard and I, that's something that me and him would never have to worry about," she said. "Of course, he has a lot more experience than I have. He's a very nice person. I respect his experience. His journey is different from mine, and my journey is different from his."
[caption id="attachment_id_240042"]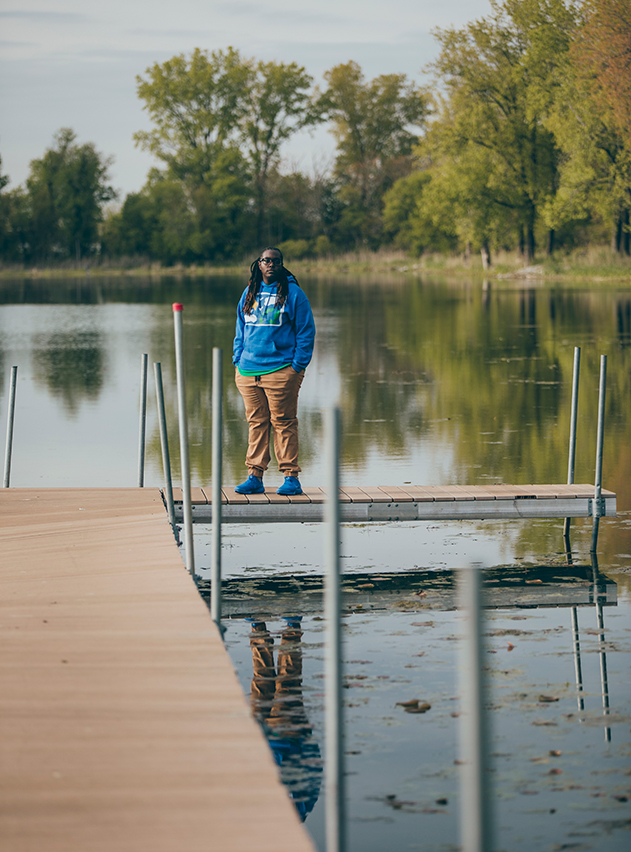 JLIN photographed by Bryan Allen Lamb on May 9, 2017 in Gary, Indiana exclusively for Spin.com[/caption]
Patton worked for U.S. Steel from 2012 to 2015 as a "mobile equipment operator," which is basically a tractor driver. Her job was to transport coils of steel from one area of the sprawling lakefront complex, where they'd just been heated and cooled, to another, where they would be prepped for coating with tin. Steel work can be grueling--especially "if management doesn't know what they're doing," Patton says--but it's reliable, and the unions ensure that wages are good. The steel industry's long-term decline and frequent layoffs mean hiring for jobs in the mills is very competitive. "It's so funny, the first thing they told us when we got hired was. 'Just so you know, you guys definitely hit the jackpot,'" Patton said. "I think I started off making $21.75 an hour, and I think I made up to $23. That's for somebody just starting out. I knew people who had gone to school, got a degree, making $14 an hour."
When Patton wasn't at the mill, she was holed up in her bedroom studio, making music. She'd received some exposure a year before she started at U.S. Steel, when Paradinas included two of her tracks on the second volume of Planet Mu's Bangs & Works compilation series, a survey of the Chicago scene that introduced footwork to many listeners outside of the city. One of those tracks was "Erotic Heat," a burbling collage of drums and manipulated voices that Patton points to as a turning point between her rough, early material and the mature sound of her albums. Rick Owens heard "Erotic Heat" on Bangs & Works 2 and became a fan, commissioning Jlin to create a 15-minute extended mix of the track for a 2014 fashion show. She worked on the remix before and after 12-hour shifts at the mill, and she emailed Owens the finished version one morning before jumping in the shower to and preparing for to arrive at work by 6 a.m. Owens is based in Paris, and because of the time zone difference, he'd responded before she was out of the shower. "He sent an email back and said 'I ABSOLUTELY LOVE IT,' in all caps," Patton recalled. "And I was so excited, I cried. So Rick Owens is a great deal of why my life is the way it is. He was the start of it."
About a year after the Rick Owens show, Planet Mu released Dark Energy, an album of remarkable focus and intensity, which mostly eschewed the postmodern playfulness of footwork in favor of stormy expressionism. The acclaim was nearly universal. Several months after that, Patton's mother traveled to Kenya for charity work and posted videos from a safari to social media. "I saw that and I was like, 'The world is too big; I'm done with the steel mill,'" Patton said. She quit her job on December 31, 2015, and she's been a full-time musician ever since.
https://www.youtube.com/embed/UZ-IuNCCjQw
As a black woman in the overwhelmingly male-dominated field of electronic music, a steel worker who became a darling of the avant-garde in stolen moments around her schedule at the mill, and an outsider who pushed a genre already known for its outré appeal in thrilling new directions, Patton has an irresistible backstory. It's easy to project history and politics onto her music, to believe you're tasting the terroir of Gary's cracked sidewalks and hearing the inhumane repetition of industry in her rhythms. "It aggravates the hell out of me," she said of critics who view her work through an overly biographical lens. "I've wanted to tweet about it so bad. I would love to see somebody write an article that didn't involve Jlin, footwork, steel mill--and just see what they could come up with."
Several critics, myself included, have taken the album titles Dark Energy and Black Origami as expressions of black identity. When Patton talked about them in our conversation, she used not the language of racial politics, but that of romantic and high modernist art: a solitary creator in a world that is frequently hostile, mining the shadows of her psyche, striving to wring meaning and beauty from nothingness.
Several of Jlin's song titles also invite politicization: One of Dark Energy's best tracks is called "Guantanamo," and Black Origami has a track called "1%." She is reluctant to ascribe these titles any particular external meaning. When I asked whether abuses at the prison inspired the unrelenting sound of "Guantanamo," she answered: "Who am I to interrupt your imagination? I don't dictate my work, I just make it. I think it's rude of me, and an insult to you, if you had an idea about something, for me to come back and destroy it with my thought process."
Patton insists that she's no longer making footwork music, and listening to Black Origami, it's easy to agree. Her new compositions retain strong and audible roots in the Chicago style, like their tendency to divide beats and measures into rhythmic groups of three, as opposed to the two and four divisions common to most other types of electronic dance music. But the music is too ornate, too self-possessed, to be pigeonholed into genre.
In its baroque complexity and thematic cohesion, Black Origami establishes Jlin as an original voice. It also sheds some of the appealing functionality of Dark Energy and classic footwork tracks like RP Boo's "Heavy Heat": the economy of rhythm and arrangement, the ability to throw listeners into confusion with a few carefully placed elements. Patton's sound may stem in part from her unorthodox writing style. She composes each track linearly, from beginning to end, without ever doubling back to make edits--a process of slow-motion improvisation that unfolds over days or weeks. The first measure she sits down to write in a given piece will always be the first measure that listeners hear. Even the 15-minute Rick Owens mix was produced in this painstaking fashion.
My first conversation with Patton was over lunch. She was friendly but guarded. She didn't seem to open up until the discussion turned to a short and lofty list of figures whom she considers artistic lodestars: Coco Chanel, Igor Stravinsky, Eartha Kitt, Nina Simone, Serena Williams, and the Egyptian queen Hatshepsut. One common factor uniting that otherwise variegated group is the single-minded intensity those names apply to their respective pursuits. Patton effused about an interview in which Stravinsky discussed his habit of tuning every single instrument in an orchestra before beginning a performance. She said that her favorite part of watching Williams play tennis is when she's losing, because the struggle to come back forces her into some of her most inventive play.
These days, like her hero Stravinsky and the footwork artists who first inspired her, Patton is focused on composing music for dancers. Her collaborators include Avril Stormy Unger, an Indian choreographer and dancer who often performs with Jlin and whose movements inspired the fluid sound of Black Origami standout "Carbon 7." The celebrated British choreographer Wayne McGregor recently enlisted Patton to score his new work, Autobiography, which debuts in London in October. Patton was working on the Autobiography music, which she hopes to eventually release as an album, when we met. She said that a sketch she'd sent to McGregor was slower than listeners might expect, and she wondered if it might not be immediately recognizable as her music. Another friend, the minimalist composer William Basinski,  who contributed to the Black Origami track "Holy Child", had advised her to let the new music "breathe."
Soon after our conversation about Stravinsky and Serena, Patton asked me if I'd seen and enjoyed the movie Whiplash, about a student jazz drummer who is alternately tormented and inspired by a raging, abusive instructor. She said she liked it, but that she identified with the teacher despite his role as the film's villain. "His method, I'm sure, came off super crazy," she said. "Like he didn't have to be that extreme, he didn't have to do that. But sometimes it takes that. I know what it's like when you see the greatness in a person and you really want to push it out, because you know that it's there."
I asked her if she'd ever had that kind of a relationship with someone, and she said she hadn't. At first the remark puzzled me, but the more we talked about music, the clearer her meaning became. When Patton is working alone in her room in Gary, willfully cut off from the stylish cosmopolitan lifestyle she could have in another city, she is both the student and the teacher, determined to push greatness out of herself.