After years of silence, Aphex Twin seems to be making up for lost time, releasing new music at a steady clip ever since 2014's comeback opus Syro. Following this year's release of the Cheetah EP, he dropped a mysterious surprise 12-inch single over the weekend, to coincide with his performance at Houston's Day for Night festival.
The record features two long tracks packaged in a plain white sleeve and a label reading "Houston, TX 12.17.16." It was sold exclusively at Day for Night, where Aphex Twin was giving his first U.S. performance since 2008.
Aphex Twin played for nearly two hours at Day for Night, and many fan-shot videos of the set have been published on Facebook and YouTube. On Reddit, fans have been piecing together his wide-ranging set list, which included some of his own material, plus tracks from footwork experimentalist JLin and dubby techno auteur Andy Stott. Naturally, a vinyl rip of the exclusive 12-inch has already made it onto Reddit as well.
Watch an hourlong video of the Day for Night set below, followed by images of the 12-inch that fans posted to social media.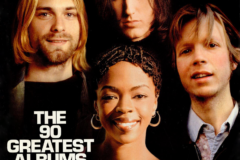 https://www.instagram.com/p/BOIghRWjIfY
https://www.instagram.com/p/BOIeBvhBobl