Backstage at The Wendy Williams Show, Future's team are nervous about his early-morning appearance. It's 8 a.m. in late March and the rapper, who is scheduled to be a guest on the daytime-talk show, is either late or taking a nap. But his group of assistants are all here, including a stylist, who's steaming and organizing a rack of clothes, sneakers, and hats in one of three dressing rooms, and a digital-marketing representative from Epic Records, who will take photos to post to Future's Instagram account. His hairstylist, Shekinah, from T.I. & Tiny: The Family Hustle, flirts with his bodyguard while the rest of us wait.As Williams' warm-up DJ energizes a studio audience of middle-aged women with cuts from Swedish House Mafia and the Knife Party, the rapper's publicists are setting boundaries with the show's producers about which subjects are off-limits. Although the Atlanta-born musician is soft-spoken with an easy charm, Williams' format isn't much different from a tabloid reporter's celeb-gawking. And since he's currently engaged to Ciara, a very famous singer who also happens to be very pregnant, everyone is a little on edge about the gossipmonger's line of questioning.
That is, everyone but Future. "Oh, they're keeping it tuuuurnt at The Wendy Williams Show? Alright, alright," he drawls, smiling widely as he appears, peering out of a dressing room. "How do I look?"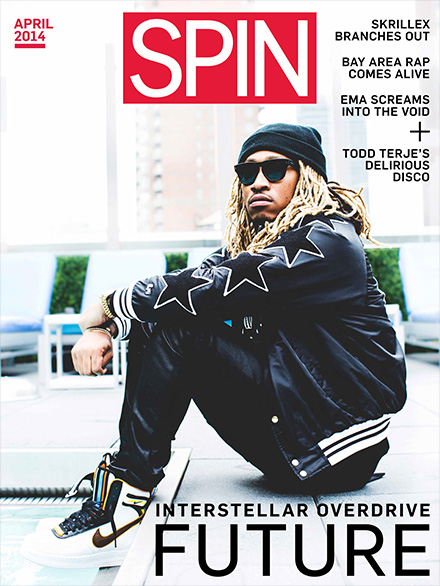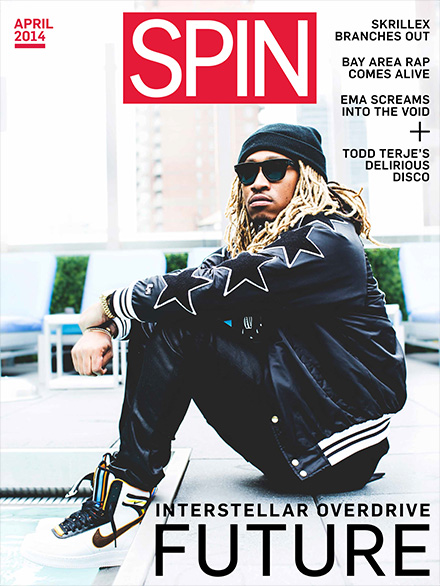 Even without the camera focused on him, Future — whose legal name is Nayvadius Cash — is a hard person to miss. His long braids are dyed blonde and loosely tied into a bun, making him taller than his already imposing six-feet-four inches. There's a small star tattooed on his throat. He has a frequent half-cocked grin that immediately offsets his looming stature and an expensively striking sense of style. Today, he's dressed in nearly all black and wearing a list of names as impressive in fashion as his peers are in rap. Almost as soon as he hits the set, Wendy Williams brings out her "shoe cam" to zoom in his pristine, high-end Air Force 1 high-tops, a limited-edition collaboration between Nike and Givenchy's creative director Riccardo Tisci.
The performer's shoes aren't the only thing in the spotlight. Future is less than a month away from releasing one of this year's most anticipated rap records, Honest, for Epic Records, executive produced by Mike WiLL Made It and featuring guest verses from Kanye West and Drake, among others. His first-ever headlining tour will follow, as will his marriage to Ciara, and the baby that they're expecting. And although he doesn't know it yet, the 30-year-old performer will take the stage with his recently reunited hometown heroes OutKast during their Coachella headlining set, where, alongside André 3000, he'll perform their Honest collaboration, "Benz Friends (Watchutola)."
For Future, the last three years have been one Auto-Tune-gargled verse after another, all the way to the top. His grainy, emotive style and melodic hooks have made him the new voice of Southern rap. Since his radio-breakthrough appearance (and writing credit) on YC's "Racks" in 2011, the Atlanta rapper has become the go-to figure for an audience that wants both the sensitive seduction of Drake and the trend-conscious street-rap of hype men like Gucci Mane. He's since released seven mixtapes that bridge that gap, plus his debut full-length, Pluto.
Really, almost every single he's been on in the last two years has been a success. His emotional, heady hooks have helped make songs like Rihanna's "Love Song," Rocko's "U.O.E.N.O.," and Lil Wayne's "Love Me" into Top 10 singles on the Billboard Rap and R&B charts, and he co-wrote "Body Party," Ciara's massive comeback single last year. With Honest, Future hopes to reclaim both his voice and his style for his own full-length release — to build a statement of his own, one that he says best reflects both his life in full and where he is, personally and creatively, at this exact moment in his life.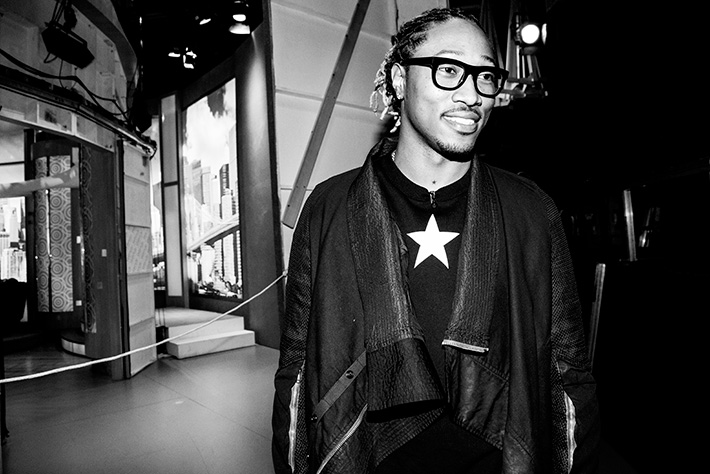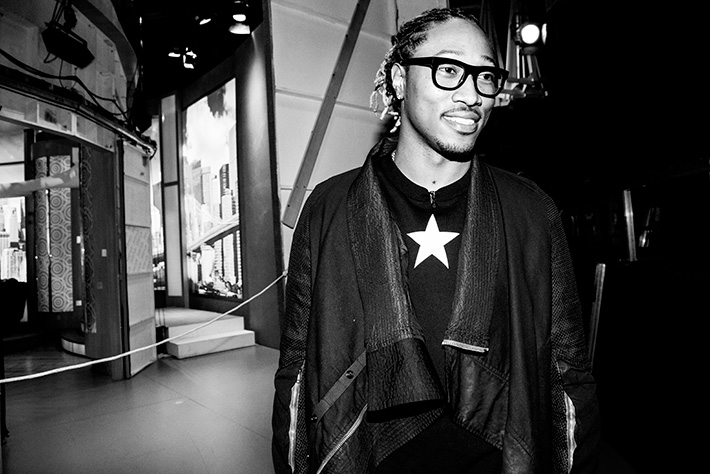 Where he is right now, however, is on The Wendy Williams Show's purple couch.
"You've got a nice smile," the talk-show host says approvingly. "With all of your original teeth."
The conversation shifts from public inspection to personal interrogation: His wedding plans; the 15-karat engagement ring he gave his fiancée; the photos of Kim Kardashian and La La at Ciara's baby shower; the announcement that Future's fourth child — his first with Ciara — will be a son.
"It really takes a certain kind of man to be able to have four women, who have your kids, get along so well," Williams says, as a group photo of Ciara with three other women is shown onscreen. You can practically feel Future's team cringe from the side of the stage. But the rapper is amiable, engaging, and gentle throughout the interviewer's less-than-subtle prodding. He expects people to bring up his past and his significant other; it's all part of the deal he signed up for when trying to break through to her level of recognition. "One of those women is my sister," he replies, calmly pointing out his younger sister Tia in the photo. "They get along great."
Williams starts to inquire about Future's decision to "choose marriage," but she interrupts herself to fawn over the gigantic, glittering diamond pinkie ring on her guest's right hand. His left hand has no jewelry, but the letter "C" is inked on his ring finger, a placeholder for the wedding band from Ciara. Hidden from view beneath his black Rick Owens leather jacket, many more tattoos are scrawled up and down both of his arms. Most prominent are a matching set on his right and left forearms that read, respectively, "DUNGEON" and "FAMILY."
Rico Wade, one-third of Atlanta-production crew Organized Noize, spent the late '90s and early '00s in his basement studio, a space affectionately called "the Dungeon." The crew who hung out there — a tight-knit collective of rappers, producers, and engineers known as Dungeon Family — specialized in taking weird, outlier vocalists and making them into something that charmed both classic hip-hop stans and club-goers. Responsible for hits like TLC's "Waterfalls" and En Vogue's "Don't Let Go (Love)," and all but discovering Goodie Mob and OutKast (they produced 1994's Southernplayalisticadillacmuzik as well as hits from 2000's Stankonia), Wade's collective was a keystone of the burgeoning Southern-rap community.
It was around 2001, when Wade and his crew had just finished recording and releasing Bubba Sparxxx's "Ugly," that his younger cousin Nayvadius — the future Future — began hanging around the Dungeon. Nayvadius, under the name Meathead, was already rapping on the streets of Atlanta's Kirkwood neighborhood, where he grew up, but it was their grandfather that encouraged the two cousins to work together, in the hopes that it might keep his younger grandchild out of trouble. "He was at risk of being in a bad place," says Wade, explaining by phone from Atlanta that as his younger cousin grew older, his friends became involved in the illegal activity that was common among teens from the area.
"I took him out of the trap then," he says, using the 15-year-old Future's early love of rap as a way to get him to spend more time in the Dungeon. "He knew he had to sit in the back and watch," says Wade. "He knew better than to jump in with the grown folks." It helped that Future was guarded by nature, a quality that, when paired with his cautious curiosity, quickly became an endearing quality to Wade's crew. "I wanted him to stay away from the drugs, the hood. I told him, 'Don't do that no more. Don't be that kind of person. I don't want you to get locked up and I think you can make a difference.'"
"Things weren't easy then," says Future of his teenage years. His father left when he was 10 years-old, and his mother worked constantly, leaving babysitting duties to his grandmother and other extended family. He credits car rides with his mother listening to pop R&B on the radio — Luther Vandross, Michael Jackson, New Jack Swing — as subtly, inevitably influencing his own earnest croon. But he was also infatuated with rap and the lifestyle it represented. He would sneak off to ride around with his friends listening to Too $hort and Juvenile when he could get away with it. The New Orleans block-party style of Cash Money appealed to him too; the collective's fondness for white tees and swigging lean would become an influence on his own style. His cousin's Dungeon Family became his mentors. "Music was always there in Atlanta," he says. "There was the drugs, there was the lean, there was the guns. But there was also pride."
"They say I named him Future, but I just remember that I kept saying he was the future," says Wade laughing. "I had already found OutKast then, I had already found Cee-Lo. But even then, I knew he was special." What made Nayvadius different from other kids his age was his instinct to swerve around trends and tropes. "He purposefully tried to sound like nobody. He just sounded Southern," says Wade, describing Future's blend of Atlanta's bite and New Orleans' care-free swag with his DJ Screw-loving, purp-drinking purr. "He had a hip-hop thing, but his voice was formidable. He cared about more than the beat."
What came after that was the hustle. Once embraced by the Dungeon Family, Nayvadius became a casual member of the studio's in-house production team, writing for tracks that often wouldn't see the light of day, or got tucked away for his own mixtapes and albums. One of his earliest writing credits was on Ludacris' "Blueberry Yum Yum," from the 2004 Organized Noize-produced album Red Light District. "There's a song he made called 'Dandelion' from like ten years ago that he still hasn't put out," says Wade, mentioning his cousin's tendency to hoard his tracks. "Andre [3000] rapped on it. I asked him if I could put it out on the Organized Noize compilation, but he wants to save it for one of his tapes. He always wanted to hold music for his albums."
Future had a famous extended family, one who had direct ties to L.A. Reid's LaFace Records and then Def Jam, but he was wary of approaching them for favors, eager to release what he could himself. Instead, in the years leading up to his break he made a point of forging his own connections, most notably with fellow Kirkwood upstart Rocko, who had worked with Young Dro and Dem Franchize Boys before being picked up by Def Jam. In 2010, Rocko signed Future to his A1 Records imprint and released the rapper's first mixtape, 1000.  Over the next two years, Future created his own Freebandz label and released five mixtapes between his homegrown imprint and A1.
"Future is my brother," says Mike Will Made It by phone from Los Angeles. "He has no idea how big what he does is." The producer is most recently famous for Miley Cyrus' Bangerz, as well as producing hit singles for everyone from Rihanna and Chief Keef to 2 Chainz and Juicy J. He's also been with Future since he first got signed, helping the singer mold gritty hooks around his booming, atmospheric production on his Dirty Sprite mixtape and delivering the cult single, "Turn On the Lights" from Pluto. Now he serves as Honest's executive producer.
"When I tried to send him beats in 2010, he told me I was too expensive for him," says Mike WiLL Made It, who remembers when Future was a scrappy mixtape rapper. The producer had first heard Future's tracks when Atlanta DJ Esco, now Future's tour DJ, played them at Atlanta's Magic City nightclub. "I told Future we had to work together, that it would be beneficial for both of us, that we didn't have to worry about the money." The results were the tracks that landed on the rapper's highly acclaimed Dirty Sprite and Astronaut Status mixtapes. With their 2012 radio single "Turn On the Lights" off of Future's full-length debut, Pluto, the pair's partnership became untouchable.
The producer waxes nostalgic as he recounts how Future became the go-to rapper for his sing-song hooks. He mentions Future's 2011 breakthrough "Racks," which the rapper cowrote YC's debut mixtape, Got Racks. (The song quickly went from a Southern rap-loving cult favorite to a Top 10 radio hit.) Mike talks at length about the rapper's sense of melody; that his writing is structured around ideas that come from a secret love of pop and blending rap's want for catch-phrases with an intuitive love of choruses.
"When we made 'Itchin' on Astronaut Status, I knew that it was unlike anything else anyone else could make," says Mike. The song became a template for the duo, pairing the producer's minimal, delicate framework with Future's gritty, real-talk croons. "Told my grandma I don't need a bed / I'm sleepin' on the floor," raps Future on the track, making a flashback to his youth sound like voluntary thugging. Later that year, Future released his Scarface-idolizing club jaunt, "Tony Montana." Soon after, Drake called him up and asked to be on the remix.
With his run of guest appearances on Top 10 tracks, it didn't take long before Future was playing on the same field as ; he may not have had an arsenal of best-selling albums (yet), but he did have the radio singles. His peers and friends were chart-topping, self-acclaimed gods in rap; the Kanyes and the Drakes; who were just as focused on branding themselves as pop culture ambassadors as they were on rap. Kanye's experimental production and concert staging came with a role on his famous partner's reality television show; from the release of his album to his marriage proposal, his life became about performance art. Drake came from being a teenage sitcom star, and his teenage-appropriate drama; he continues to rap about wanting a "good girl" to wife and screwing over his friends; hasn't yet left him. Comparatively, Future has become one of the more approachable figures in rap; the guy who is keeping it real.
[ooyala code="swdHJwdTqr5SvbFfN_bXmFd2sy2DDUmM" player_id="8bdb685537af477d8cd5ea1ebd611511"]
It's mid-March, a few days before his New York TV appearance, and we're in Los Angeles' Larrabee Studios with Future and his engineer while they master Honest. Entering the studio feels a lot like walking into an early-aughts Buddha Bar; dark, textured Victorian wallpaper closes in around gem-toned hallways and recording rooms lit by clusters of candles. Today is a rare day off for Future. He's just arrived from Austin, where he performed at SXSW, and has come home to L.A., where he lives when he's not in Atlanta, to attend Ciara's baby shower. Tomorrow, he'll go back to his hometown for his daughter's birthday and then fly to New York to finalize album details with Epic before Honest's release. "We got to get into the right mood for this," Future says, turning down the lights and taking a drag of his blunt. "These are hits. We have to listen to this like it's a movie." As his engineer cues up tracks from Honest, it's clear that setting is key for him; that he regards his albums as movies about the still-unfolding story of his own life and the people around him. And here's a paradox: It's his own success that enables the distance from his old hood that is a key part of being able to write about it the way he does. A strong puff of smoke knocks him back into the plush, brown leather couch.
Today, Future is wearing jeans that are ripped at the knees, a green sweatshirt with the word "Honest" scrawled across the front, Timberland boots, and a pair of black sunglasses he keeps on when he's especially high. Though he doesn't often get sentimental, being in the studio has made Future reflective. "I write what comes to me," he says. "I get beats from Mike WiLL or Khaled or Clue and just record hooks." (He says that he has "thousands" of songs already recorded, including a track with J Lo and one with A$AP Rocky.)
He signals to his engineer and a sample from "Dougou Badia," a 2012 Amidou & Mariam song featuring Santigold, pours through the speakers. Future jumps up and starts dancing in the corner. "This shit is craaaaaazy!" he shouts. The sample is the opening to "Look Ahead," the intro track to his new album. He ties up his dreads and nods enthusiastically to the beat as if it was his first time hearing it, though it's obviously not. "Who sings this song?!" It's unclear whether he's asking about the sample or congratulating himself.
Santigold is sampled, but Honest is full of featured appearances by the current kings of rap. Drake and Kanye guest-star on slow-burning ballads "Never Satisfied" and "I Won't." Wiz Khalifa and Lil Wayne show up on the more aggressive tracks "My Momma" and "Karate Chop," respectively. Then there's the lead single and current radio smash "Move That Dope," featuring Pharrell, Pusha T, and Casino. Future didn't have to call in favors, either; they came to him.
"'Move That Dope' almost didn't make the album," says Future. "I put down the hook and left it. Mike called me over and over and over." Mike claims those calls were to urge Future to revisit the studio cut and to see if a single could come out of it. The producer ended up taking a throwaway verse Future had left in a session and putting it on top of the "Move That Dope" beat alongside the hook. "Pharrell heard it and we both thought it sounded like some old Neptunes shit, like Clipse's 'Grindin'," says Mike. Then Pharrell asked if he could record on the track. "I couldn't say no to Skateboard P!" he continues. "If Skateboard P asks you