SPIN Rating:
Release Date:
April 22, 2014
Label:
Epic
Over the past couple of years, Atlanta rap nice guy Future has reinvented the slow jam. His fearlessly soft songs are neither cloying for-tha'-ladiezzz "feminine" or sensitive-thug "masculine." Instead, heartening hits like "Turn on the Lights" and "Neva End" (both from his 2012 debut Pluto) stand alone as emotionally intelligent Möebius strips of Auto-Tune, chock full of decent, grown-ass man declarations. Consider something as small as the way he puppy-dog-whimpers the word "truth" on the title track of his sophomore album Honest: It vibrates out of his mouth and leaches across the track as "tru-ooh-ooh-ooh-thhhhhh," the pitch bumping up and down. It's as memorable as the song's hashtag of a hook, "I'm just being honest."
Future the sweetheart, though, has also become rap's go-to for aggro bangers: Guest spots on Ace Hood's Lovecraftian radio growler "Bugatti" and Rocko's woozy creeper "U.O.E.N.O." were 2013 street rap hits, right there alongside Future's own elbow-throwers, "Karate Chop" and "Sh!t." Honest, then, loftily maintains a balance between fragile, feelings-first ballads and "fuck your feelings"-themed stompers.
The Future of Honest comfortably talks celebratory shit over a sample of Santigold like he's shooting for the art-rap of G.O.O.D. Music ("Look Ahead"), jumps up and down around a hulking synth-fart Salt-N-Pepa riff ("Move That Dope"), and crawls inside of an eerie, glowing soundscape to emote all by his lonesome ("I Be U"). "I Be U" is one of Future's best songs yet, perpetually on the cusp of catharsis but never quite getting there. It sounds like he took hold of some Zedd EDM anthem and ditched the fist-pumping chorus just to luxuriate in the atmospheric crescendo, doling out little loving details like, "I'm naked, you're naked/ And neither one of us trying to look for a blanket." Or maybe he's just retrofitting the sensual soul of Sade for the era of trap.
Honest also makes a case for Future as hip-hop's only sane personality of note. When he's working with a wormy weedhead like Wiz Khalifa on "My Momma" and a typically bro-ish Drake on "Never Satisfied," a song that Drizzy uses to justify why he fucks all his girlfriends' best friends (see, he's never satisfied), Future's charms are apparent. Those guys have vastly different (and less sophisticated) interpretations of success than Future, who wanders away from bragging just enough to mention gritty details ("My daddy bust him a nut," is how he describes his birth). Even high-fashion shout-outs tend to be buttressed by a boyish delivery that communicates, "Holy shit! I can buy this stuff now! That's amazing!" He doesn't talk about success like it's something he's owed.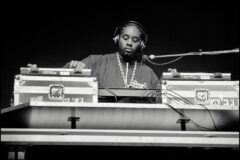 Through sheer charm, Future turns a song as icky as "I Won" into something downright sweet. Thank Kanye West at his most insincere for sharing the track with Future and serving up sharp contrast. Here's Future, yelping about his love for fiancé Ciara, transcending the iffy trophy wife conceit. And here's 'Ye, pathologically reminding us how great him and Kim are doing every moment of the day with Serious Piano backing him up, because his words and delivery aren't enough to sell the nonsense.
All of the tedious rap ego that Future keeps at bay feeds into the outlandish "Benz Friendz." On that one, Future finds a guest with which he's simpatico, OutKast's André 3000. The two collectively dismiss conspicuous consumption via a churlish hook that goes, "Told that bitch I don't give a fuck about a Benz, bitch," over a batty orchestral beat. Like a rap game Ram Dass, Future brays, nearly out of breath, "These cars don't mean shit, these hoes don't mean shit, these clothes don't mean shit, these shows don't mean shit." It's as if the two had a spiritual awakening before they recorded this song and came into the studio anew, eyes open, mind blown, disgusted by the full-stop materialism that rap songs are almost always freaking about right now. It's a musical mind fudge of a track that's over and out like it's no big thing.
And that speaks to the quiet charms of Honest as a whole: Breezy in its boldness (12 tracks, under 50 minutes), this is a heavily considered album from the only reasonable rap star around. No one in hip-hop is as fascinating as Future right now: He bends shoddy guest rapper conceits until they match his high standard for sincerity; he steps up and delivers when confronted with a seasoned Southern rap legend like André; and he fully occupies varying rap roles (sturdy loverman, trap maniac) as if he were, you know, a complicated human being, not a living, breathing brand touching on multiple market-tested audiences. The dude contains multitudes.