Last year, Fat Mike revealed in an Instagram comment that NOFX would split at the end of 2023. With 2024 on the horizon, the band hasn't called it quits just yet, but the end is near, as NOFX has added 15 dates in eight North American cities for its final tour. The run wraps up next October with three shows in the Los Angeles area at San Pedro's Berth 46.
During this final tour, which kicked off earlier this year in Austin, NOFX has performed 40 songs per show, including full albums and rarities. "We've played over 2000 shows in 33 countries, in more than 300 cities and darn it…we're a bit tired," Fat Mike said. "One thing I know in my heart…this is going to be the most emotional, heartbreaking, greatest tour of our career. I've never been so excited and at the same time terrified. Mostly excited…"
In addition to the music, the shows include an early-day craft beer and craft beverage tasting.
Formed in 1983, NOFX has sold more than six million records worldwide, including 1994's Punk in Drublic which went gold in the U.S. and Canada. Tickets for the additional tour dates go on sale Nov. 20 at 10:00 a.m. PST here.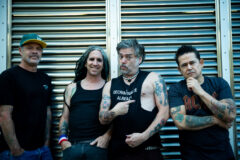 NOFX Final Tour 2024 dates:
4/6 – Fort Worth, TX – Panther Island
4/13 – Salt Lake City, UT – Pioneer Park *
6/29 – Portland, OR – Waterfront Park
6/30 – Portland, OR – Waterfront Park
7/20 – Denver, CO – The Stockyards
7/21 – Denver, CO – The Stockyards
8/10 – Edmonton, AB, Canada – Fan Park at Ice District
8/11 – Edmonton, AB, Canada – Fan Park at Ice District
8/23 – Montreal, QC, Canada – Parc Olympique
8/24 – Montreal, Quebec, Canada – Parc Olympique
8/31 – Brockton (Boston), MA – Campanelli Stadium
9/1 – Brockton (Boston), MA – Campanelli Stadium
10/5 – San Pedro (Los Angeles), CA – Berth 46
10/5 – San Pedro (Los Angeles), CA – Berth 46
10/6 – San Pedro (Los Angeles), CA – Berth 46
* No craft beer tasting at this event