There is a lot of barking at Dhani Harrison's house as a new husky puppy is arriving. Harrison's home is in a forested area outside of London, which he describes as "a Sleepy Hollow Ichabod Crane kind of terrifying forest." It's the perfect place for an active pet. It also proved to be a great space for Harrison to hunker down during the pandemic and look inward to create his second solo album, INNERSTANDING.
Cinematic and dissonant, INNERSTANDING sounds like industrial trip hop, or as Harrison calls it, "grunge 'n' bass." It's been a while since Harrison released his first solo album IN///PARALLEL seven years ago. But the Grammy-winning Harrison has been busy touring and scoring films and television including the Shepard Fairey documentary, Obey Giant, Matangi/Maya/M.I.A. and Inside Bill's Brain: Decoding Bill Gates, which Harrison says, "was an absolute nightmare to work on. I stopped after that and was done with soundtracks for a minute."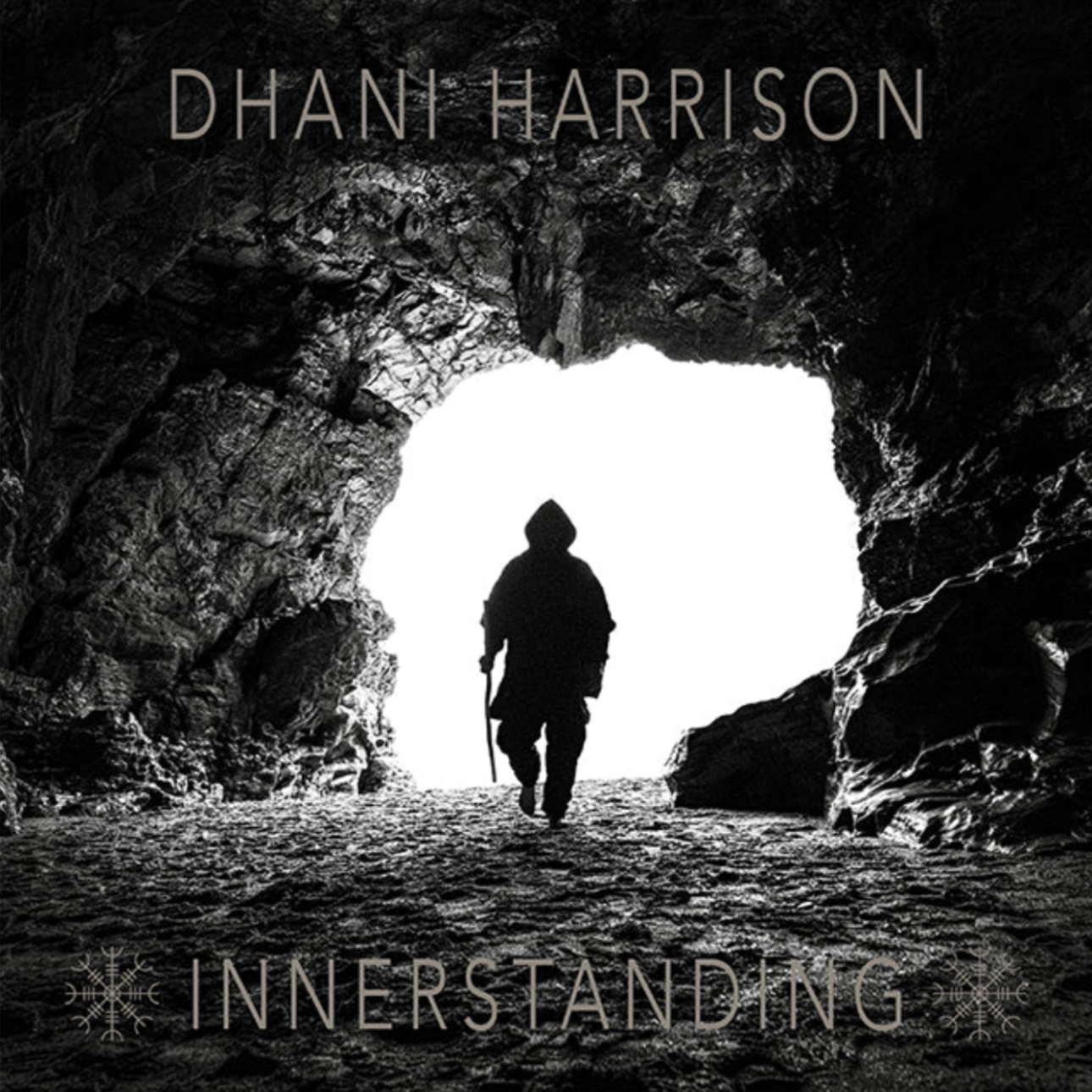 For INNERSTANDING, Harrison enlisted a cross-section of musicians including Blur's Graham Coxon, Liela Moss, and Mereki, who, at the time of this interview, is doing her best to keep the new puppy quiet. Harrison approaches his albums as he does soundtracks. "I'm doing the soundtrack to what's happened in my own life rather than to a movie," he shares. "People say, 'This sounds like a piece of score that they've tried to write words to.' That's a fair assessment."
Harrison's social circle is filled with creatives from various fields. His collaborators' activities with Harrison tend to overlap, which suits him very well. His visual collaborator, Josh Giroux, for example, is also one of his band members. Giroux has done a photo series in conjunction with INNERSTANDING where he and Harrison went on a "pilgrimage" to sacred locations around the UK. The images Giroux captured of Harrison at Celtic rainforests, ancient castles and caves will be included in the physical version of INNERSTANDING, set for release on February 9, 2024. "The artwork for the vinyl is worth the wait," Harrison promises.
When did work on INNERSTANDING begin?
I had a couple of pieces of music, "La Sirena" and "Ghost Garden" that were in my clips bin that I loved. I wanted to make them into themes for movies. They didn't go anywhere, which was good for me because they ended up going around my brain. John Bates of Big Black Delta, who did a couple of tracks with me on the last record and we did "Motorways (Erase It)," which was a single I did in 2019 came to England. "I.C.U" was from that session.
When did those song ideas get picked up again?
It wasn't until I got locked down. I was visiting [director] Peter Jackson in New Zealand in 2019. They locked all the borders and I got stuck in Australia. I went for 10 days and I got stuck for three or four months, surfing every day. I got Paul Hicks, my composing partner and mixer, to load up a laptop for me and send it. That was when I started doing the record. Then it was back to the forest and making records. I did it for two years. I've got two albums in the can right now and I've got one that I'm finishing so there's going to be a lot more music coming from me. Completely different projects.
Since the album was mainly written during pandemic, is it a reaction to, or reflection of what was happening at that time?
No, I think it was more when things are taken away from you, you realize what is truly important. Freedom of thought is the most important thing because if you lose that, then you're lost. When the world gets attacked, it's fear that is the mind killer. It's like that quote from Dune: "You can't do anything when you're in a state of fear." I'm trying to move the energy from a place of sadness and fear and anger and using nature to turn that into courage and love. Standing in your love and being a brave person is what the record is about. It's a united record, rather than what was happening in the world—which is still happening, which is massive amounts of division.
On IN///PARALLEL, I was thinking, "It's not like it used to be." "Admiral of Upside Down" is about how everything's gone upside down, and it's all about to change. Immediately after that record, everything did change. I felt like I got that out of my system.
Are you tapping into nature a lot?
Yeah, especially when we've got this continuous news cycle of things that are supposed to be catastrophically important and deadly to us instantly, every day. You go out in the forest and see the trees that have been there for hundreds of years and they're fine. People that live in the countryside who have access to nature, we're very privileged. They talk about the great benefits of forest bathing, just walking in a forest, or walking barefoot in a field or a beach or if you can get to some trees then that's going to be your best bet. But to even just put your feet in the grass, it changes everything. We're not supposed to live indoors in temperatures between 19 and 22 degrees Celsius. That's too small a window for us.
I grew up meditating. I did Chi Gong and Tai Chi and some martial arts over the years. I started doing ice baths. It changes everything, especially for your mental health. But with walking, chanting you can overwrite a bad thought with another thought. If you concentrate on one thing, and that thing is powerful, like nature, it blows the cobwebs out of everything.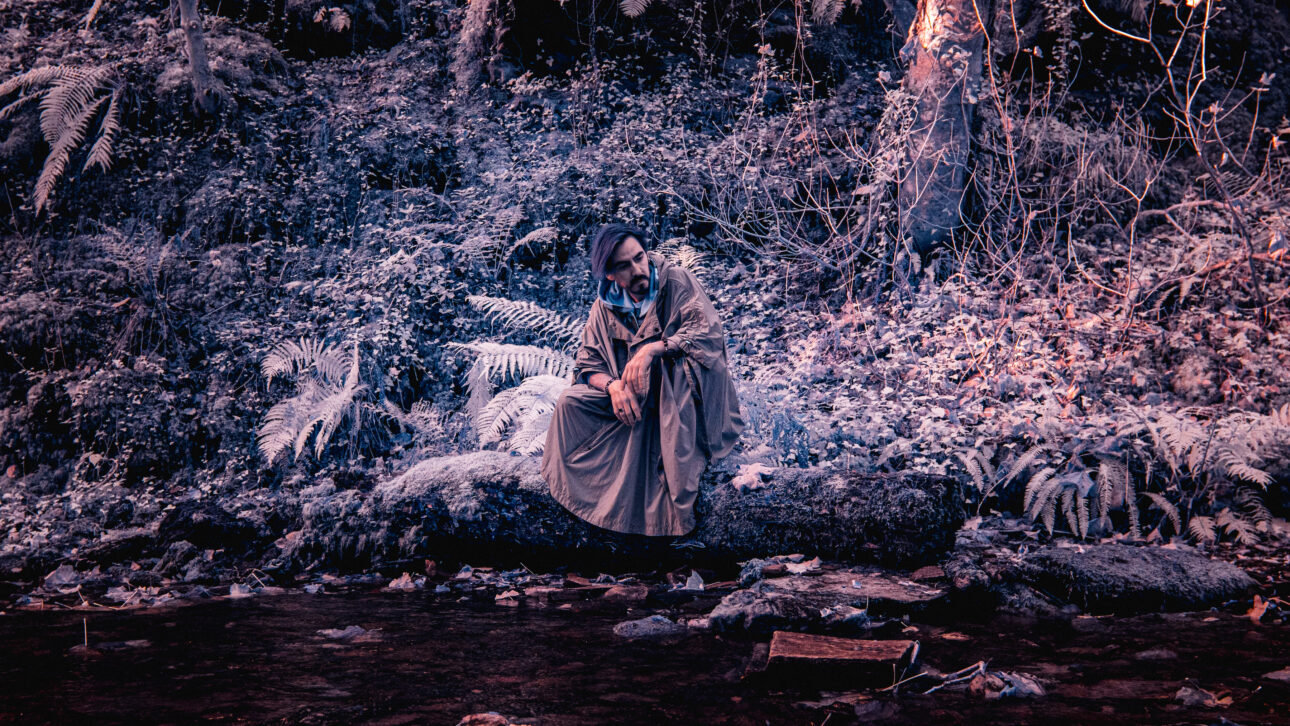 Do you share these practices?
We hosted an event in October 2021, when everyone was in varying degrees of COVID anxiety, for anyone who wanted to come and get rid of their fear. People in different countries had totally different experiences. Some people had been locked in an apartment in Milan for six months. Some people had been in the countryside in England or in LA walking in the hills.
We had a week of healing where 30 of us, every day, we'd have breakfast together. We organized something every morning. We'd go walking in the forest, do Chi Gong, breathing, sound baths. We'd have lunch and the rest of the day everyone would split up into groups and write songs. We didn't have to have an album at the end of it. The end product is our own healing, to get ourselves back. By the end of the week, we formed this massive community. It was people from Radiohead, Supergrass, Gorillaz, UNKLE, a few filmmakers, one of my composer friends from Prague. So many partnerships and records came out of that one week. A lot of people that had come through during that event ended up on my record.
Is that how you got connected with Graham Coxon?
We met properly in LA when we both lived there. He didn't have any friends out there and he's one of my heroes. I'm a huge School of Graham Coxon guitar fan. We started hanging out, going bowling and stuff. He came out to Henley, to my dad's studio in Friar Park where he worked like a wizard. He's magic and we're both total nerds. We sat around the fire a lot and cooked dinners and did some healing. We talked about our previous lives in LA and how we both left very quickly and neither of us had gone back for years. I lost my grandmother just before COVID. She was 101. She was the best. She lived in Hawthorne so I was in LA for the last 20 years expecting her to not be around and she kept on going. I took her to the Dodgers game on her 100th birthday. They put her on the Jumbotron. After I lost her, it was time to move back to England. When Graham and I came back to England, we didn't fit in with the English because we'd been living in LA and we didn't fit in with LA because we weren't there anymore. It was perfect that we hung out at that time and started making tracks.
You mentioned UNKLE. Did they influence this album?
I played on the last two UNKLE albums, The Road: Part I and Part II. Liela [Moss] was on both of them as well. After The Duke Spirit broke up, Liela and Toby [Butler] and I had a band called Roman Remains. Liela sang on some tracks for the soundtrack for Beautiful Creatures. Toby is in my band right now. It kind of came full circle. I always write for girls. It would be a shame if it was just me. There has to be that sacred masculine/sacred feminine in everything. There's usually about two or three girls on the album. I like collectives. I'm a huge fan of The Wild Bunch in Bristol. In New York, it's Wu Tang Clan having access to lots of different people's voices to use as instruments. When you need to put together a band, there are the people you've been playing with. It's kind of like having a football squad rather than a band.
Both your albums have "in" in the title. Is that intentional?
Yeah. Some of my favorite records were "in" records. I loved Insides by Orbital. Radiohead did In Rainbows. "In" is what's going on inside. I like the concept of "innerstanding" as comprehending something only from a place of love without trying to force your opinion on something on someone. To understand is to be imposed upon and to overstand is to impose upon someone else. To try and raise someone's consciousness too much is just as tyrannical as trying to hold it down. You have to let people find it at their own pace. Again, that's innerstanding as opposed to overstanding. To innerstand is to comprehend purely from a place of love and non-detachment.